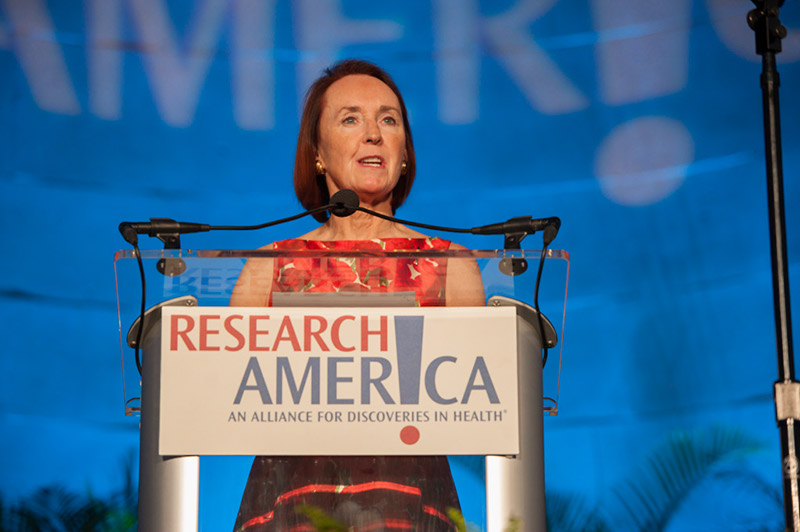 Dear Research Advocate:

I moderated a session at the always-compelling Aspen Institute's Spotlight Health conference at the end of last week. We had a robust and "un-sugarcoated" discussion on the dual imperatives of affordability and fast-paced medical progress. Among the many terrific conference sessions were two featuring the newly announced CEO of the Amazon-Berkshire Hathaway-Morgan Stanley initiative, Dr. Atul Gawande. (I should add that he mentioned that they will arrive at a better name!)

During his interview with PBS NewsHour's Judy Woodruff, Dr. Gawande, whom I am proud to say was our Isadore Rosenfeld Advocacy Awardee this past March, made the point that not being thoughtful about how we're spending healthcare dollars is a choice, and it's time to make better, evidence-based, choices. Research shows, for example, that it is necessary to help people get consistent health care over time — at least five years — in order to show significant impact on reducing morbidity and mortality; this hasn't been a priority but must be. He emphasized that "better is possible." Gawande's career to date has certainly demonstrated that better is not only possible on a one-off basis; it can be scaled. (Consider, for example, the widespread adoption of his surgical checklist).

A recent request for information (RFI) from the Office of the Deputy Secretary of HHS calls for new thinking about healthcare that can help our nation maximize the return on every health dollar (this includes, from my perspective, achieving progress across all patient populations). The department's plan is to develop a workgroup composed of HHS officials and those working towards innovative solutions in the healthcare industry. The information request is open until July 6 — contact Ellie (edehoney@researchamerica.org) if you would like to discuss.

The Senate Appropriations Committee held its markup this morning for the FY19 Labor-HHS funding bill and, as was the case with the House Subcommittee markup, the news is largely positive. The full text of the bill has not been released, but of particular note is that NIH would receive $39.1 billion in funding while CDC would receive $7.9 billion. Although the full committee markup of the House Labor-HHS bill has been delayed again — according to reports, the markup of the bill will slip until mid-July or later — appropriators in both chambers have shown that even with limited additional dollars to work with, our nation's public health must remain a priority. See our statement.
Last week, on a nearly-unanimous bipartisan vote, the House passed H.R. 6, a legislative vehicle for many of the opioid bills put forth by the House Energy and Commerce Committee. The Senate has not yet indicated whether it will consider the bill. Of note, among other H.R. 6 provisions, is an emphasis on the value of finding non-addictive pain treatments. This is an important component of NIH's newly-launched Helping to End Addiction Long-term (HEAL) initiative, a comprehensive public-private partnership approach to home in on opportunities to discover and advance new treatments for pain and addiction.

Finally, a word on the shocking border crisis, featuring children wrested from their parents and caged. Coincidentally, this falls immediately on the heels of the launch of endCAN, a new campaign to end child abuse and neglect. Survey data we commissioned shows that the public strongly backs research to help end what they see as a widespread, "everyday," public health challenge. Now, we know that abuse and neglect has appeared in an odious new guise on our borders; no new research is needed to know that has to end.
Sincerely,
Mary Woolley