Inspiration and reasons for hope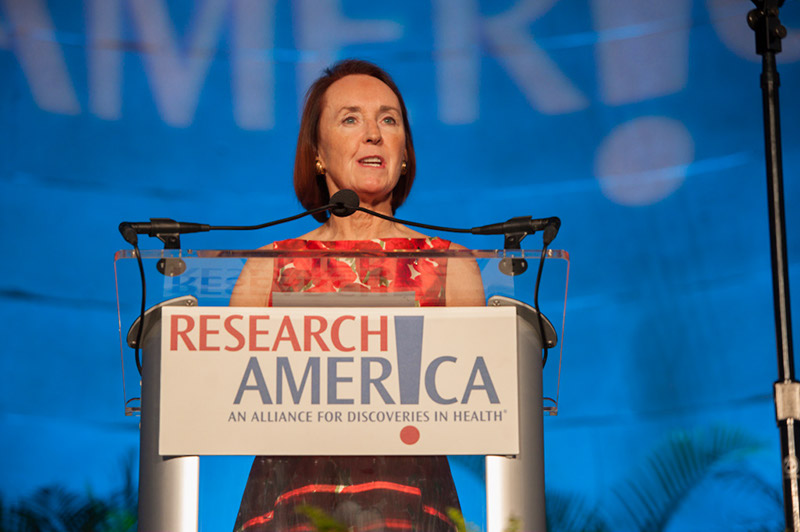 Dear Research Advocate:
Earlier this week, I visited both campuses (Davis and Sacramento) of the University of California, Davis. Uniquely, the campuses include a medical school, veterinary school including a primate center, school of engineering, nursing school and graduate and undergraduate science programs, all highly ranked. Campus leaders are justly proud of the collaborative programs they have fielded. It was especially rewarding to talk to early career scientists, fired with enthusiasm and determination to find the solutions to what ails us, and ready, willing and able to advocate. They inspired me!
My time at UC Davis brought to mind "New Voices in Sciences, Engineering and Medicine," hosted by the National Academies. The goal of "New Voices" is to tap the expertise of young investigators, not only to weigh in on key STEM issues, but to help identify strategies for increasing engagement among young scientists. More information here. Empowering scientists to compellingly say and convey "I work for you" is critical to earning and sustaining public awareness and support of science. We, as mentors, advocates, scientific leaders and stakeholders in the future of health, have an important role to play. One new opportunity is the Google Science Fair, which recently opened for submissions for students between 13-18 years old. Here's to next generation science and scientists!
Meanwhile on Capitol Hill: Tuesday, the Senate passed the Labor-H/Defense appropriations conference report by a vote of 93-7. Read more in our statement. It's anticipated that the House will vote on the legislation by the middle of next week, but advocates cannot afford to take anything for granted. This bill needs to reach the President's desk before September 30 to prevent a partial (or worse) government shutdown and the stalled medical and public health progress that would go with it. Send your representative in the House an email urging prompt action!
Senate- and House-passed bills aimed at curbing the opioid epidemic are setting the stage for additional research into non-addictive pain treatments and triggering intensified efforts by HHS to address neonatal abstinence syndrome. As the opioid crisis sweeps the nation, research and on-the-ground resources offered in this and the House package bring hope. Senate HELP Committee Chair Lamar Alexander (R-TN) said his goal is to have the House and Senate negotiate the differences in their two packages into a final bill by end of week.
President Trump has released a new biodefense strategy. The objective of the plan is to better coordinate and strengthen biodefense functions across the Executive Branch. Biological threats, including antimicrobial resistance (AMR), are addressed in the report, which calls for accelerating "basic and applied research and development of new antimicrobials, novel preventatives and therapeutics, vaccines, and diagnostic tests." Here is a fact sheet showcasing how such research can save lives and dollars.
Before visiting UC Davis, I enjoyed a day at the Staglin Family Vineyard, participating in events organized to raise funds for mental health research. For more than 20 years, the Staglins have worked hard and with ever increasing impact to overcome scientific barriers, stigma and political logjams in their determination to defeat mental health disorders. Tragically, premature death is one outcome of undiagnosed and untreated mental illness. September is National Suicide Prevention month, a time for advocacy and action. According to Dr. Jill Harkavy-Friedman, Vice President of Research at the American Foundation for Suicide Prevention, "We now know from research that biological, psychological, social and environmental forces all play a role in suicide deaths and suicide prevention." Read more from the article on our website authored by Dr. Harkavy-Friedman, and draw on our suicide prevention fact sheet.
Sincerely,
Mary Woolley