Knowledge and science in the service of national strength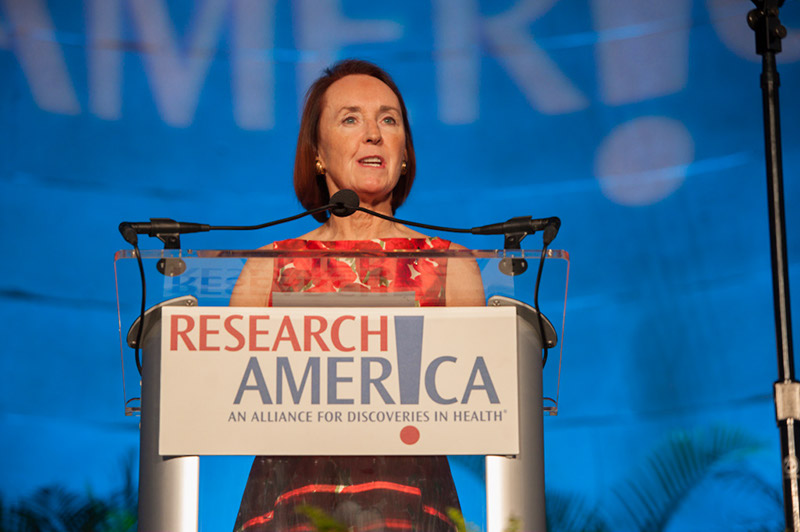 Dear Research Advocate,
I hope you had an opportunity to read America's 'Miracle Machine' is in desperate need of, well, a miracle in last Friday's Washington Post. The authors, Eric S. Lander and Eric E. Schmidt, build a case for "investing in curiosity about the natural world" that exemplifies advocacy at its most compelling. The term "aha moment" may be overused, but it applies to this commentary as surely as it does to President Franklin Roosevelt's remarks on the dedication of the NIH's then-new campus in 1940, when he proclaimed: "We cannot be a strong nation unless we are a healthy nation. And so we must recruit not only men and materials, but also knowledge and science in the service of national strength."
As a newly released UMR report documents, NIH is not just a catalyst to life saving progress, it is a catalyst to job creation and economic growth. Talk about putting science in service to national strength! Estimating the economic impact of the proposed $5.8 billion cut to NIH included in the President's "skinny budget," the report asserts that "NIH could suffer a loss of nearly 90,000 jobs and $15 billion in economic activity compared to 2016." UMR has once again provided a powerful advocacy tool. Tweet or retweet!
On Monday this week, the White House hosted a meeting with NIH Director Dr. Francis Collins and leaders from industry and academia; we understand a major theme was the value of robust NIH funding. The timing of this meeting was crucial, since not only did the President's "skinny budget" propose deep cuts to NIH and all agencies within HHS, but even if Congress ignores the president's recommendations, the cap on FY18 non-defense discretionary spending is actually $3 billion lower than that in place for FY17. (The genesis of these caps is the 2011 Budget Control Act.) Unless a deal is cut to increase the FY18 cap, the prospects for increased research budgets are dim and the possibility of cuts — across-the-board or otherwise — is real. High stakes. Take action! Now's the time to fight for what our nation needs: budget limits that serve, rather than starve, our strategic objectives.
Other than NIH, topics that reportedly factored prominently in the White House discussion included the plight of young scientists, especially imperiled when cuts loom large, and the importance of assuring all the elements of the life sciences ecosystem remain strong, since progress arises from the interplay of public and private sector effort and investment. On Tuesday, the Senate addressed a critical vacancy within that ecosystem by confirming Dr. Scott Gottlieb as Commissioner of the FDA, and today, the Senate HELP Committee passed the FDA user fee reauthorization package by a vote of 21-2. Both of these developments bode well for patients, whose interests are best served when FDA is fully equipped to fulfill its multi-faceted mission.
President Trump appointed Gopal Khanna as the new Director of AHRQ on Tuesday. Mr. Khanna, who was most recently director of the Illinois Healthcare and Human Services Innovation Incubator, brings a wealth of data analytics and process improvement experience to the position. Given the data revolution in healthcare and the fact that health services research is the lynchpin to process improvement in healthcare financing and delivery, we believe Mr. Khanna is vastly well-qualified to ensure our nation fully capitalizes on the power of AHRQ-funded research. Read Ellie's comments in Modern Healthcare about the appointment.
This week is National Nurses Week. We want to take a moment to recognize the critically important role of nurse researchers as they work day in and day out to improve health and health care. See our website for more.
Sincerely,
Mary Woolley