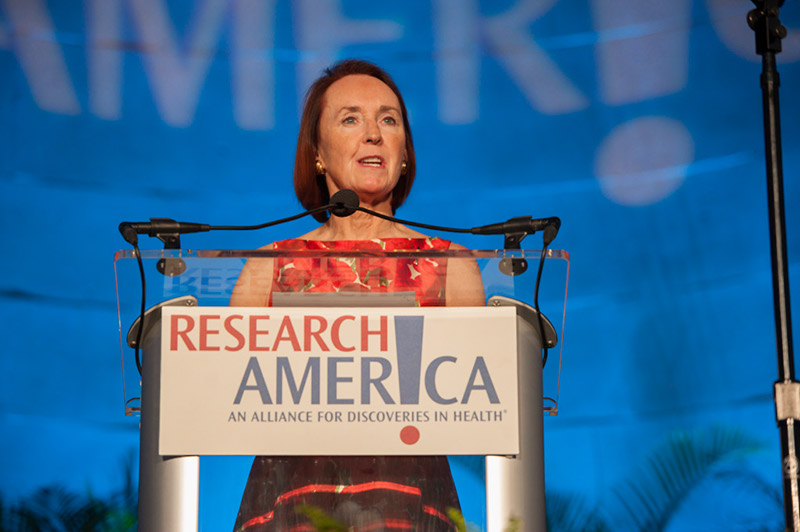 Dear Research Advocate:
The last few days have been wholly energizing. Yesterday, at the annual BIO International Convention, I had the opportunity to participate in a panel discussion titled "Science Needs Champions: Creating Collective Action to Advance Biotech Innovations for Humanity." It wasn't a "happy talk" session; the participants had no interest in candy-coating the challenges entailed in promoting faster progress while fostering the access and affordability needed to secure the highest return on that innovation. The discussion reinforced that there are no easy answers. Policymakers and the health care ecosystem, very much including the science community, need to work together, line up and assess all of the myriad, short- and long-term considerations, and act collectively to do what's best for patients. They are our true north.
Today, I am visiting the University of Texas Medical Branch (UTMB) in Galveston. UTMB's Shriner Burn Center, which has a major research component, is in the news today as the treatment center for burn victims of the Guatemalan volcanic eruption, and very recently in the news as the pre-clinical testing site of the experimental Ebola vaccine being used in the Democratic Republic of Congo. There isn't time or space to reflect on all of their work; I will just say the Biosafety Level 4 (BSL4) Lab here is completely in-the-moment and essential to combating the threats of emerging and re-emerging infectious disease. UTMB has long placed a high value on public engagement. As I argued in a recent op-ed in Morning Consult, this kind of engagement and education is crucial to the future of science funding and science itself.
On Tuesday, we saw a win for those fighting Ebola in the field and fresh evidence that advocacy works. The president cancelled several of his proposed rescissions, including $252 million in USAID Ebola funding. We appreciate that the administration reconsidered and withdrew the Ebola cut; still on the chopping block, however, is $800 million from the Center for Medicare and Medicaid Innovation (CMMI) budget.
CMMI leverages health services and health economics research to test new federal payment models, making sure they work as intended so that our nation puts in place changes that demonstrably save lives and dollars. We need more work in this regard, not less. Want to weigh in? Use our recent letter on this issue as a template. The House is poised to vote on its bill, H.R. 3, and Senate Majority Leader McConnell (R-KY) has introduced companion legislation. The deadline for final action is just about two weeks away on Friday, June 22. In other words, the clock is ticking, and the time to act is now!
Speaking of instances in which less is not more, consider a recent Washington Post article on China's R&D ascendance. China is not the only competitor nation capitalizing on R&D to seed their ever-stronger economies. While it is terrific that other nations are putting research and innovation to work, the U.S. shouldn't tread water as other countries swim faster. We know from commissioning public opinion surveys that Americans have no wish to see their nation sit on the sidelines of global prosperity. Here is a new graphic demonstrating the shrinking U.S. share of global R&D; use it in your social media messages. You can also tweet your elected officials now!
Why is R&D important? "Because we need faster medical progress" is one of numerous good answers. Join us on Tuesday, June 12 from noon to 1:00 pm ET for a webinar on the bench to bedside continuum seeking solutions for migraine. Are we closer to finding a cure? Do migraine sufferers have access to affordable treatments? Register now<https://bit.ly/2L4uyfR> for a look at how far the science has come and the prospects for further progress.
We also have a stellar briefing planned on Capitol Hill for June 13, "Overcoming Gaps in the Treatment of Mental Illness: The Role of Patient-centered Research." Research!America is partnering with the Patient-Centered Outcomes Research Institute (PCORI), National Hispanic Medical Association and the National Medical Association as we explore advances in patient-centered research that are seeding improved mental health care, particularly for chronically underserved populations. Hope you can join us for these events!
Sincerely,
Mary Woolley