Raise Your Voice for Science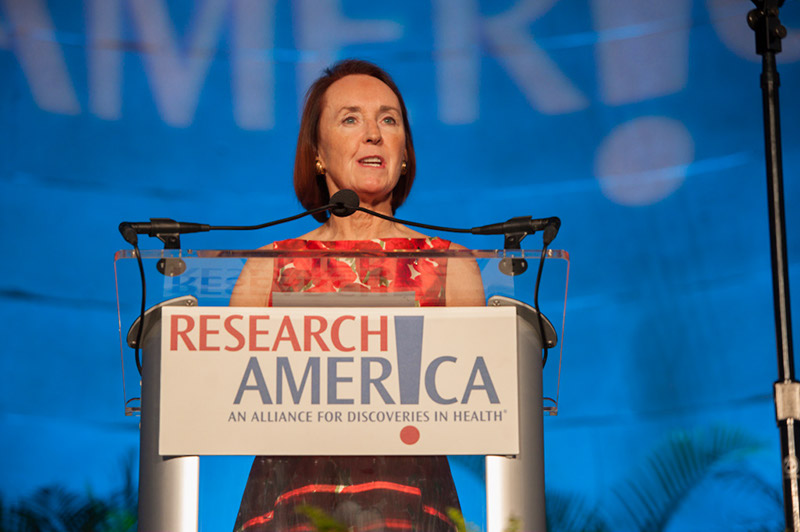 Dear Research Advocate,
This Saturday, advocates will celebrate science at events in Washington, D.C., and hundreds of cities across the globe to call attention to the value of science — how it impacts our health, economy and planet. I encourage you to participate in the March for Science in your local communities and help us raise awareness of scientific progress. Our new video featuring one of our science fellows will be shown on jumbotrons on the National Mall in D.C. during the event. Read more about this celebration in our Board Chair's statement, my op-ed in the Miami Herald and an LTE by Research!America's Suzanne Ffolkes in the Hartford Courant. The March is the beginning of a burgeoning grassroots movement to give a voice to science.
When members of Congress return to Washington next week, they will have only five days to agree on an omnibus before the current continuing resolution (CR) expires on April 28. There are still rumors that a package will be ready for consideration early in the week, but it's also possible that Congress will pass a short-term CR to buy more time for negotiations. As I mentioned last week, we have drafted a sign-on letter urging passage of the omnibus, and we'll begin to collect signatures if the bill that leadership releases lives up to expectation. Keep your eye out for an email from us marked urgent!
Meanwhile, research both within and and beyond our borders could be impacted by the following: 1) The President's "skinny budget" proposes eliminating the Fogarty International Center at NIH. New fact sheets describe the Center's work in training researchers in developing countries to confront global health threats. The skinny budget also targets USAID for deep cuts, jeopardizing public health projects that not only save lives, but help promote the economic and social stability that is foundational to self-sufficiency. 2) There appears to be strong support in both chambers of Congress for a standing public health emergency fund – rightly so! Representative Vern Buchanan (R-FL) spearheaded a letter requesting $300M for a pandemic preparedness fund. Senator Marco Rubio (R-FL) also expressed support for a fund. You can use this editable action alert to weigh in on these issues.
On the regulatory front, the Senate HELP and House Energy and Commerce committees have released a discussion draft, free of riders, of the FDA user fee reauthorization. The current user fee agreements technically expire September 30, but in order to prevent FDA staff reductions, the reauthorization must be completed by the end of July. We will continue to monitor these developments closely. Also in FDA news, the Senate HELP Committee will vote on Dr. Scott Gottlieb's nomination as FDA commissioner next Wednesday.
In closing, I'd like to take a moment to celebrate the life of a dear friend and remarkable research advocate, Trish Vradenburg, who passed away earlier this week. In 2016, Trish and her husband, George, co-founders of UsAgainstAlzheimer's, received the Gordon and Llura Gund Leadership Award for their extraordinary efforts in research and advocacy. That was just one of the many ways Trish worked to create a better future for us all. Every moment with Trish was a pleasure and a privilege, and my thoughts are with George and all whose lives were touched by Trish. For more details about a public memorial and donations, contact vradenburginfo@gmail.com.
Sincerely,
Mary Woolley