Saying no to the status quo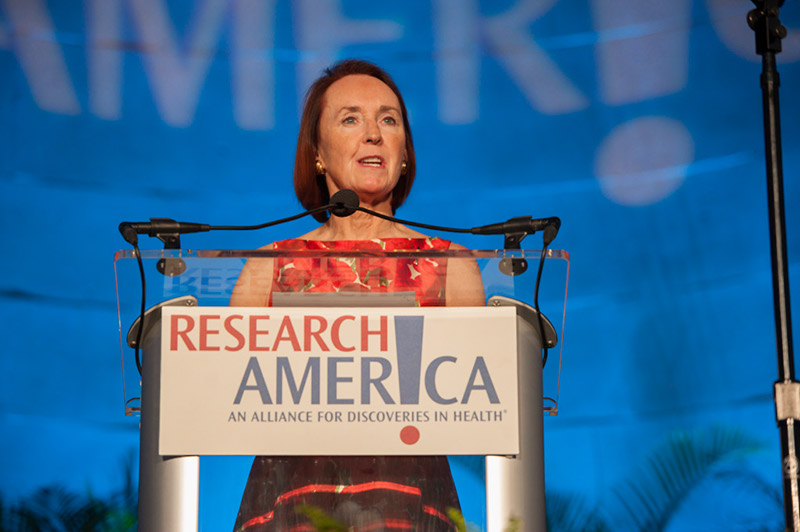 Dear Research Advocate:
In President Trump's State of the Union address on Tuesday, there was little mention of research or innovation, although he noted that Americans aren't satisfied with the status quo; they "…fill the world with art and music. They push the bounds of science and discovery."
The president talked passionately about challenges that require overcoming the status quo. He spoke of fighting the opioid epidemic and "helping get treatment for those in need." Treatment is absolutely essential, as is research. The Patient-Centered Outcomes Research Institute (PCORI) is funding critically important research to inform prevention, intervention, alternative pain treatment and other pieces of this complex puzzle. But PCORI can't do it alone. NIH, CDC, AHRQ, FDA and NSF are some of the key federal agencies fueling solutions. House "Labor-H" Chairman Tom Cole (R-OK) has asserted that more funding to address this crisis is in the offing. We have made the case to the Chairman that these agencies are already stretched thin, much less do they have resources to spare; we must invest in heightened action to achieve life-saving results.
The president also discussed the need for an infrastructure package to revitalize our nation's roads, bridges, and other physical assets. Pushing the boundaries of science and discovery connects to this goal in two important ways. First, advanced infrastructure is grounded in R&D. In a data-rich release of a recent survey commissioned by Research!America, a strong majority of Americans (81%) say it is important for President Trump to assign a high priority to putting science, technology and engineering to work to strengthen our nation's infrastructure.
Second, R&D itself is infrastructure; it is the scaffolding that supports job-creating, prosperity-producing, innovation. Broad Institute President (and Research!America advocacy award past recipient) Eric Lander's terrific opinion piece in The Boston Globe lays out the reasons we all should be uneasy about the status quo. Lander poses questions about U.S. R&D that, in their fundamentals, are equally applicable to our nation's physical infrastructure: basically, can we live with the consequences of decline? Are we a nation determined to succeed and lead, or will we falter and fall behind?
Unlike infrastructure, the R&D questions are not receiving attention and debate by our elected representatives. This is especially concerning in light of a press release from China yesterday announcing plans to lead the world in science and innovation in the next 30 years. Today we sent a letter to House "CJS" Chairman Culberson (R-TX) and Ranking Member Serrano (D-NY) urging them to push for a deal to raise the caps and to allocate a proportional increase to the NSF budget.
As I discussed during an interview on Hawaii Public Radio, every day the budget stays flat and the caps stay in place we squander potentially life-saving progress. That's a compelling reason to keep at advocacy. Research!America is running a geo-targeted Facebook ad campaign and new social media graphics to make the case for a budget deal. Please retweet and share on your social media pages.
The current CR expires on 2/8, one week from now. The longer this drags on, the more tempting it is to stand down. Don't do it. Not so long ago, advocates refused to give up on the 21st Century Cures Act (21st CC) as the odds of passage grew longer and longer and longer. Today, 21st CC isn't a longshot, it's a law. Do not give up on a budget deal: fight for it.
I hope you will join us on March 14 in Washington, D.C. for our annual meeting and Advocacy Awards Dinner. We have an evening filled with remarkable awardees. I am thrilled to announce that Senator Susan Collins (R-ME) will receive the Edwin C. Whitehead Award for her steadfast commitment to leveraging research against Alzheimer's disease and other deadly and debilitating health threats.
During the dinner, we will also present the Isadore Rosenfeld Award for Impact on Public Opinion, named in honor of Dr. Rosenfeld, Emeritus Director and a founding board member of Research!America. Dr. Rosenfeld, a world-renowned cardiologist, died this week. As "America's Doctor," Isadore influenced countless physicians to treat patients with empathy and compassion, and spoke our forcefully about the value of biomedical, prevention and other crucial research to patients, the public broadly and to public decision makers. His many fans remember him warmly and salute his legacy.
Sincerely,
Mary Woolley