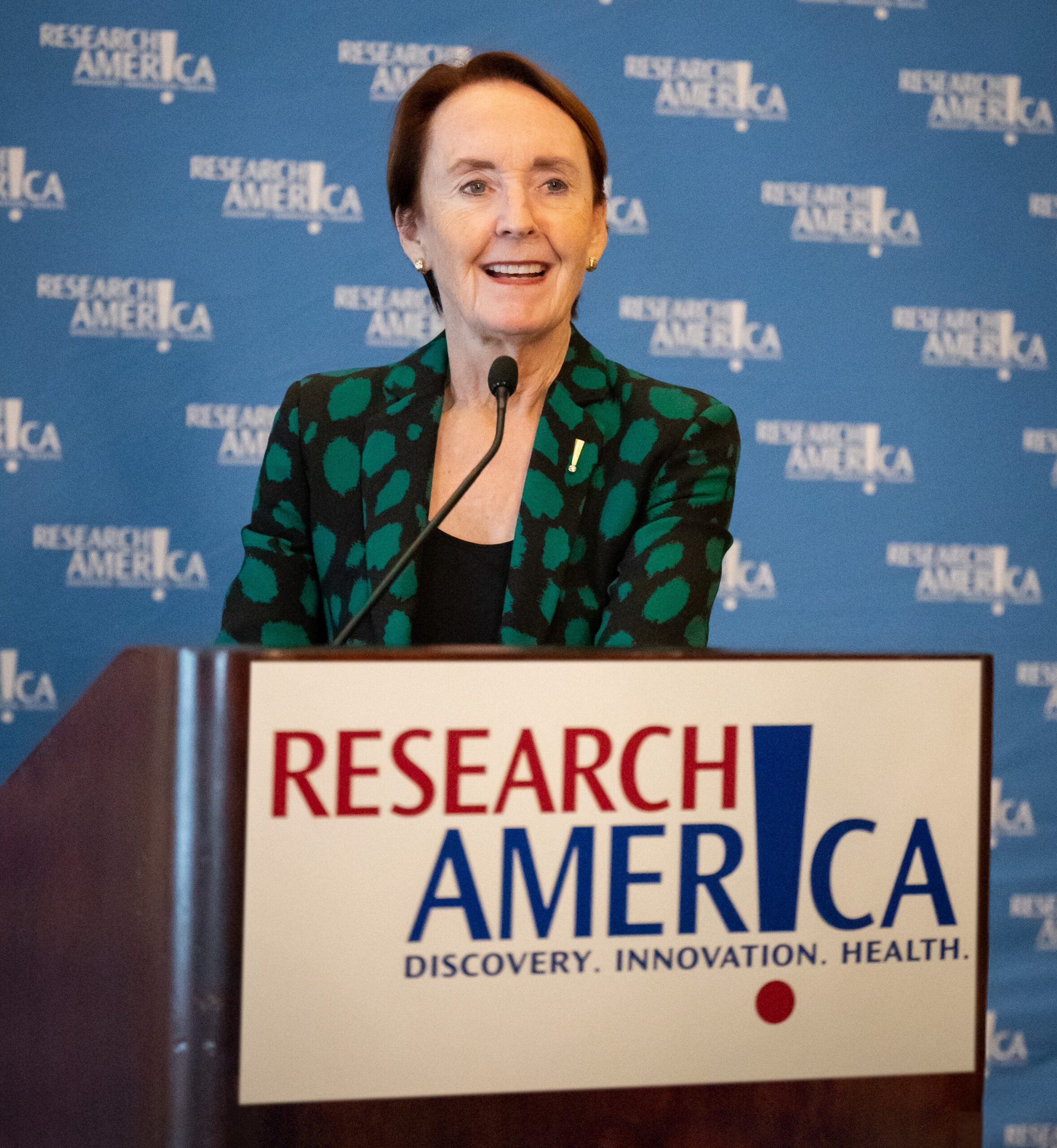 On the Hill: An agreement to lift the debt ceiling to avoid default continues to hinge on securing an agreement between Congress and the President focused largely on cuts in what's referred to as discretionary spending. That spending doesn't feel discretionary, however. 
Here are some examples of programs funded from discretionary accounts: lifesaving health and medical research; R&D programs that keep the U.S. a world leader in innovation; and K-12 and higher-ed programs to educate and train the next generation of scientists. Are we going to tell patients they will just have to wait? To cede global leadership to other nations? To quash the ambitions of new generations? 
In the words of former Chairman and CEO of Lockheed Martin Norm Augustine: "We never solved the problem [of an overweight plane] by removing an engine. Science funding is the engine of a thought-based economy. We cannot simply remove it." Use this editable tweet to let congressional leadership know that cutting discretionary spending will not bring our nation's budget closer to balance. 
Beyond discretionary spending, the supplemental funding needed to support the development of next generation pandemic vaccines and treatments is reportedly in jeopardy. Read the letter we sent today to the President and congressional leadership making the case for "Project NextGen."
An Essential Area for Investment: Research!America Board Member Kafui Dzirasa, MD, PhD, makes a compelling case for why the "U.S. Must Invest in Emerging Scientists" in Inside Higher Ed. He proposes raising salaries for NIH-funded researchers seeking to establish themselves as a critical part of the R&D pipeline in academia. As Dr. Dzirasa points out, ensuring these researchers remain in academia is essential to prevent the further erosion of our capacity to compete as the world leader in science and technology. (STAC shows how we are losing ground.)
These and other investments in health and scientific research, including our workforce, will not be possible with cuts in discretionary spending.
NIH Director Nomination: Please consider joining an organizational sign-on letter to Senate leadership in support of Monica Bertagnolli, MD, to be the next NIH Director. Help us reinforce that Dr. Bertagnolli is the right leader at the right time for this singularly important role. Read the letter and add your organization's name today! Deadline to sign is COB June 10.
The Discovery, Development, Delivery Continuum: On Monday, we co-hosted a standing-room only briefing on Capitol Hill to discuss the interconnectedness of the public and private sectors in driving health and medical research and in ensuring that the perspective of patients is included at each step of the pipeline. 
The panel discussion featured speakers from the full continuum of the health and medical R&D pipeline who explored the "process behind progress" in the fight against lupus and other high cost, high burden diseases. Watch the recording of the panel discussion and share our primer on the R&D process and our new infographic explaining the pharmaceutical R&D pipeline.
ICYMI: On Tuesday, we heard from Peter Marks, MD, PhD, director of the Center for Biologics Evaluation and Research at FDA. In this alliance-member only discussion, Dr. Marks discussed efforts to ensure that critical advances in gene therapy get to patients following a regulatory process that is as timely and cost effective as possible. If you'd like to attend future member-only discussions and your organization is not yet an alliance member, send a note to Joel.
State of A.I. Discussion: Yesterday Vincent Conitzer, PhD, director of the Foundations of Cooperative AI Lab at Carnegie Mellon University, talked to us about the challenge of forging a transparent, responsible path forward for artificial intelligence. Dr. Conitzer answered a host of questions about the state of AI, the differences between GPT-4 and previous AI models, concerns about global competitiveness and security, collaboration between AIs and humans, and much more. Watch the conversation.
More on AI's Impact: Check out our new fact sheet on digital health and research, which looks at how new resources and tools – AI in particular – are changing how medical research is conducted in ways that expand the horizons of what's possible and also affect public health decision-making in real time.
Upcoming Alliance Discussions:
Join us

on Tuesday, June 6, at 11 a.m. ET to talk with Neil Vora, MD, a physician with Conservation International, about  pandemic prevention.

Join us

on Thursday, June 8, at 11 a.m. ET to talk with Jeffrey Cummings, MD, ScD, University of Nevada, Las Vegas, on the evolution of Alzheimer's disease treatments.
Nominate an Advocate: Do you know an outstanding individual or organization whose commitment to advocacy for research and innovation has advanced medical and public health progress in a profoundly important way? If so, please let us know – nominations are now open for Research!America's 2024 Advocacy Awards. The deadline is Friday, June 23. Learn more and submit your nomination.