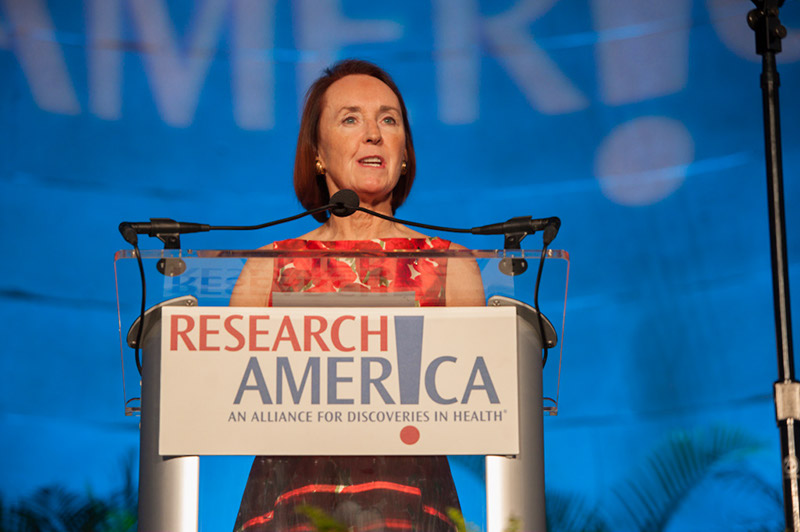 Dear Research Advocate,
The U.S. death toll from COVID-19 has surpassed 100,000 lives.
If anything other than tragedy and destruction lies in the wake of COVID-19, let it be the courage to see, clearly, the world we live in now. Our nation is ill-equipped for crises, ill-equipped for economic competitiveness, and under-resourced to speed progress against other health threats that kill just as surely, if not as rapidly, as COVID-19. Ignoring the pandemic's message is all too tempting. Let's not succumb to it. As National Academy of Sciences President Dr. Marcia McNutt advises, we must learn from the pandemic and "build back better".
Speaking of building back better, this Washington Post opinion piece, by leaders of three Research!America member organizations, underscores the pivotal role physician-scientists play in addressing complex threats like COVID-19, calling for the "establishment of a national service program supported by public-private partnerships" to create a cadre of 'reservists' ready to serve when needed.
Science Champions: Representative Don Beyer (D-VA-8), who sits on the House Science, Space, and Technology Committee and the Ways and Means Committee, along with serving as Vice-Chair of the Joint Economic Committee — with Senator Mike Lee (UT), joined our alliance member meeting today. Congressman Beyer discussed how critical AHRQ and PCORI are. He often reaches across the aisle: "Science should not be Democrat or Republican." Thank you Congressman Beyer for joining us today and for making time for questions from Research!America members.
Late last week, Dr. Victor Dzau, President of the National Academy of Medicine and a Research!America board member, joined alliance members. Key points included the need for a NOAA-style infectious disease monitoring system and the importance of/challenge entailed in ensuring COVID-19 vaccines reach vulnerable populations globally. Thanks to Victor's leadership, a $9 billion fund for that purpose is now in place. Access his recorded remarks on our coronavirus resource webpage.
Research!America members also heard from Jennifer Cama, who serves on the majority staff of the House Labor-HHS Appropriations Subcommittee. Jen noted that Congress is looking for specific examples (personal stories) to better understand why research institutions need emergency funding relief. Have you suspended or reprogrammed research in response to COVID-19? Tell your story in this editable email to your congressional delegation. Forward to Anna Platt on our Policy team and we'll incorporate your examples in our outreach, too.
Time-Sensitive Advocacy Opportunity: The Adult Vaccine Access Coalition and partners are circulating a sign-on letter to Congressional Leadership calling for resources needed to prepare for the allocation, distribution, and administration of COVID-19 vaccines. The deadline to be included is tomorrow, May 29, COB.
On Capitol Hill: As anticipated in last week's letter, Senators Chuck Schumer (D-NY) and Todd Young (R-IN) have introduced the Endless Frontiers Act (S.3832). The legislation would create a new directorate at NSF and surge $100 billion over five years into building out foundational knowledge in areas ranging from AI to cyber to genomics. Reps. Ro Khanna (D-CA-17) and Mike Gallagher (R-WI-8) are sponsoring a companion bill in the House.
A bill this transformative is bound to raise questions as well as support. That's good. Input and advocacy can bring about productive refinements to the legislation as appropriate. But the objective driving these efforts is sound, and its bipartisan, bicameral leadership is noteworthy.
Research!America Alliance Members: Join us tomorrow May 29, 2020, from 2-3 p.m. ET for a webinar with Drs. Carolyn Clancy and Rachel Ramoni from the U.S. Department of Veterans Affairs, who will fill us in on the VA's role in timely, COVID-19-focused research. Spots are limited, so please register now.
On Monday, June 1, 2020, from 1-1:30 p.m. ET, alliance members are invited to join Dr. Joshua A. Gordon, Director of the National Institute of Mental Health (NIMH), who will discuss the critical intersection between the pandemic and mental health. Register now!
Awareness and Advocacy Combined: World No Tobacco Day is May 31, 2020. Smoking is the leading cause of preventable death; cigarette smoking claims 480,000 lives every year in this country alone. We have just released a fact sheet on Tobacco Use and Addiction and posted an article on our blog about the need for more research on vaping.
This is the inaugural Public Health Genetics Week, recognizing the panoply of individuals and organizations comprising our public health genetics system. Dr. Anthony Wynshaw-Boris, the President of the American Society of Human Genetics, details the role of genetics in battling COVID-19 in a blog that is well worth the read.
Stay well, stay safe, and stay connected.
Mary Woolley