Delivering Halloween treats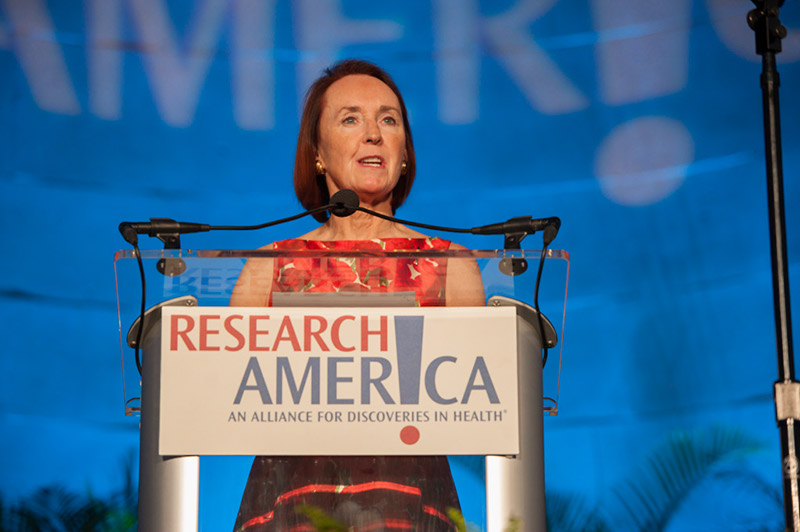 Dear Research Advocate,
It's Halloween! I was astonished to learn that Americans will spend some $9 billion on candy, costumes and decorations this year. $9 billion would fund:
NIH's National Institute on Dental and Craniofacial Research for more than 27 years;
CDC's Vaccines for Children program for almost two and a half years;
FDA's Foods program for eight and a half years; or
NSF's entire budget for more than one year.
These comparisons (and you can imagine many more like them) aren't meant to disparage a fun holiday, but rather to underscore that investing in life-saving medical and public health research is affordable for this wealthy nation of ours — in fact, it's a relatively small price to pay given potential cures and prevention worth much, much more.
So what are we waiting for? A good question for the Congress. Despite what seems like all-encompassing engagement on impeachment, preparations are underway for a second stopgap continuing resolution (CR) that may last until February or March of next year. Health and scientific research are nonpartisan priorities benefitting us all and shouldn't be held hostage. Please join our#CRsStopProgress campaign, using email and Twitter to make the case for completing the 2020 budget so research funding can grow. Let your elected officials hear from you!
A public health threat that certainly can't wait for the 2020 budget is the alarming increase in drug resistant infections. If you missed the standing room-only Capitol Hill briefing last week, Leading the Charge against Antibiotic Resistance, you can catch some of the highlights on Twitter with the hashtag #AMRBriefing. The antimicrobial resistance (AMR) preparedness effort is a great example of CDC leadership bolstered by public-private partnerships. Thank you again to our event partners, American Society for Microbiology, AdvaMedDx, BD, and the CDC. A special thanks to Senator Johnny Isakson (R-GA) and Senator Bob Casey (D-PA) for their support. As Senator Casey remarked: "On the topic of AMR, if there is ever a time for you to use your voice, advocacy, and persuasion, the time is now."
Potential Treat: Do you live in Texas or know people who do? Texans have an opportunity to communicate the value of medical research to their elected leaders next Tuesday when voters will decide whether to extend state funding for a cancer research initiative. Since its founding a little over a decade ago, the Cancer Prevention and Research Institute of Texas has created over 100,000 in-state jobs, invested in 1,500 research initiatives and kickstarted 132 clinical drug trials.
Public-private partnerships are a treat. The engagement of many sectors is essential to achieving progress. Industry, academia, government, patient groups, foundations, and more all contribute to medical progress every day. A thoughtful take on the sometimes disparaged role of industry in research, penned by Ravi Parikh, MD of the University of Pennsylvania and the Philadelphia VA Medical Center, ran this week in the Washington Post.
Wonderful treat. The American Association for the Advancement of Science (AAAS) announced Sudip Parikh, PhD will lead their organization as CEO, beginning January 6, 2020. Sudip has served on the Research!America board of directors since 2011 and is currently a member of our executive committee. Naturally, we at Research!America are thrilled but the real winner is the greater science community. You can learn more about Sudip and his thoughts on his new role here.
Unexpected treat. Evidence supports the value of effective mentoring, just as it underlies the best policy making and the best health care delivery. I hadn't realized how robust that pool of evidence is! "The Science of Effective Mentoring in Science, Technology, Engineering, Medicine, and Mathematics (STEMM)" just out in pre-publication format, along with an online guide, from the National Academies of Sciences, Engineering and Medicine is an eye-opening read. I was intrigued by the definition of mentoring as a working alliance. As a now long-time leader of an alliance, I know the power of the concept and am delighted to see it framing mentorship.
Sincerely,
Mary Woolley