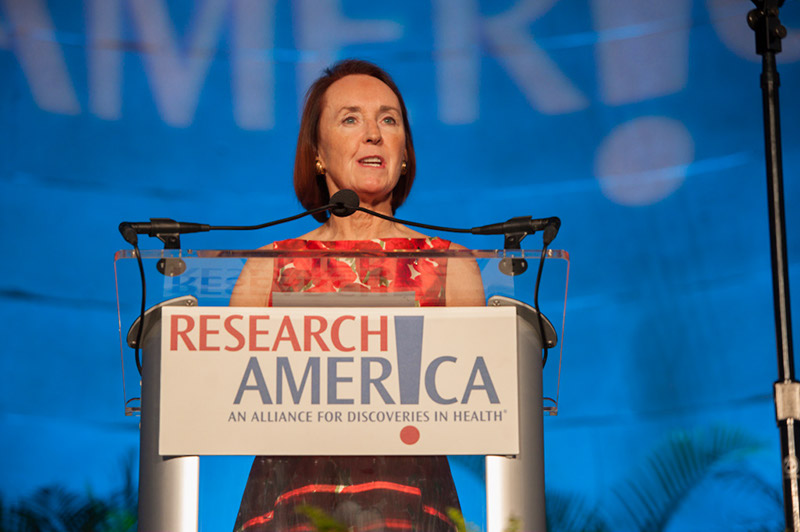 Dear Research Advocate:
Research!America had the opportunity this week to attend a Senate NIH Caucus meeting featuring Dr. Jennifer Doudna, the world-renowned biochemist at UC Berkeley, who is a pioneer in the field of gene editing. A big thank you to Jed Manocherian and ACT for NIH for working with Senator Dick Durbin (D-IL) to bring Dr. Doudna to Capitol Hill to discuss the powerful new technology known as CRISPR, which has potentially curative applications for diseases such as sickle cell and cancer. Here is a list of current Senate NIH Caucus members. Take a moment to send your Senators an email urging them to join if they are not already members.
Congress has just six days to act before the current continuing resolution (CR), which funds approximately 25 percent of the government, expires. There may be a government shutdown; it's all about the border wall — and seemingly a bipartisan deal is hitting another kind of wall: the notion that "compromise equals failure." The stakes are high, with one good outcome (a final bill that provides updated budgets for agencies including FDA and NSF) and two bad ones (another CR that kicks the can down the road and/or a partial government shutdown.)
Appropriations leaders like Senator Richard Shelby (R-AL), Senator Patrick Leahy (D-VT), Representative Rodney Frelinghuysen (R-NJ), and Representative Nita Lowey (D-NY) worked hard to ensure most of the government was funded on time; they can also get this across the finish line if enough advocates insist. Please take a moment to tweet at your elected officials to encourage them to speak out in support of getting the job done by December 21.
Please also urge the Senate to confirm Dr. Kelvin Droegemeier as Director of the Office of Science and Technology Policy (OSTP) before the end of the year. The President's Administration recently released a report on improving STEM education, "Charting a Course for Success: America's Strategy for STEM Education." As we see the U.S. slip into third place globally in number of STEM graduates, it is critical for the success of American innovation to allow Dr. Droegemeier to begin his tenure at OSTP. Contact your Senators today to urge his confirmation!
Earlier this week, during our December Alliance Member call, Jennifer Zeitzer, Director of Public Affairs at the Federation of American Societies for Experimental Biology (FASEB) and Michael Heintz, Director of Advocacy and Training at the Society for Neuroscience (SfN), provided an update on the Administration's review of potential alternatives to fetal tissue research. (Here is a good article outlining the recent history).
Today, the House Oversight and Government Reform Committee held a hearing on fetal tissue research. In advance of the hearing, Research!America signed on to a letter from International Society for Stem Cell Research (ISSCR) addressing the Committee. ISSCR has another sign-on letter to the Department of Health and Human Services (HHS) in circulation; you can sign that letter here.
You may have seen that a tax extenders package that would suspend the medical device tax through 2024 has been introduced in the House (HR88). The fate of this particular bill is unclear. Repeal would be ideal, but another suspension of the tax would be a better outcome than the investment-muting effects of uncertainty as reinstatement looms. We are reaching out to both sides of the aisle urging bipartisan action to consign this particular tax to the history books. I hope you will reach out, too.
On Tuesday, Research!America hosted a webinar on migraine research. Among the many terrific insights shared, Dr. Suchitra Iyer with the Agency for Healthcare Research and Quality (AHRQ) highlighted the role AHRQ plays in equipping physicians with the evidence needed to identify the best available treatment for each patient. The impact of innovation pivots on its application: AHRQ's role is crucial. You can view the webinar here.
Sincerely,
Mary Woolley