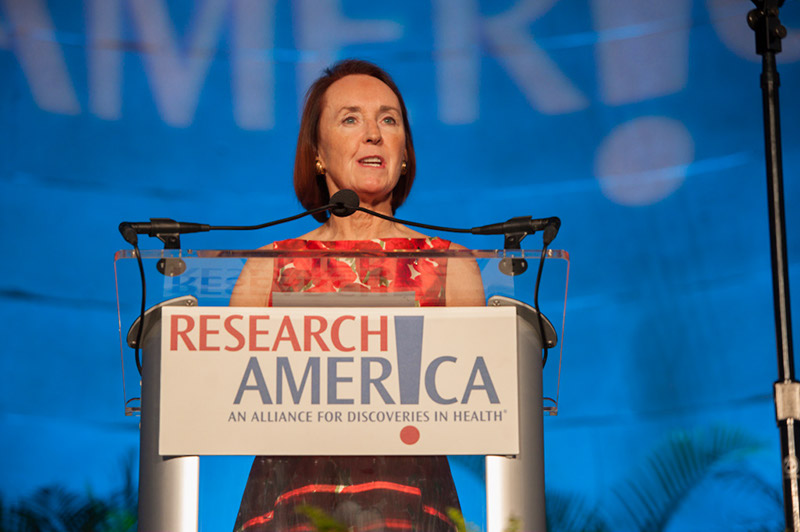 Dear Research Advocate,
Budget Watch: President Biden is expected to release his first set of spending requests for FY22 on Friday, enabling Congress to begin consideration of the budget for the new fiscal year. The document won't include the infrastructure and jobs plan the President unveiled last week (read our statement on the plan here) though Biden officials say the proposals are intended to be complimentary. What will we be looking for in the FY22 budget proposal? Strong funding for NIH, CDC, FDA, NSF, AHRQ, and other key agencies and programs in the science, technology, and public health arenas. We can advocate now – use this editable email to reach out to your members of Congress.
Whether it is through the annual appropriations process or the infrastructure and jobs plan or both, the highest possible investment in science and technology writ large is imperative. As AAAS CEO and Research!America Board Member Dr. Sudip Parikh emphasized in his remarks at the National Press Club, "We are in two high-stakes global competitions. First, we're racing China, India, Europe – friends and not – to discover and translate scientific advances into products and services that provide jobs…and build our future economy. Second, we're also in a race against time to make the discoveries, invent the technologies, and develop the practices to mitigate upcoming crises."
Remaining Competitive: To remain a global competitor in the races Dr. Parikh describes, we must bolster the U.S. R&D ecosystem. The Endless Frontier Act, introduced last Congress by Sens. Chuck Schumer (D-NY) and Todd Young (R-IN) and expected to be reintroduced soon, is one of a growing number of legislative vehicles pursuing this goal, in this case, through major growth of NSF. The Senate Commerce, Science, and Transportation Committee will hold a hearing on the bill and U.S. innovation policy more broadly on April 14, 2021 at 10:00 a.m. ET. Watch here.
Preventing Gun Violence: President Biden has announced a series of executive actions aimed at preventing gun violence. Investment in research and evidence-based programs that improve our understanding of the causes of gun violence and help develop effective prevention measures is a critical public health need. Last fall, we hosted a relevant panel on injury prevention and firearm violence research.
Act for Public Health this Week: Speaking of public health, we joined the American Public Health Association (APHA) and its hundreds of partners across the country for National Public Health Week (NPHW). "We believe all people deserve to achieve their optimum level of health," writes Dr. Georges Benjamin, APHA President and Research!America Board Member. "To ensure that happens, we must all do the hard work to build the public health system of the future." As we note in our most recent blog, seven in 10 Americans say they agree with the statement, "the COVID-19 pandemic has revealed that major changes are needed to our public health systems" according to a survey commissioned by Research!America. We must seize the opportunity now to make the public health investments that have lagged for far too long.
Honoring Advocates: Join us to salute the researchers and public health leaders who have been instrumental to fighting COVID-19 and championing medical, health, and scientific progress. Our annual Advocacy Awards program will take place on a new date, May 13, 2021 from 4-6 p.m. ET. In addition to our remarkable honorees, we will feature several special guests, including NIH Director Dr. Francis Collins, NBC Nightly News Anchor Lester Holt, and others to be announced. We hope you will join us for what will be a memorable, reflective evening. Register here.
Supporting the Next Generation: Registration is now open for Reaching the Peak: A Science & Technology Career Summit, Research!America's summit for early career researchers. This virtual event on June 30, 2021, 11-6 p.m. ET, will provide opportunities to explore an array of career paths, network with fellow researchers, and participate in professional development workshops. Attendees will also engage in meaningful discussions on issues critical to U.S. R&D. Space is limited, so please encourage early career investigators at your organization to register here. There is no fee to participate.
Alliance Member Updates: Alex Keenan, majority Staff Director for the Senate LHHS Appropriations Subcommittee, joined us for an off-the-record conversation on FY22 appropriations, what is anticipated in the President's budget, and the potential impact of the Administration's infrastructure plan.
Next Thursday, April 15, 2021 at 2:30 p.m. ET, Dr. Walter Koroshetz, Director of the National Institute of Neurological Disorders and Stroke (NINDS) of the NIH, will talk with us about combatting "Long COVID," previewing a soon-to-be-launched research program. You can register here.
Stay well, stay safe, and stay connected.
Sincerely,
Mary Woolley