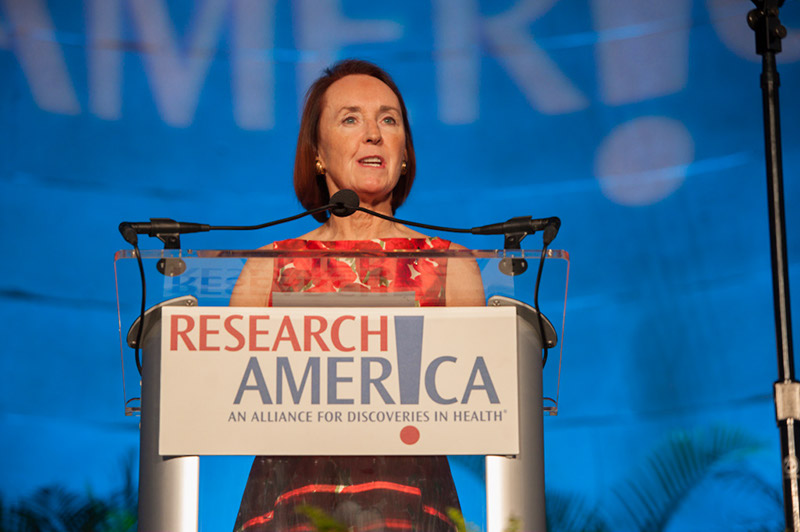 Dear Research Advocate,
The Senate HELP Committee and House Energy and Commerce Committee held hearings this week to review the Biden Administration's pandemic response and ongoing COVID-19 vaccine distribution with CDC Director Dr. Rochelle Walensky, NIH NIAID Director Dr. Anthony Fauci, HHS Chief Scientific Officer for the COVID Response Dr. David Kessler, and FDA CBER Director Dr. Peter Marks.
In their testimonies, the Administration officials underscored how utilizing past scientific discoveries in combination with new partnerships led to the development of COVID-19 vaccines and therapeutics at a record pace. They also spoke to concerns regarding equitable vaccine distribution, and how scientists are navigating emerging variants by modernizing existing research techniques. Addressing "long COVID-19" and the impending mental health crisis exacerbated by the pandemic also remain top priorities.
A Key Confirmation: Today, the Senate confirmed Xavier Becerra as Secretary of HHS, a crucial leadership position as we continue to grapple with the COVID-19 pandemic and ongoing health threats. You can read our statement here. Two additional nominees moved closer to confirmation after approval by the Senate HELP Committee: Surgeon General nominee Dr. Vivek Murthy and Assistant Secretary of Health nominee Dr. Rachel Levine.
A Key Bill: A new version of the Endless Frontier Act may come to the Senate Floor as early as next month. Based on last year's bill, the legislation would establish a new directorate at NSF and authorize $100 billion over five years to build out our nation's technological capacity. You can view the bill from last Congress here and a recent letter from former NSF directors and National Science Board chairs here.
Our Collective Voice is Key: Thank you to the more than 100 organizations that have so far joined our sign-on letter urging President Biden to champion the $25 billion that would be authorized by the Research Investment to Spark the Economy (RISE) Act (H.R.869/S.289). View the letter here, and if your organization has not yet signed on, we hope you will do so, using this form. The deadline has been extended until 12:00 p.m. ET on Monday, March 22.
Bayh-Dole Key to Tech Transfer: The Bayh-Dole Coalition and the Information Technology and Innovation Foundation (ITIF) are hosting a webinar, "March-In Rights for Federally-Funded Inventions: A Primer" on Thursday, March 25 at 1 p.m. ET. Panelists will detail how Bayh-Dole is central to maintaining an effective tech transfer system and the risks posed by potential misuse of the march-in provision. Learn more and register here. This related Research!America infographic may also be of interest.
How the U.S. Measures Up: "China's new national development plan to bolster scientific and technological competitiveness should be the wake-up call the U.S. needs…" write Research!America Board Member and AAAS CEO Sudip Parikh and Council on Competitiveness President and CEO Deborah Wince-Smith in a letter published by the Wall Street Journal yesterday.
Meeting the Moment: We will honor those in both the public and private sector during our upcoming Advocacy Awards. Recognized for meeting the moment with their outstanding COVID-19 work are the Johns Hopkins Coronavirus Resource Center and the Michigan COVID-19 Task Force on Racial Disparities. Join us to salute these and other remarkable efforts and individuals at this year's awards.
Welcome New Officers: I am pleased to announce that the Research!America Board of Directors has elected Susan Dentzer as Chair of the Board and the Honorable Bart Gordon as Vice Chair. Dr. Al Reece and Amy Rick will continue respectively as Secretary and Treasurer. We thank Governor Mike Castle for his tremendous leadership over the past four years and his continued service as Chair Emeritus. Please join me in welcoming our new board leadership.
Alliance Member Meeting Recap: Earlier today we were joined by Dr. David Skorton, President and CEO of the Association of American Medical Colleges (AAMC). He outlined three ways we can all work together in the midst of this pandemic: advocate for emergency supplemental funds, support reliable annual funding growth for the NIH's budget, and take actions to promote inclusivity and equity within our organizations, ASAP. Watch Dr. Skorton's discussion with us here.
Upcoming Alliance Member Meeting: On Thursday, March 25 at 2:30 p.m. ET, we will be joined by Dr. Mike Stebbins, President of Science Advisors and former Assistant Director for Biotechnology at OSTP, to discuss the proposed Health Advanced Research Projects Agency (HARPA) and its potential impact on health-related R&D. Register here.
Stay well, stay safe, and stay connected.
Sincerely,
Mary Woolley