Live from the 2020 National Health Research Forum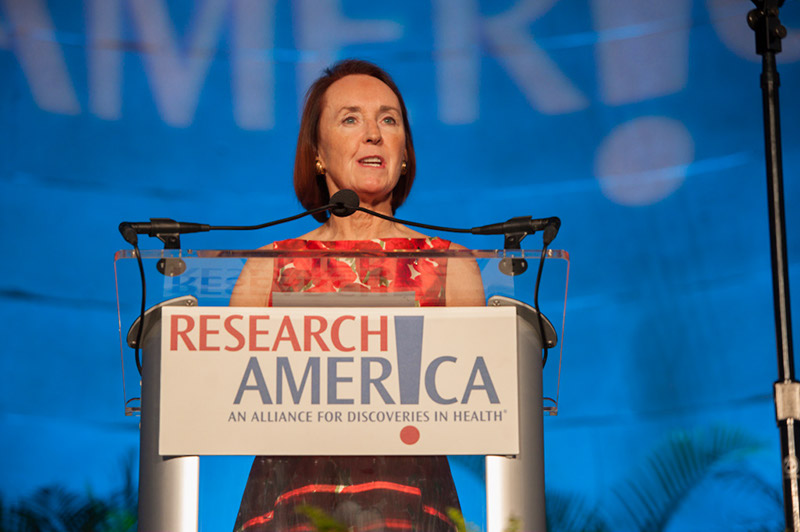 Dear Research Advocate,
Wow, what a day! 
I hope you were among the many who joined us yesterday for the first day of Research!America's 2020 Virtual National Health Research Forum — Straight Talk: Securing a Science-Strong Future.
Here's some of what we learned:  
We must "communicate, communicate, communicate — but in one voice. Leadership at all levels need to display unwavering enthusiasm for science and communicate the importance of scientific advancement like was done for [the response to] Sputnik." —Dr. Susan Hockfield

"We have an opportunity to really communicate and explain in a better way, what scientific data really mean and what is the respective context. There is no absolute truth, there is context." —Dr. Iris Loew-Friedrich

"I think it's unlikely [that we will have a vaccine by November 3rd]…It's not impossible, but it's unlikely to have a definitive answer at that time." —Dr. Anthony Fauci

"In our lifetime, it hasn't just been COVID19. We've had SARS, HIV, Ebola. This will not be our last show. The time is now. We must do better and we need to be thinking globally." —Dr. Gary Nabel

"Science is our way out of this." —Dr. Paul Offit

Scientists need to "teach the public more about vaccines, so that we will be better off for this problem and for future problems." —Dr. Ruth Karron

"We have the solution, we just haven't mobilized the silent majority."—Dr. Todd Wolynn

"If we don't understand how to turn science into health behaviors, we are spending a lot of money building the science literature." —Dr. Bruce Gellin

"When you say vaccines on the street, people tend to think "pediatric". There is a misconception that they're not at risk and that vaccines aren't needed throughout one's lifetime."—Phyllis Arthur

"Investing resources in building partnerships is vital in building trust. It begins now with clinical trials." —Dr. Sandra Crouse Quinn

"Deny the existence of systemic racism or COVID-19 and they'll both spread" —Dr. Kafui Dzirasa

"We're gonna have this vaccine. It's going to work. And we're going to stop this COVID" —Dr. Mike Levine

"We all know that science is self-calibrating.The findings today may change and may shift over time when we get more data." —Dr. Victor Dzau

"Science is always pursuing facts and trying to get to the truth. It's a sometimes messy process that ultimately gets us to an incredible place where we make dramatic breakthroughs."  —Dr. William Hait
Please tune in today, Wednesday, September 9, for live conversations with HHS Secretary Alex M. Azar and CDC Director Dr. Robert Redfield. Join discussions exploring the impact of COVID-19 on progress against diabetes as well as addressing imperatives such as measurably reducing racial and ethnic disparities in health and ensuring progress against non-COVID health threats. View 20 Voices/3 Minutes/1Question segments from leaders across the medical and public health research ecosystem, and much more.
Then, on Thursday, we will open with an interview with Admiral Brett P. Giroir, MD, the Assistant Secretary for Health at HHS, by CNN's Chief Medical Correspondent, Dr. Sanjay Gupta. We'll hear from an expert panel on the hard lessons learned about U.S. public health preparedness, and experience Flash Talks, an exciting competition among early-career, academic and industry researchers. These are just a few of the Day Three highlights! 
Join us! Registration is free of charge.
And remember, during breaks, engage in advocacy! There may be a spending package in some form or fashion as soon as the end of this week. Use this editable email to make the case for at least $26 billion to reboot stalled or reprogrammed research projects across the U.S. The need for this funding was a prominent topic throughout Tuesday's conversations. You can bet we'll hear even more today!
Stay well, stay safe, and connect with us today and tomorrow at the Forum!
Sincerely,
Mary Woolley