Meeting Americans' Expectations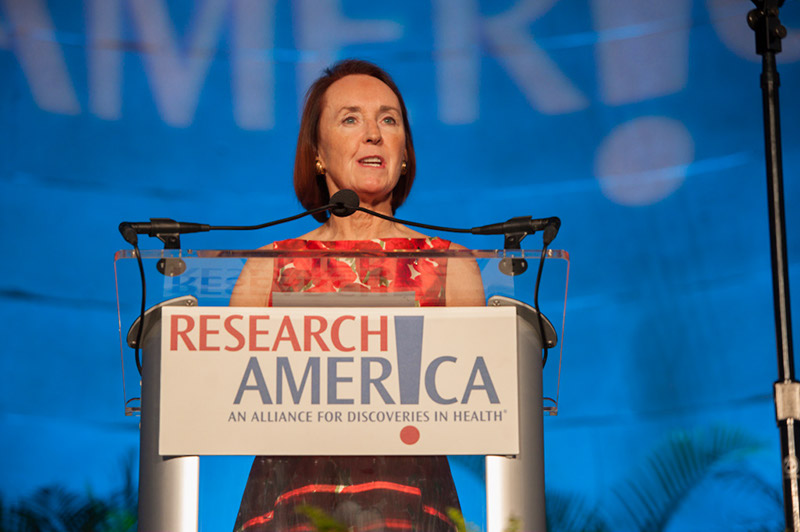 Dear Research Advocate,
In their different ways, Super Tuesday and COVID-19 both speak to public sentiment. What are Americans' expectations for those who represent them in Washington — and candidates who want to represent them in Washington — when it comes to promoting and protecting their best interests?
A new Research!America-commissioned survey (in the field just days before COVID-19 captured worldwide public attention) found that Americans want their policymakers to consult with public health professionals and scientists; are deeply concerned about a diversity of public health issues affecting their families, their communities, and our nation as a whole; and believe there should be greater investment in vaccine research. It is, however, concerning that trust in vaccine safety has declined by 9% over the past dozen years.
Underscoring the bottom line, large majorities of Americans say it is important for the President and Congress to assign a high priority to securing faster medical progress. Across the political spectrum there is support for doubling federal spending on medical research over the next five years. In fact, a majority of Americans would be willing to pay more in taxes if they knew the dollars were being invested in medical research. Read our release from earlier this week, and use the findings to start conversations about the ways that science supports the goals and aspirations of the American people.
Speaking of doubling science funding: in a recent op-ed, Eric Schmidt confronts our nation's tenuous grasp on global economic competitiveness. Among his recommendations for righting the ship, he calls on federal leaders to double funding for NIH, NSF, and other grant-giving agencies, seed "unprecedented collaboration between government and industry" and protect, rather than dismantle, our nation's longstanding commitment to scientific and technological prowess. Several of the same themes anchor the "JASON Report" and NSF's response to it released earlier this week.
Congress displayed welcome, and desperately needed, bipartisan collaboration this week with the passage of an $8.3 billion supplemental funding package for COVID-19 response activities, including more than $3 billion for research and development of vaccines, diagnostics, and therapeutics. During our annual Advocacy Awards dinner on Wednesday, March 11, 2020, we will be honoring a trio of world-class vaccinologists: Drs. Mike Levine, Paul Offit, and Gary Nabel. Just this week, President Trump visited NIH's Vaccine Research Center, founded by Dr. Nabel and led by him for 14 years. Email Katie at kgoode@researchamerica.org to join us on March 11.
Congressional collaboration, continued: In both the House and Senate, members of Congress are circulating "Dear Colleague" letters urging their fellow policymakers to join them in fighting for a wide range of critically important, research-related appropriations priorities, including robust funding for NIH and AHRQ and appropriations report language that ensures patients have a seat at the table when decisions about funding for fetal tissue research are made. Ask your member of Congress to sign onto the NIH letter, the AHRQ letter, and the fetal tissue research letter. It's confusing, I know! Shoot Ellie an email (edehoney@researchamerica.org) if you want to figure it out together!
Two more opportunities to take action:
The NIH National Library of Medicine is asking for public input as it works to improve ClinicalTrials.gov. Here is the RFI. Act quickly! Their deadline is March 14, 2020.
Last call to sign on your organization to Research!America's letter urging congressional leaders to complete the FY21 appropriations process on a timely basis and robustly fund our nation's science agencies. More than 130 organizations have signed on to date. Let's go for 200! Sign your organization on by COB Monday, March, 9, 2020.
Save the date: Our next alliance member meeting/call is taking place on March 19, 2020. In addition to catching up on 2020 advocacy priorities, Dr. Jacqueline Corrigan-Curay, who directs the Center for Drug Evaluation and Research (CDER) Office of Medical Policy at FDA, will join us to discuss 21st Century Cures implementation. Email Sarah at sackerman@researchamerica.org to save your spot.
Sincerely,
Mary Woolley