Raising Awareness; Raising the Caps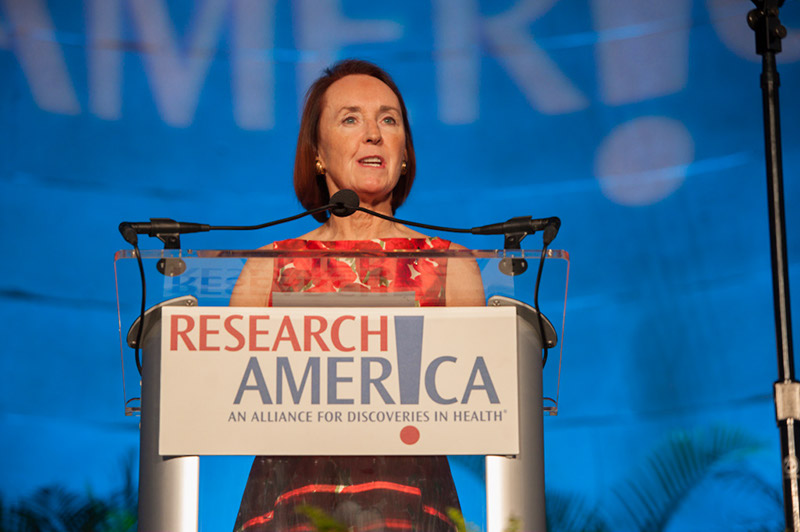 Dear Research Advocate,
"Not only is it important to ask questions and find the answers, as a scientist I felt obligated to communicate with the world what we were learning." Stephen Hawking
This apt quotation serves as the preface to a newly released survey from ScienceCounts and the Alan Alda Foundation for Communicating Science. Their findings, coupled with those reported a few weeks ago by SigmaXi and Research!America, signal recognition that if science is to thrive, scientists themselves must help make the case. Both surveys indicate that scientists are very willing to become engaged — more so than ever before, in my experience!
This week, members of Congress are back home, but not inaccessible…particularly through social media. Tweeting this short video to your congressional delegation is a quick way to make the case for what continues to be the immediate priority when it comes to funding science: raising the progress-stifling budget caps.
The costly toll of osteoporosis is a compelling example of the need to raise the caps and invest more in research. The total direct medical costs of osteoporotic fractures reached a staggering $48.8 billion in 2018, and the quality of life burden for patients dwarfs that figure. Please use our new fact sheet in your advocacy efforts.
The Patient Centered Outcomes Research Institute (PCORI) is conducting a long-term osteoporosis study comparing ways to reduce bone fractures. This research and so many other PCORI-funded studies illustrate why PCORI must be reauthorized before its current authorization ends at the end of September. Next week, the House Ways and Means Committee will hold a hearing on PCORI reauthorization. We will continue to provide you with ways to get involved in reauthorization efforts.
Today, Research!America sent a letter of support to Representatives Mikie Sherrill (D-NJ) and Anthony Gonzalez (R-OH) for their bipartisan legislation, the Securing American Science and Technology Act (SASTA). We value this legislation's reasoned response to the issue of foreign influence in research. If you are interested in joining a group of organizations working to promote responsible solutions as policymakers grapple with this issue, or want to write your own letter of support, please contact Ellie at edehoney@researchamerica.org.
Save the date: our July alliance member meeting will be Monday, July 23 at 11:00 a.m. Eastern.
I wish you all the very best as you celebrate our nation's independence day!
Sincerely,
Mary Woolley