Recognizing, Reconciling, and Revitalizing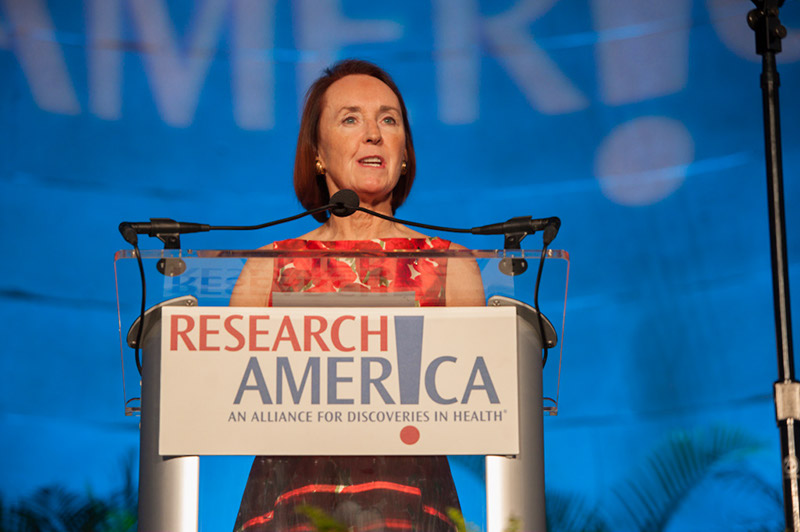 Dear Research Advocate,
In celebrating Black History Month, we acknowledge and honor the generations of African Americans who have significantly contributed to our nation's history. Many resilient, unsung heroes have helped enact critical change in the areas of science policy and research advocacy. In collaboration with the National Science Policy Network, Research!America has curated a collection of videos that recognize #BlackInSciPol professionals. Learn more about these scientists in the vanguard of their fields, both past and present, by following #BlackInSciPolWeek on Twitter.
Pushing for Health Equity: President Biden released an Executive Order on Ensuring an Equitable Pandemic Response to establish a COVID-19 Health Equity Task force that will "strengthen equity data collection, reporting, and use related to COVID-19." Data-driven efforts are the hallmark of good policymaking and crucial to tackling the health inequities so seriously exacerbated by the pandemic. Just announced: Research!America's Advocacy Awards to be held April 14 will feature exciting new awards for Outstanding Achievement in Public Health, celebrating exemplary people and initiatives addressing the pandemic.
On Capitol Hill: This week, the House and Senate are expected to wrap up passage of budget resolutions, the first step in the reconciliation process (see the alliance member briefing below for more on reconciliation) through which parts of President Biden's relief plan can move under a simple majority in the Senate. The relief plan is focused on funding for shorter term pandemic-related needs, such as ramping up the vaccine rollout. We have been told Congress is already working on the next recovery package to encompass longer-term priorities.
To make the case for including funds for research put on hold or even shelved due to COVID-19 priorities, alliance members have stepped up to provide examples of what's at stake. We have shared this information with Congressional and appropriations leadership, as well as with the Biden Administration, but we're not done yet!  Please take a moment to complete this short, anonymous survey and continue sending examples and stories to advocacy@researchamerica.org. The more real-world examples and insights we can provide to Congress and the Administration, the more impactful.
Here's another important action to take right away: Reps. Diana DeGette (D-CO), Fred Upton (R-MI), and other Congressional research champions are seeking original co-sponsors for the reintroduction of the Research Investment to Spark the Economy (RISE) Act. This key legislation supports funding to empower NIH and other federal research agencies to address pandemic-impacted research. Use this editable email to ask your Representative to sign on as an original cosponsor — the deadline is Friday at noon! The more members of Congress who signal strong support for research relief by signing onto the bill now, the better!
Behind the Scenes: Yesterday, alliance members were briefed on the 2021 Congressional agenda, the intricacies of budget reconciliation, the FDA regulatory outlook and much more, with guests Rob Smith of Capital Alpha Partners and Sarah Egge of SplitOak Strategies. Lots of useful insights for working with the new Congress and Administration: Access the recording here.
Leading with Science: In a recent op-ed in The Hill, Neal Lane and Norman Augustine outline the increasing inability of the U.S. to compete on the global R&D stage. To reverse this trend, the U.S. needs a new approach to funding and prioritizing science that pushes boundaries and spurs innovation. The Science & Technology Action Plan presents exactly the kind of bold new approach our nation needs to not just compete, but lead. Please consider having your organization or institution endorse the plan. Our collective voices are essential if we want to build the capacity to take on our most critical challenges. An astounding fact: one 30-second ad for this weekend's Super Bowl is equivalent in cost ($5.5M) to the current annual budget of the Office of Science and Technology Policy (OSTP). Let's not continue to shortchange the vital work of the OSTP. And let's get serious about doubling our nation's commitment to research and technology over the next five years.
Experience Matters: On Tuesday, Research!America sent a letter to President Biden thanking him for appointing Dr. Janet Woodcock as Acting Commissioner of the FDA at a time when the experience, expertise, and leadership strengths she brings to the role have never been more important.
Taking the Pulse: Earlier today, I joined Cary Funk, director of Science and Society Research at Pew Research Center, and Chris Volpe, executive director of ScienceCounts to delve into Americans' views on science. Americans, by and large, have positive views about scientists and science institutions, and recent survey data suggests that trust in scientists has increased. However, the data also reveals a worrying political polarization. As a research advocate, it is vitally important for you to get involved. Ask yourself what you can do to make a difference, and find ways to talk about what you do as a scientist to serve the public's interest. You can catch the session here.
Upcoming Alliance Meeting: On February 9, 2021, at 2 p.m. ET, we'll be joined by John Burklow, NIH Associate Director for Communications and Public Liaison, for a discussion about the agency's 2021 priorities. Register here.
Stay well, stay safe, and stay connected.  
Sincerely,
Mary Woolley