Securing a Science-Strong Future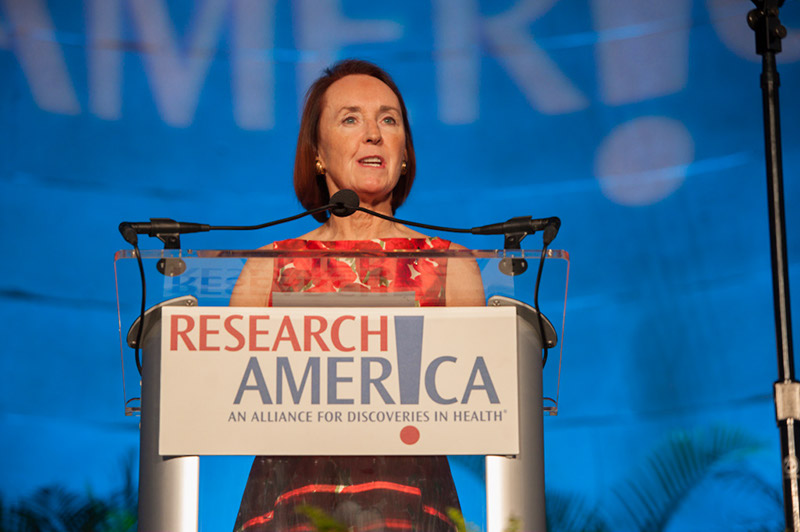 Dear Research Advocate,
Anticipation is building for the Research!America 2020 Virtual #RAForum: Straight Talk: Securing a Science-Strong Future, featuring federal officials, members of Congress from both sides of the aisle, and other leaders from across the R&D and public health ecosystem to explore the intersection of public and private sector-driven science and pandemic response, recovery, and preparedness.
An important late-breaking addition to the Forum program is HHS Secretary Alex M. Azar II, who will be in conversation with journalist and Research!America board member Susan Dentzer. We are also excited to let you know ADM Brett P. Giroir, MD, the Assistant Secretary for Health at HHS will be interviewed by CNN's Chief Medical Correspondent, Dr. Sanjay Gupta. Again, the Forum is free of charge, available on your own screen with opportunities to engage with the experts. Please join us — registration is open.
Alliance Member Meeting Debrief: Late last week, Research!America alliance members heard from Pete Kirkham of Red Maple Consulting, with an update on what is happening (and unfortunately, not happening) in Congress. Pete is among those who foresee the possibility of a government shutdown. He also told us we should expect a Continuing Resolution (CR) to last through December, or even longer. (See more on this topic below.)
From Capitol Hill: House Majority Leader Steny Hoyer (D-MD) has sent a letter to colleagues in the House stating a CR is expected. It is possible a fifth COVID-19 emergency spending bill could be attached to the CR, but there are no signs of agreement on what would be included in that package. Earlier this week, Senate Republicans released a new bill related to COVID-19 relief. It does not include funding to replenish COVID-19-eroded research dollars. The Senate is likely to take up this bill when they return to Washington, D.C. next week; it is unclear if it has enough support to pass (and if it does, there is no indication the House would take it up).
Uncertainty, disagreement, and lack of action in the face of crushing health and medical research needs across the country are simply unacceptable. CRs stop progress, and enacting one at the end of this month solves nothing, just when we most need solutions. Political dynamics on Capitol Hill are always trickier in election season but that doesn't mean a bipartisan agreement is impossible — keep the pressure on! Patients don't have the luxury of waiting. Email and tweet your members of Congress to urge them to prioritize funding for our nation's research agencies. We've crafted a week's worth of tweets for this; put them to good use!
Correcting Public Health Misinformation: Launched this week, the Public Health Communications Collaborative is a terrific resource for public health professionals to respond to questions about testing, masks, school reopenings, and much more. It is led by the CDC Foundation, the de Beaumont Foundation, and Trust for America's Health.
Speak Up: The virtual Rally for Medical Research Hill Day will take place on Thursday, September 17, 2020, with training sessions on September 10 and 16. Rally participants will call on policymakers to prioritize NIH funding and discuss with Congressional staff the importance of investments in medical research. More information here.
Next Week: With the National Health Research Forum coming up next week, look for an abbreviated Weekly Letter on Wednesday with highlights from the Forum's first day. Remember to register — and share the link.
Stay well, stay safe, and connect with us next week at the Forum!
Sincerely,
Mary Woolley