Setting Unwelcome Records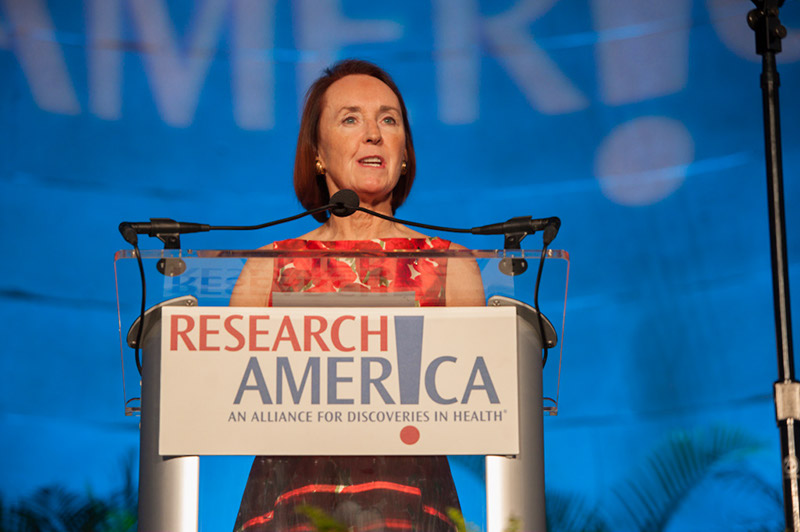 Dear Research Advocate,
COVID-19: With the alarming escalation in infections and hospitals running out of beds due to the pandemic, it's timely to stress to policymakers (and those who wish to be) that the American people want action now to improve our public health system. Today we published additional results from our recently-commissioned survey on behalf of a working group formed to address our nation's commitment to science showing that strong majorities across the political spectrum see improving our public health system as an urgent priority.
Science Strong: Please take a moment before November 3 to make the worst week of the pandemic the week every candidate connects the dots between defeating societal threats and dramatically bolstering our nation's STEM and public health capacity. Use the new survey data and our #VoteScienceStrong hashtag across social media platforms and our www.VoteScienceStrong.com webpage for resources.
I discussed a key facet of our nation's R&D strength with The Lancet in an article focusing on what the next administration might mean for the research ecosystem. Regardless of how the elections play out, we must secure our future as a nation and as a member of the global community by cultivating a world-class STEM workforce. Further, we must do better than funding only a fifth of the promising research proposals NIH receives. Given the value scientific discovery delivers, we are leaving too much of it on the cutting room floor.
Forum Follow-up: Today, we sent a letter to the House Select Subcommittee on the Coronavirus Crisis, sharing relevant insights from our annual National Health Research Forum. Needless to say given the size and scope of the forum, it's not exhaustive, but we worked to capture major themes. Thanks again to the more than 90 speakers and panelists who made the Forum a truly meaningful event.
Pre- and Post-Election Outlook: Yesterday, Paul Bock, a Capitol Hill veteran who served as Chief of Staff to former Senator Herb Kohl (D-WI), was the featured speaker for an alliance member pre-election briefing. Paul detailed current Presidential and Senatorial polls compared to this time in 2016, noting shifts in key demographics, particularly in individuals 65 and older. Speaking as a tortured Cubs fan, Paul was clear that "if you have any time left on the clock, anything could happen." He noted that some Senate races could take several weeks to be decided — Maine and Georgia in particular because of their specific election rules. Access a recording of the meeting here.
That's pre-election. We have you covered for post-election, too. Join us on November 10, 2020 from 11 a.m.-12 p.m. ET for a look ahead with journalist and political analyst Frank Sesno, former CNN Washington Bureau Chief and anchor and Director of The George Washington University's School of Media and Public Affairs.
Joining Frank will be our own Ellie Dehoney, as well as Pete Kirkham of Red Maple Consulting, and Research!America board member Dr. Georges Benjamin, Executive Director of the American Public Health Association. No one is better able than Georges to provide a clear picture of where we are now and where we may be headed as our nation and the global community work to end the COVID-19 crisis. Register here.
On Capitol Hill: Negotiations have been suspended on a COVID-19 emergency spending package until after the elections. For advocates to secure supplemental research funding, a full-court press will be needed immediately after Election Day — stay tuned for opportunities!
On Pennsylvania Avenue: The President has issued an executive order (EO) that bears on the integrity of federal policymaking in general, and that could be particularly detrimental to the integrity of policies that draw on or affect science. The EO strips certain civil servants, those in roles that are of a "confidential, policy-determining, policy-making, or policy-advocating character," of the employment protections afforded other career civil servants, and instead classifies them as "excepted service" personnel who can be fired without cause.
Largely seen as a lever for forcing civil servants to bow to political pressure rather than serve dispassionately, this EO could leave the Executive Branch without experienced or independent personnel who can leverage and advance science and provide impartial counsel to political appointees. We are joining forces with others who see this as extremely concerning to push for its rescission. Email Ellie at edehoney@researchameria.org to discuss and get involved.
Deadline Approaching: Are you a member of a graduate student or postdoc-led science policy group? Supported by a grant from the Rita Allen Foundation, our Microgrant program is now in its third year of funding young scientist-led civic engagement initiatives. Please share this opportunity with your networks! Applications are due November 9, 2020. Click here for all details, and here to watch and/or share a webinar about this opportunity.
Stay well, stay safe, and stay connected.
Sincerely,
Mary Woolley