Building the Foundation Through mRNA Research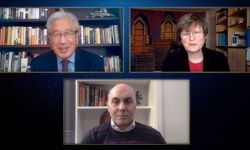 The Research!America 2021 Virtual Advocacy Awards program featured a discussion with the co-recipients of the 2021 Building the Foundation Award: Katalin Karikó, PhD, of BioNTech and Drew Weissman, MD, PhD, of the University of Pennsylvania.
Pfizer's Mikael Dolsten, MD, PhD, introduced the recipients, then Research!America Board Member Victor Dzau, MD, President of the National Academy of Medicine, kicked off a discussion with the two collaborators whose work led to the use of messenger RNA (mRNA) in the development of key COVID-19 vaccines. Dr. Dzau expressed his sincere appreciation: "You know, your research is remarkable, it really changed the world and saved millions of lives. And I will say to you, on behalf of everyone in the world, thank you."
The research partnership began in 1998. "It is true that we met at the copy machine, it was not a made up story … We had a copy machine and the end of the hallway. And then that's where we started to talk," Dr. Karikó said. They emphasized knowledge is what facilitated and bonded their collaboration. "We needed each other. I had the knowledge, which was mostly the RNA, and Drew was the immunologist… We had complementary and overlapping knowledge," Dr. Karikó said.
Dr. Weissman added that he and Dr. Karikó are both committed to seeking knowledge, explaining, "our greatest goals aren't to accomplish huge things, but to understand and to learn. And I think that's what drove us for all of those years."
They discussed the challenges and ups and downs of the basic research that led to the breakthroughs allowing mRNA to be used for vaccine development. "I never tell my grad students to spend 20 years working on something that isn't working. But we knew that this was important. We knew it had enormous potential. So we kept it up," Dr. Weissman said.
Dr. Dzau asked the pair to share any advice for facing adversity. They identified: 1) focusing on progress, 2) discerning valuable criticism, and 3) staying the course as the principles they've relied on throughout their careers that helped lead to their landmark discovery. 
"I am just very happy that the vaccine was created," Dr. Karikó said, "And I want to take the opportunity to reflect on the importance of other scientists, teachers, and colleagues in Big Pharma that did an excellent job to make sure that this vaccine will get to the people." 
There is no stopping these two — they are "already onto the next thing, to the next vaccines, to the next gene therapies, to the next therapeutic applications," Dr. Weissman said.
Learn more about Dr. Karikó, Dr. Weissman and all the other 2021 Advocacy Award honorees and watch a recording of the full 2021 Advocacy Awards program.