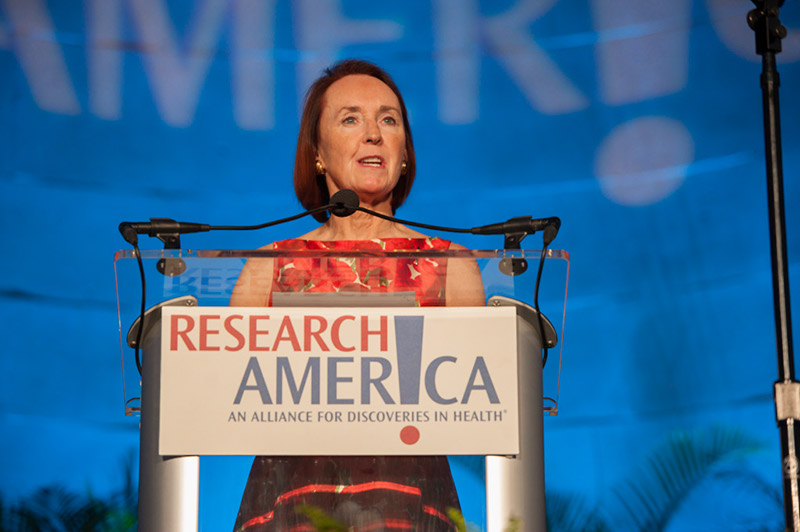 Dear Research Advocate,
Last night, nearly 500 people joined us for Research!America's 22nd Annual Advocacy Awards Dinner. We had the honor of presenting Senator Susan Collins (R-ME) with the Edwin C. Whitehead Award for Medical Research Advocacy, welcomed surprise guest, House Democratic Leader Nancy Pelosi (D-CA), and had the privilege of honoring other truly inspirational leaders and leading organizations in science and advocacy.
If you were not able to be with us, I encourage you to check out our dinner recap. You can also see photos and comments about the Advocacy Awards Dinner from attendees on Twitter by searching #RAawards18.
For all of us at Research!America, it was extraordinarily meaningful to pay special tribute to Research!America's Chair Emeritus and former Congressman John Edward Porter, who received the Legacy Award for his unprecedented and unparallelled role in elevating medical research to a higher rank among federal priorities. The Legacy Award was named in his honor that evening. In concrete ways, John has accelerated the pace of medical progress, and in so doing, he has weakened the grip deadly and debilitating diseases have on our nation and across the globe. We may not yet have a world without disease, but we have a world with research-driven advances that are saving lives. It is difficult to imagine a contribution to the U.S. and global community more significant than that. For a terrific tribute video highlighting John's illustrious career, click here.
We also held our Annual Meeting yesterday, beginning with an inspiring keynote address by House Science Committee Ranking Member Eddie Bernice Johnson (D-TX) and featuring a stand-out panel discussion on the role of science in preventing, treating, and ultimately curing serious mental illnesses. Panelist Brandon Staglin, who has experienced schizophrenia in his own life and is advancing mental health research and recovery strategies as the president of One Mind, advised mental health advocates to "help by building hope in yourself and sharing hope with others… Learn all you can about the amazing science that's changing brain health care. Share this information with everyone you know, including your legislators. Become a regular hope machine."
If you were not able to attend, you can view the meeting here. I'm biased, of course, but there is particularly rich content in it for exposing students to science policy and science communications "on the ground."
Not surprisingly, another recurring theme across yesterday's events was the importance of robust research funding. Democratic Leader Pelosi announced from the stage last night the possibility of an FY18 increase for NIH in the range of $3 billion! Now that's progress! No news on our nation's other science and public health agencies. We don't expect the final bill to surface and pass until next week, so there's still time to weigh in. Use this editable action alert to demonstrate your support for these agencies.
As the push for a final FY18 omnibus continues, FY19 appropriations deadlines loom. The Coalition for Health Funding is keeping a running list of end dates senators have set for receiving input on what their FY19 appropriations priorities should be (the House request deadlines have already passed). In addition to using those portals to push for increased funding for NIH, CDC, FDA, NSF and other science agencies, I hope you will call your representative (find his or her office number here) and urge them to sign on to a letter Congressman Beyer (D-VA) is circulating in support of robust AHRQ funding.
Some sad news yesterday: we learned about the death of physicist Dr. Stephen Hawking. When we ask respondents to name a living scientist in our commissioned surveys, invariably, most name Dr. Hawking. Part of his indelible impact was an ability to convey science in a way that tapped into our excitement, our values and our hope for the future. That brings me full circle to yesterday's events. From Brandon's insights about the power of connecting with others to John Porter's call, during his acceptance speech, that we engage candidates on the priority of research funding, the fact is that to advance science, we need to talk about science. Go for it! #fundscience
Sincerely,
Mary Woolley