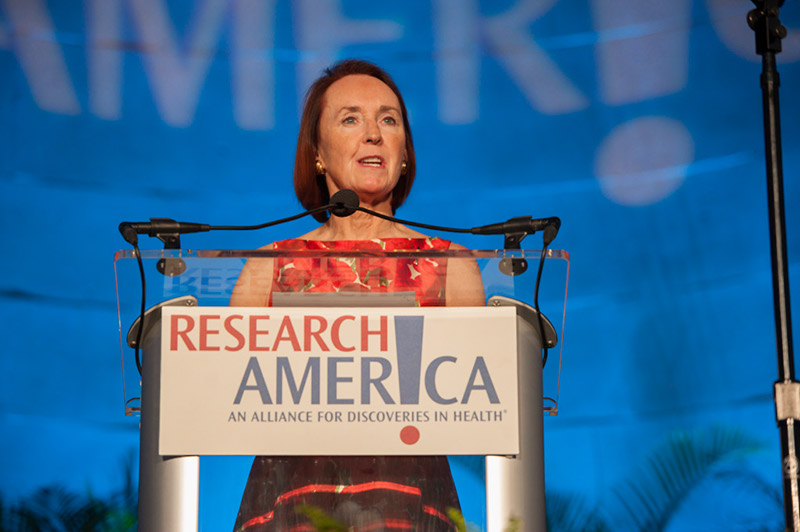 Dear Research Advocate:
Tomorrow is the final day to nominate outstanding leaders in medical, health and other scientific research for a Research!America 2019 Advocacy Award. Learn more about the 2019 awards and submit nominations here. If you have someone in mind and could use backup to help fill in the submission details, let us help! Email Barbara at BLove@researchamerica.org.
Last week, the president unveiled his plan to address drug pricing, the American Patients First plan. In addition to the release, the Department of Health and Human Services (HHS) issued a request for information (RFI) that established a 60-day window for public comment. Secretary Azar's written statement on the plan, prepared for a May 16 event at Brookings, places several of these proposals in context.
One major theme in the plan is value-based purchasing. The administration proposes "experimenting with" and "considering further use of" value-based purchasing in federal programs. Unfortunately, as noted last week, the president has also proposed rescinding (cutting) $800 million from the HHS Center for Medicare and Medicaid Innovation (CMMI), which employs health economics and health services research (HSR) to assure value-based purchasing and other innovative health care financing and delivery models work in real world settings.
Research!America has already voiced our opposition to this rescission in letters to congressional leadership and relevant committees, and we plan to submit comments around this topic in response to the drug pricing plan RFI. Join us on Thursday, May 24 at 12:30 p.m. ET for an alliance member lunch discussion focused on the administration's value-based purchasing proposals and, more broadly, the significance of VBR to the nature and pace of medical progress. Dr. Greg Daniel from the Duke-Margolis Health Policy Center will lend his expertise to the conversation. Email Jacqueline at Jlagoy@researchamerica.org to join in person or by phone.
One more thought on the proposed CMMI rescission: the House is expected to take up the rescissions package before Memorial Day. Wednesday's edition of "the Hill" included a commentary Congresswoman Kay Granger (R-TX) wrote in support of the package. There is both need and opportunity here. The health services and health economics research CMMI conducts is underappreciated, as is HSR and health economics research generally. Weighing in against cuts to CMMI provides a platform for raising awareness about these research disciplines. Let us help with a letter, email or tweet! Email Ellie at edehoney@researchamerica.org.
On to FY19 appropriations: The House appropriations subcommittees are reportedly receiving their 302(b) allocations individually, and the Labor-H allocation has not been made public. Chairman Tom Cole (R-OK) has suggested that the House allocation for Labor-H may be below FY18 levels, while Chairman Roy Blunt (R-MO) has indicated that the Senate allocation is approximately $2 billion higher than FY18. Given the sheer number of key agencies and priorities under Labor-H jurisdiction, neither of these allocation levels creates a smooth path to FY19 increases for NIH, CDC or AHRQ. Ask the members of your congressional delegation to champion these agencies.
Last, but certainly not least, what are you doing at 1:00 p.m. ET on June 1? I am pleased to invite you to a Society for Neuroscience (SfN) and Research!America webinar on a fundamentally important advocacy question: how do you assess success? Our presenters for Measuring Advocacy Outcomes include Research!America Board Member and former Member of Congress The Honorable Bart Gordon, Dr. Annette Gardner (UCSF) and Dr. Carlisle Levine (BLE Solutions). Register here!
Sincerely,
Mary Woolley