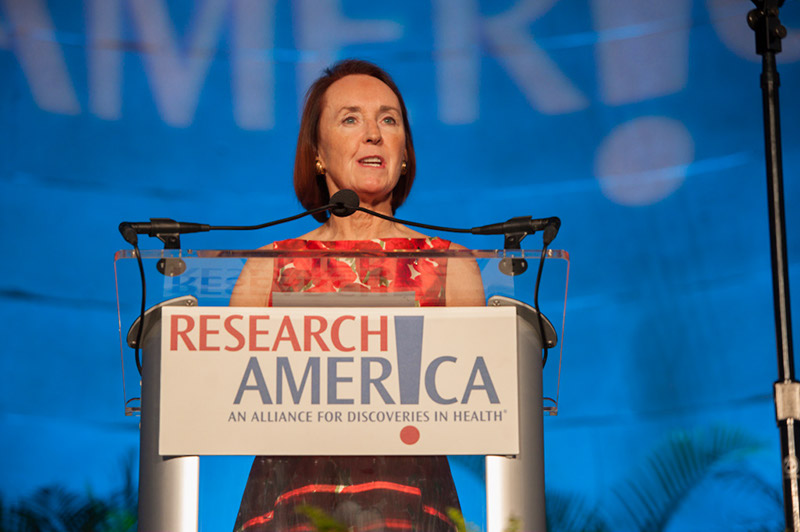 Dear Research Advocate,
Yesterday, the Senate passed a sweeping opioid package (H.R. 6), previously passed by the House, and sent it to the President for his signature. It includes intensified research into new pain management therapies that factor importantly into a broad array of opioid response strategies. This can't come too soon: according to a recent study from AHRQ, there were nearly 125,000 opioid-related hospitalizations among older Americans in 2015; more Americans died from drug overdoses in 2016 than the number of American lives lost — 58,200 — in the entirety of the Vietnam War.
The opioid legislation is an excellent example of much needed bipartisanship; the FY19 Labor-H/Defense appropriations package, which the President signed on September 28th, is another. We are circulating a sign on letter to the Chairs and Ranking Members of the House and Senate Labor-H Subcommittees thanking them for securing a $2 billion increase for NIH and their stewardship over other critical health research funding included in the bill. The deadline for signatures is COB Wednesday, October 10. Please add your organization here or contact Sara on my staff at schang@researchamerica.org.
Earlier this week, I participated in a panel discussion hosted by the Aspen Institute and ScienceCounts on the ways Americans' views on science do–and do not–align with current efforts by the science community to inform and persuade the public to be supportive. As Science Counts Executive Director Chris Volpe underscored, their research shows that the brand of science is hope. Connecting hope to finding solutions, which he also discussed, comports with our recommendation that scientists must regularly say and convey: "I work for you."
Just-announced Nobel scientists have been working for us all. Federally-funded researchers Dr. James Allison and Dr. Tasuku Honjo were chosen for the 2018 Nobel Prize for Physiology or Medicine for their groundbreaking achievement in immunotherapy, paving a path to transformative advances in the treatment of cancer and holding enormous promise to combat a broad spectrum of health threats. Dr. Frances Arnold, Dr. George Smith and Sir Gregory Winter will be presented the Nobel Prize in Chemistry for evolving new proteins used in medical treatments. Talking up these landmark achievements helps attach a compelling story to the importance of continued public support for basic science. (See our statements here and here.)
AAAS has long been at the forefront of efforts to engage the public and create actionable information for policymakers. Now they have launched the Center for Scientific Evidence in Public Issues (EPI) to produce "…timely, well-communicated evidence narratives—what scientists know about a topic, how they know it, what the evidence means, and how it relates to public policy issues."
Our nation's public health agencies are required to respond to many complex challenges across the health spectrum. One such challenge is migraine, a shockingly debilitating condition that affects an estimated 28 million Americans. On Wednesday, we held a Capitol Hill briefing discussing the profound social and economic impact of migraine and the importance of continued R&D. Check out the recap. Another complex and important health issue is the link between oral health and systemic health. Next week, on October 10, 2018 please join Research!America from noon-1:00 p.m. ET in 121 Cannon House Building as we explore these linkages, the need for continued research in this field, and a look at some of the high impact science that is front and center for the National Institute of Dental and Craniofacial Research (NIDCR).
We will hold an alliance member meeting/call on Thursday, October 11 at 1:00 p.m. ET featuring Rob Smith and Kim Monk of Capital Alpha Partners, who will help shed light on the near and mid-term outlook for congressional action on drug pricing and other research-relevant issues. The meeting will be held at the Drug Information Agency, 21 Dupont Circle NW Suite 300. To RSVP for either event, please email Jacqueline Lagoy at jlagoy@researchamerica.org.
Sincerely,
Mary Woolley