Election Countdown Begins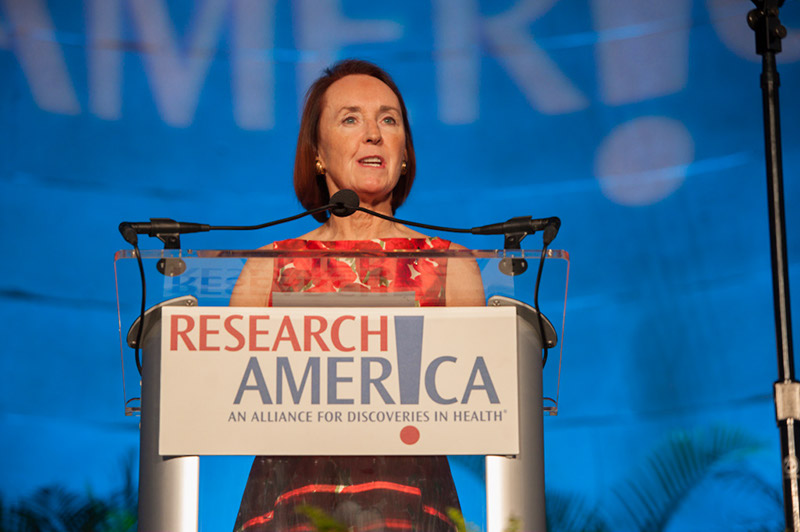 Dear Research Advocate:
Earlier today, Rob Smith and Kim Monk of Capital Alpha Partners, and Pete Kirkham of Red Maple Consulting joined Research!America alliance members to discuss the near and mid-term outlook for congressional action on drug pricing, the state of play on appropriations, and other research-relevant issues. Although our speakers noted that much can change in the final week before the election, there were several key takeaways. First, it's safe to say that the uncertainties surrounding the election and the ongoing interest (both in Congress and the White House) in addressing rising healthcare costs means that drug pricing and issues related to the supply chain more generally will remain prominent in 2019. This also creates an opportunity to make the case for health services research, which is a tool that can and should be used to responsibly bend the healthcare cost curve.
The second takeaway: while the risk is present that Congress will delay the rest of appropriations, including NSF and FDA, until 2019, every indication is that Congress remains committed to finalizing appropriations before the end of the year. Since agencies like NSF and FDA are currently in limbo and subjected to flat-funding, that is very good news indeed.
With only a few weeks until the midterm elections, Research!America's nonpartisan civic engagement initiative is helping graduate and postdoc-led science policy groups engage candidates and the public on research and development as a national priority. Among other activities, these groups have or will host forums with candidates to discuss science-relevant topics. So much is at stake; it is imperative, especially in these last days before the election, for every stakeholder in research to touch base with candidates for Congress. Contacting a candidate, attending a town hall or writing a letter to the editor (you can find an example here) are a few ways you can engage.
Effective engagement with candidates, members of Congress and constituents requires some understanding of how the public perceives science and connects it to personal and public interests. I was part of a timely conversation last week on how to best demonstrate the impact and value of research; the slide deck and panel discussion are now available. I would value feedback on whether you find the information useful, and what else you would like to know to enhance the impact of your advocacy.
And speaking of Congress, a great thanks to the more than 160 signatories who have already signed their organizations on to a community letter thanking the Chairs and Ranking Members of the House and Senate Labor-H Subcommittees for securing a $2 billion increase for NIH and advancing public health through other critical funding included in the bill. A copy of the letter can be found here. Please act now to add your organization or contact Sara at schang@researchamerica.org.
Another way to engage: raise awareness about the value of research by highlighting the work of those in the field working to improve the health and well being of communities across our nation and the globe. Every year on the Monday before Thanksgiving we salute the enormous contributions of those behind the scenes, as well as on the front lines of public health. On November 19, in partnership with dozens of other organizations, we will pull out all the stops to thank public health heroes for their service. I hope your organization will join us. Email Sara at schang@researchamerica.org for more information on "Public Health Thank You Day" and become a partner today. (There is no charge to join us.)
Oral health is a vital component of public health in its own right. Research is revealing integral connections between oral health and a range of serious health conditions — see our new fact sheet released at yesterday's Capitol Hill briefing. Panelists included the National Institute of Dental and Craniofacial Research (NIDCR) director, Dr. Martha Somerman, as well as other compelling representatives from the Colgate Palmolive Company, American Dental Association, and Oral Health America. Dr. Somerman noted that, "We imagine a world where dental, oral, and craniofacial health and diseases are understood in the context of the whole body." The panelists demonstrated how collaborations and public-private partnerships are working towards that goal. As Beth Truett, President and CEO of Oral Health America, aptly stated, "It is not one of us but all of us that drives the kind of outcomes that we're looking for: that oral health will be recognized as important to systemic health, and that people understand and enjoy a healthy mouth and a healthy body."
Sincerely,
Mary Woolley