If you think research is expensive, try disease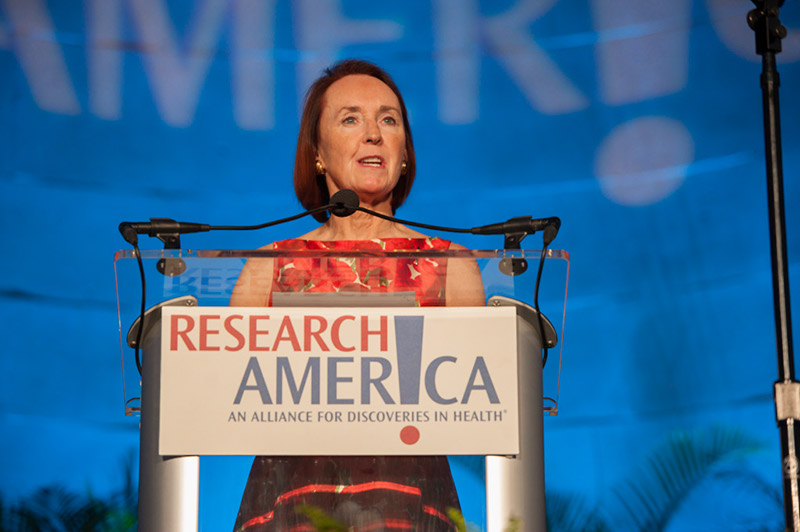 Dear Research Advocate:
Last Friday, I attended the 2017 Lasker Awards luncheon. The awards program honors the legacy of Mary Lasker, who once crisply noted: "If you think research is expensive, try disease!" I was struck by Lasker Laureate John Schiller's provocative observation in his acceptance remarks that ensuring the "nurturing stream" of a robust science infrastructure may be more important than celebrating outstanding individual scientists. I take his point and am glad there is room to celebrate both, and it is certainly true to Mary Lasker's legacy that our community advocates for both — for the institutions and policies and funding that make science possible, and for the individuals and partnerships that work to give us all better health and quality of life.
One way Research!America drives advocacy is through our public opinion surveys. In a recent survey, we noted that 'lack of trust' has become less of a barrier to clinical trial participation, particularly among minority populations. Also, majorities of African-Americans, Hispanics, Asians and non-Hispanic whites say they would participate in a trial if recommended by their doctor. We must work together to build even more trust and help drive participation in clinical trials among all segments of the population.
An advocate's work is never done! Despite its proven return to members of our military, their families (who in a very real sense are also members of our military), and taxpayers across the nation, medical research conducted through the Congressionally Directed Medical Research Program (CDMRP) at the Department of Defense (DoD) has been placed at risk by the Senate-passed National Defense Authorization Act (NDAA). Senators Durbin (D-IL) and Blunt (R-MO) attempted, but were unable, to block Senator McCain (R-AZ) on this point. A final bill still needs to be conferenced (negotiated) with the House. We need all hands on deck to convince the appointed negotiators or "conferees" to reject the damaging restrictions in the Senate legislation when they craft the final bill. Check out next week's message for a letter template; we hope you will make use of it to help protect life-saving research!
Very much in the news, the Senate HELP Committee has abandoned an effort to craft a bipartisan bill that would shore up the Affordable Care Act (ACA), and the chances are growing that the controversial "Cassidy-Graham" replacement bill will secure enough Republican votes to pass Congress. Cassidy-Graham is controversial for a number of reasons, one of which is that it would repeal the Prevention and Public Health Fund (PPHF). Research!America sent a letter to Senate leadership reiterating our opposition to ending this common sense fund. With hurricane season and its numerous public health challenges upon us, it makes far more sense to increase the PPHF than to even contemplate — much less pursue — its elimination. Use this action alert to make your voice heard.
Two good reads: FBR President Matthew Bailey's Wall Street Journal article on the importance of animal research, framed from the vantage point of pet owners, and an article about speeding medical progress by Dr. Mikael Dolsten, President of Worldwide Research & Development at Pfizer. Dr. Dolsten shares how he has been inspired by the Biden Cancer Moonshot's goal to achieve ten years of progress in five. Dolsten writes, "In that spirit, I am challenging us all to think about what a decade's worth of progress in half the time could mean – not just in cancer research, but in battling every single disease that's plaguing society, and devastating patients and families around the world." It is a worthy goal; accomplishing it means we all need to push for eliminating barriers to progress and raising more voices and more resources to support research and innovation.
Sincerely,
Mary Woolley