Ironies and Urgencies Frame the New Year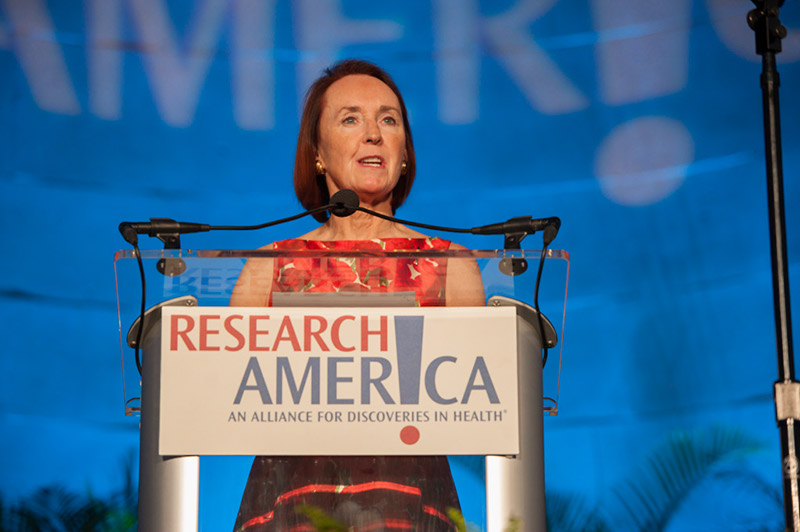 Today marks Research!America's 29th anniversary as your partner in advocacy. Thank you for your engagement and support as we enter the new year.
Findings from surveys we commissioned in 2017 reaffirm a slow-boiling irony: Americans have confidence in science and say they trust and respect scientists, yet scientists and the institutions in which they work remain largely invisible to the public. It may be tempting to view these findings as a signal that silence (and invisibility) are golden, but that would be a dangerous leap to make. "Confident in" is not synonymous with "supportive of," and "invisible" and "top priority" rarely go hand in hand.
Our findings and those of ScienceCounts and others suggest that Americans and their representatives aren't paying a lot of attention to science. Those who do may be taking for granted both the benefits of science and the investment that fuels it. On the latter point, there is a prevailing assumption (I hear it in one form or another all the time), that research investments are fungible. Some people assume that if the government doesn't invest, the private sector and philanthropy will pick up the slack; others assume that if the private sector shrinks its investment, government and philanthropy will grow theirs to fill the void.
Meanwhile, social media drives questions on every topic. Stakeholders can fumble in response to public or decision-maker skepticism. This is another irony, since science is based on skepticism — scientists are trained to be skeptical. Treating public skepticism as something reasonable and understandable can help shift the dynamic and change the conversation…and perhaps win hearts and minds for science.
For these reasons and more, it is a strategic imperative for stakeholders in research and innovation to speak out with a strong and unified voice in 2018. It is equally imperative that stakeholders take time to say and convey "I work for you," actively engaging the non-science public and our (mostly non-science) policymakers in discussions of how science conveys benefits. If many more stakeholders, including scientists themselves, resolve to engage, we will, individually and collectively, leverage every opportunity to arrest the slide toward confusion about, indifference toward, and ultimately rejection of additional investment in research and innovation.
Engaging this election year is especially strategic. Urging policymakers to take action instead of standing by as other nations surge forward is crucial to our nation's future. We don't have much time to retain the U.S. global competitive edge. China, for example, has made pharmaceutical innovation a top national priority. We kept these realities in mind as we summarized the good news about how advocacy (mostly) worked in 2017 and looked ahead to our top-line priorities for 2018.
Members of Congress face a self-imposed legislative backlog after a tax package-dominated December. They have just two weeks to come up with a budget deal before the current continuing resolution (CR) expires January 19. We expect (1) yet another CR and (2) no movement on FY18 appropriations (or FY19 for that matter) until the question of raising the caps has been resolved. Join us on Tuesday, January 9 for a Research!America alliance members lunch meeting (call in if you can't join us in person) during which we will brainstorm 2018 priorities and January advocacy efforts to seal a budget deal.
Another item that requires congressional attention sooner rather than later is the medical device tax, which was reinstated January 1. The reason there is bipartisan support for ending this tax is that our nation should be driving capital investment toward faster medical progress, not away from it. AdvaMed CEO Scott Whitaker recently wrote a letter to President Trump making the case for ending this tax…use this editable email to weigh in with your congressional delegation!
Senate Minority Leader Chuck Schumer (D-NY) has released a statement calling for increased funding for the opioid epidemic. The funding needed to address this threat very much includes resources for research. This "addiction tsunami" (a phrase former Congressman, former Research!America Board member Patrick Kennedy has coined) is so complex that it can breed a sense of powerlessness. Knowledge is power. We need more research. The irony is that having given short shrift to research on mental health challenges for decades now, we don't have the tools that might help with addiction at the ready when a brewing problem like opioid abuse becomes epidemic. The parallel to the HIV/AIDS epidemic is instructive; with ramped up research we can face this new challenge down as well. This is an urgent advocacy priority.
Science is a key that unlocks life-saving progress against what ails us, but it takes public and private sector partnership and investment as well as sound science-based policymaking to ensure that key turns in the lock. That's where advocates (and we need far more of you) come in. Let's make this the year the research ecosystem goes bold. We must think big, strategize effectively and fight harder for a science-rich future. We can get there; we will get there – join us!
Sincerely,
Mary Woolley