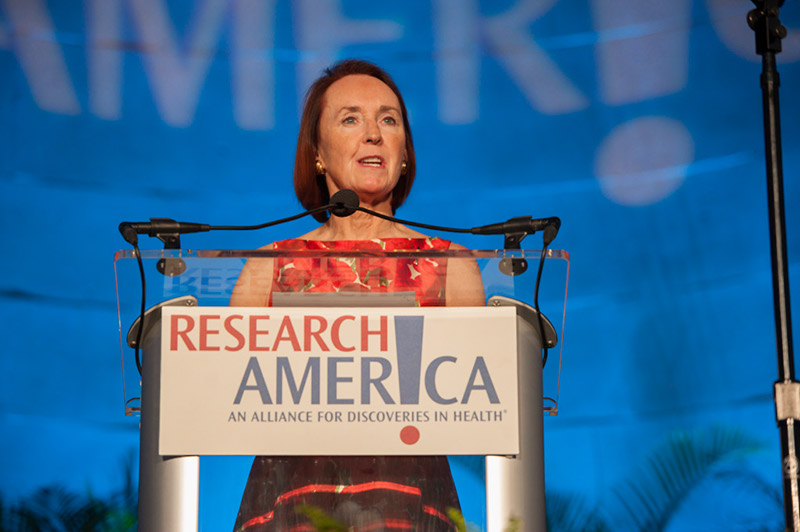 Dear Research Advocate:
A special thanks to Grace Stuntz and Nick Bath of the Senate HELP Committee for meeting with Research!America alliance members on Tuesday to discuss the committee's 2018 research-related priorities, among which opioid response legislation is front and center. The HELP Committee has passed a bipartisan bill and is working on determining likely amendments in anticipation of a floor vote; the House Energy & Commerce Committee hopes to approve a package and secure House passage by Memorial Day.
The opioid bills in both Houses reflect the diversity of research disciplines (and associated funding) needed to overcome complex public health threats like this one; for example, under the Senate bill, NIH would be authorized to explore new partnerships focused on developing opioid alternatives, CDC would take on epidemiologic and other public health research to gain insight into neonatal abstinence syndrome; SAMHSA would leverage health services research to gauge the impact of federal and state opioid prescribing laws, and that's a partial list.
To ensure these agencies are equipped to fulfill these responsibilities, the House and Senate "Labor-H" appropriations subcommittees (which allocate funding to the Department of Health and Human Services) must receive robust 302(b) allocations for FY19. Today we sent a letter to Appropriations Committee leadership making that case. Let us know if we can assist you in doing the same.
Other topics the HELP Committee staff addressed: an upcoming hearing on the 340B drug discount program, the status of "Right to Try" legislation, and the prospects that the Senate will consider a bill focused on the regulation of laboratory developed tests (LDTs). If your organization is a Research!America alliance member and there wasn't a recap of the meeting in your inbox earlier today, or if you'd like to dig deeper on any of the discussion topics, email Ellie at edehoney@researchamerica.org.
Back, for a moment, to the importance of making the case. April 30 – May 4 is clinical trials awareness week. If you haven't had a chance to participate at #CTAW2018 or even if you have, how about spreading the word on the NIH All of Us initiative? This massive scale clinical trial aims to recruit 1 million volunteers willing to lend their data to precision medicine-focused research. We are proud to be a partner in the May 6 formal launch of this initiative. More info here.
Speaking of awareness, on May 15, Research!America and partners are hosting another in our series of research continuum lunch briefings, this one focused on asthma. Progress against this high burden, high cost condition derives from a diversity of research disciplines and both public and private sector investment. We are grateful to the House Allergy and Asthma Caucus co-chairs, Rep. Eliot Engel (D-NY), Rep. Gregg Harper (R-MS) and Rep. Carol Shea-Porter (D-NH) for helping us get the word out about this briefing, which will take place at noon in the 2043 Rayburn House Office Building, and to the terrific panel joining us. I hope you'll join us, too! RSVP here.
In addition to exploring how progress happens, an important objective of the research continuum briefings is to give shape to the value that progress delivers. In the case of asthma, 25 million Americans are affected and 40% of those with severe asthma are admitted to the hospital at least once per year for the treatment of an asthma attack. While those numbers are instructive, assigning a value to health and health care is one of the most difficult — and important — efforts underway in the health policy arena. On Thursday, May 24 at 12:30 p.m. ET, Greg Daniel of the Duke-Margolis Center for Health Policy will join alliance members to discuss the center's influential work in the area of value-based reimbursement. Email Jacqueline (jlagoy@researchamerica.org) for more details on participating in person or by phone.
Spina bifida, a neural tube defect that affects nearly 200,000 individuals with lifetime care costs often exceeding $1 million per person, is another health threat that demonstrates the power and importance of the research continuum. Thanks to research-driven advances, those with spina bifida are now living longer, but more research is needed to understand which interventions produce the best outcomes for health, productivity and independence. For more information about spina bifida, check out our newly released fact sheet.
The Research!America 2019 Advocacy Awards nominations are now open! The deadline for nominations is Friday, May 18, and the awards will be presented at our dinner on Wednesday, March 13, 2019. Learn more and submit nominations here, and let me know if we can assist.
Sincerely,
Mary Woolley