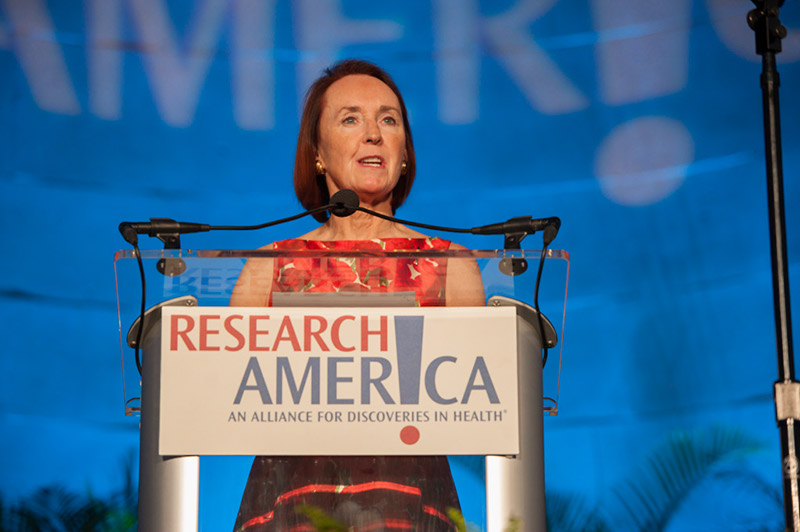 Dear Research Advocate:
At our 2017 National Health Research Forum last week, three expert panels provided "Straight Talk" about what it means to drive research to achieve a disease-free world; how our country can face-down public health crises like the opioid epidemic; and what we can do to improve the R&D pipeline. The room was filled to capacity, more than 1,300 people across the country tuned in via live-stream, and we even trended on Twitter! We are so grateful to the participants – speakers, panelists, moderators, sponsors and audience – for making this an event that has staying power and consistently seeds new thinking. Check out the recap of the event.
As our Forum was in full swing, the CR package was making its way through the House and Senate. The package, signed into law the next day, extends government funding through December 8 (this section of the package also blocks the Administration's "indirect cost" cap from moving forward) and lifts the debt ceiling. The package includes $15 billion in aid to those affected by Harvey. As medical student Sarah Lawrence describes so compellingly in a recent op-ed, global health research actually plays an enormously valuable role in preventing even more devastation when events like this take place.
As I noted last week, our advocacy challenge in regard to federal funding remains the same: we need to convince Congress to #RaiseTheCaps. Today, we joined hundreds of others advocating for robust funding for NIH and a bipartisan budget deal as part of the AACR-led Rally for Medical Research. And during our two day digital advocacy push for a budget deal earlier this week (which thanks to you also trended on Twitter), we sent a letter to every member of the House and Senate urging them to get the job done. There is strength in numbers — I hope you take advantage of this template and send your own letter to congressional leadership, and use this advocacy platform to call, tweet or email your members of Congress.
I was pleased to attend the annual Dr. Paul Janssen Award ceremony last evening at the New York Academy of Sciences. Dr. Douglas Wallace of the Children's Hospital of Philadelphia was honored for his pioneering research in mitochondrial genetics and its application to the study of the disease, aging and human migration. I joined Dr. Wallace, journalist Ron Winslow, and the extraordinary patient advocate Meredith Hardy, whose two sons have mitochondrial disease, for a robust discussion about why science needs more champions. "Dr. Paul," as he is fondly remembered, frequently made the point that "patients are waiting." That remains a succinct, strong and forceful argument for ramping up research and innovation.
Speaking of trailblazers, I want to take a moment to recognize Dr. Eugene Garfield, a trailblazer in information science, a committed and influential advocate for scientific progress and a good friend, who would have been 92 this weekend. Gene was putting publication data to work long before anyone else conceptualized just how important that would prove to be, and he was an early advocate of studying the economic impact of medical and health research, helping to support methodological innovation that spurred the field forward. My thoughts are with those who will be gathered to salute his legacy in Philadelphia this weekend.
One final last minute addition: Senators Durbin (D-IL) and Blunt (R-MO) attempted, but were unable, to block Senator McCain (R-AZ) from including language in the National Defense Authorization Act (NDAA) that would end a host of crucially important medical research programs at DoD. A final bill still needs to be negotiated with the House, but research advocates are going to need to step up in a major way to prevent tragic consequences. More to come on this…

Sincerely,
Mary Woolley