Public Engagement Leads to Public Support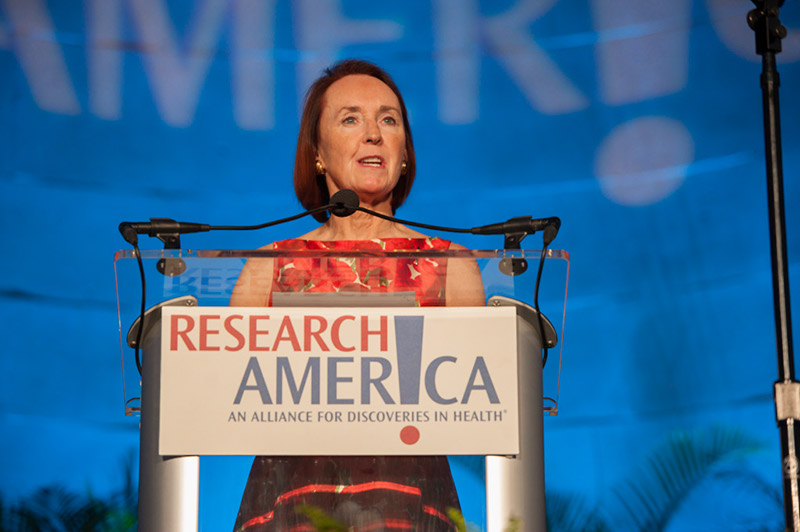 Dear Research Advocate:
During a visit to the University of Michigan last week, I learned about an important new initiative that empowers faculty to take a more active role in public engagement. An explicit goal is to convey the return on taxpayer investment in the university, very much including the return on research conducted there. The initiative is timely and important, designed to help address signs of public disenchantment with academia by demonstrating its relevance and accountability to the public. Kudos to U of M President Mark Schlissel for his leadership.
Last week, panelists at our Capitol Hill briefing engaged on the need for increased investment in Alzheimer's disease research. Moderator Robert Egge, Chief Public Policy Officer at the Alzheimer's Association, navigated a discussion that touched on a host of important topics, including the challenges entailed in identifying pre-symptomatic individuals to volunteer for clinical trials, the importance of continued public and private support for research, and the projected $600 billion in savings a treatment that delayed the onset of Alzheimer's by five years would produce. Check out this summary for a full recap of the event.
Join us for what is sure to be another insightful and robust discussion tomorrow, when National Institute on Drug Abuse (NIDA) Director Dr. Nora Volkow, Executive Director of the American Public Health Association (APHA) and Research!America board member Dr. Georges Benjamin, and Dr. Jeffrey Bratberg, Clinical Professor at the University of Rhode Island College of Pharmacy, participate in a webinar exploring the ways in which research can and must be deployed to overcome the opioid epidemic. Register here.
Lurking just beneath the surface of the opioid epidemic is another critically important public health challenge: pain. Migraines are a too-little-understood cause of pain and other debilitating symptoms. Migraine sufferers are too often stigmatized and employers don't always accommodate their condition, which negatively impacts productivity. A recent survey we commissioned reveals that a majority of Americans, migraine sufferers and non-sufferers alike, recognize the need for research that focuses on the prevention and treatment of migraines.
Alzheimer's disease, opioid addiction, pain and migraines: four threats emblematic of the need for, and societal return on, R&D…which leads me back to the importance of public engagement. If research advocates want more support to find the solutions to what ails us, it is incumbent on us all to do a better job making the case to taxpayers and policymakers alike. Here are four timely advocacy imperatives:
First: weighing in on budget negotiations. Sequestration may be an arcane issue but it's 'job one' right now. If Congress doesn't pass a deal to lift the draconian caps on federal spending, U.S. science will falter. I hope you will take a minute to tweet to your members of Congress and voice your concerns.
As Congress debates another pivotal issue — tax reform — permanent repeal of the medical device tax enjoys bipartisan support. That said, it is far from certain that this tax will be repealed before its two-year suspension ends on 12/31/17. Use this action alert to help bring an end to this targeted, or more accurately, mistargeted tax.
Also of critical importance: threats to the critical medical and health research supported by DoD. Champions in both the House and Senate are working to prevent harmful language in the Senate-passed National Defense Authorization Act (NDAA) from landing in the final House-Senate package. They need our help. Send a message to your Representatives in the House and Senate encouraging them to lend their voices to this fight.
To come full circle, advocacy isn't all about engaging with Congress; public education plays a crucially important role. Each year, in partnership with dozens of other organizations, we spend the month before Thanksgiving week exploring the enormous contributions of those on the front lines of public health. And on the Monday before Thanksgiving, November 20, we pull out all the stops to thank them for their service. I hope your organization will join us. Email Anna Hatch (ahatch@researchamerica.org) for more information on Public Health Thank You Day and become a partner today.
Sincerely,
Mary Woolley