Research is a Strategic Asset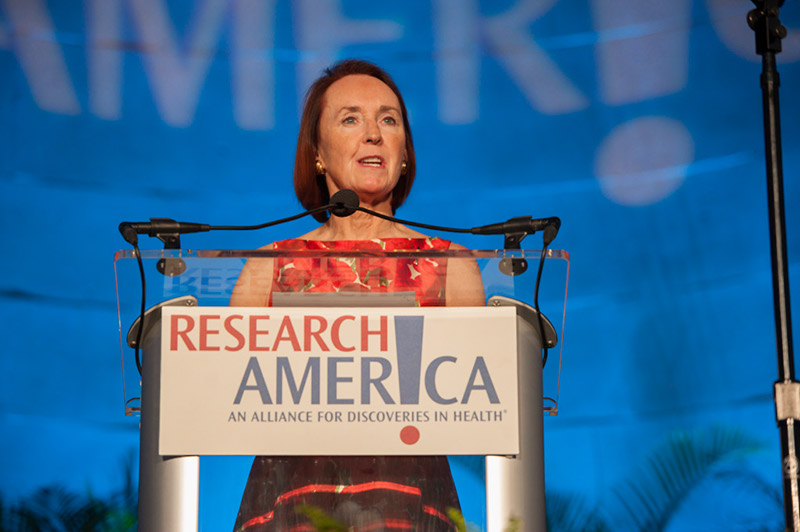 Dear Research Advocate:
We saw the power of a robust public health force, integrated public health programs, and an innovative R&D pipeline this week as the World Health Organization declared the recent Ebola outbreak contained. Think of the lives and dollars that could be saved if global health were accorded the priority it deserves on a sustained basis, rather than gaining traction only when crises are upon us! We have updated our Top Ten Reasons to invest in global R&D. Use this terrific Kaiser Family Foundation primer on all things global health policy-related, and make the case for global health research as a strategic asset on social media or with your congressional delegation. (One easy ask of your House and Senate representatives: Join a relevant caucus.)
The next global health crisis might be stopped in its tracks by one or more of the impressive early-career global health researchers I had the privilege of addressing last week at the NIH Fogarty Center. Their commitment to, and interest in, learning how to engage with the public and policymakers is truly heartening, and if they channel extraordinary role models like Fogarty Director Dr. Roger Glass, these young researchers will influence the future of science and public policy both.
Yesterday, the House Energy and Commerce Committee held a hearing on 21st Century Cures Implementation: Updates from FDA and NIH. A year and a half after this bill became law, 21st CC stands out as a demonstrably successful catalyst to faster medical progress. That's in no small measure due to FDA Commissioner Scott Gottlieb and NIH Director Francis Collins, who both provided testimony at the hearing. When 21st CC was signed into law, its detractors worried that implementation would lead to overreach, and proponents worried that the law would languish as FDA and NIH struggled to square new initiatives with stretched resources. Fortunately, under the watch of these leaders, the bill has spurred progress – responsible, patient-centric – progress. If you missed the hearing, listen to it here for a worth-your-time progress report!
Another way to drive innovation is to remove barriers to investment. Research!America and many R&D stakeholders have urged Congress to end the medical device tax. I am very glad to report that yesterday, the House approved H.R. 184, the Protect Medical Innovation Act, which would repeal the tax, with bipartisan support. Advocacy works! Let's pull together to push repeal across the finish line on a bipartisan basis! Read our statement here, and send a quick email to your Senators!
U.S. medical and health innovation are rooted in robust appropriations for our nation's research agencies. The odds are increasing that Congress will vote on a Labor-H/Defense appropriations bill (inclusive of NIH, CDC, AHRQ, the Department of Defense CDMRP and other key research funding) before the end of FY18. In fact, rumors are circulating that the Senate may consider a package as soon as the week of August 13. Stay tuned…

The deadline for nominations for the 2019 Herbert Pardes Family Award for National Leadership in Advocacy for Research is August 3rd. The award will recognize distinguished leadership and sustained commitment to public engagement and advocacy, not unlike that epitomized by the award's namesake, Dr. Herbert Pardes. The honoree will be feted at our Advocacy Awards Dinner March 13, 2019.
Speaking of deadlines, I hope you'll join our midterm voter education initiative. In addition to the young scientist micro-grant program (proposal deadline August 10th), we will soon be sending letters to Congressional candidates urging them to champion U.S. R&D as a strategic asset our nation cannot afford to neglect. The more partners, the more impactful the engagement will be. Join us for a call (call information can be found here) on Wednesday, August 1 at 1:00 PM Eastern to discuss the voter education initiative and catch up on other advocacy items.
Sincerely,
Mary Woolley