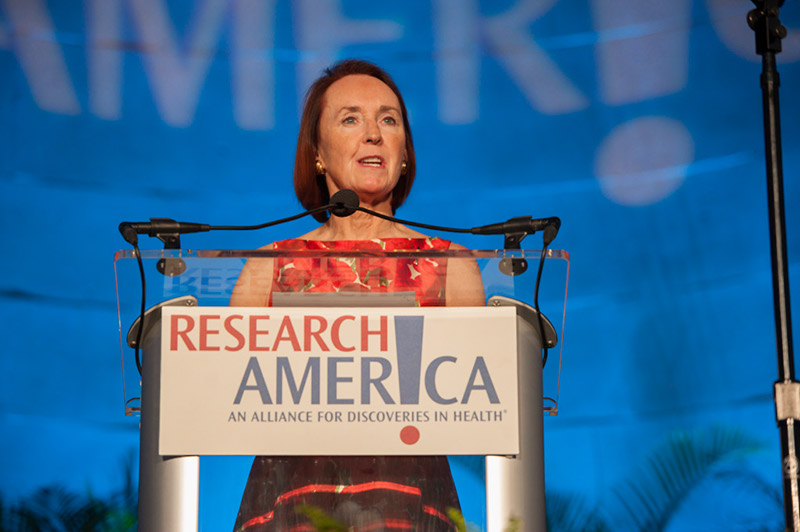 Dear Research Advocate,
It's official! We have joined AAAS and other prominent scientific societies to partner with the April 22, 2017 March for Science, #ScienceServes. We are excited about the heightened attention on science we have already seen. It's also terrific to see the outpouring of commitment to making the events of the day an awakening of more civic engagement by scientists and a celebration of what science has and will accomplish. Please see our statement, read more about the event and related activities, and consider having your organization become a partner. Plan to attend in Washington, D.C. or at one of 300 sites around the nation and worldwide, with more to be announced, I have no doubt. Let's work together to ensure that this celebration of science and the momentum it triggers lead to a reinvigorated national commitment to science funding, science education and global science leadership.
Scientific engagement was top of mind at the AAAS Annual Meeting this past weekend. I heard many excellent speakers and discussions, including Obama Administration science advisor John Holdren making a full-throated reprisal of his pre-science advisor call for every scientist to be "tithing 10 percent of his or her time to interacting with the public in the policy process." Several people active in the March told me they were putting in 110% these days, making up for lost time! A newly released AAAS report discusses the need to nurture young researchers as they seek to engage with and navigate within the "science-policy interface." My own frame for this challenge is that the science community must work to ensure those trained in science are fluent in the "public context of science," inclusive of the political context, for sure.
Speaking of the political context, we do well to keep in mind that even in this all too partisan environment, there are passionate champions of science on both sides of the aisle. This week key congressional leaders sent a bipartisan and bicameral letter reinforcing the critical importance of vaccines, as well as the rigorous safety and efficacy standards to which they must adhere. The letter accurately represents the thinking of a majority of Americans– roughly the same percentages among Republicans and Democrats– who support a school-based vaccine requirement and agree with the scientific consensus underlying widespread use of the MMR vaccine.
The timing is right to make sure your members of Congress are aware of your appropriations priorities. This week, Research!America sent a letter to all members of Congress with our funding requests for key agencies. Now it's your turn. You can make use of these agency-specific messages for NIH, CDC, FDA, NSF and AHRQ.
As you well know, funding is only one piece of the puzzle when it comes to advancing health; a dynamic policy environment that builds on strengths, confronts weaknesses, and keeps pace with scientific progress is also crucial. That's what the 21st Century Cures Act is about, and why keeping an eye on implementation of its provisions makes good sense. The sooner the changes are in place, the greater the number of patients who benefit. This clear, short piece by the Regulatory Affairs Professionals Society (RAPS) identifies provisions of the bill that are to be implemented in the near term, including improvements to ClinicalTrials.gov that are designed to help patients and researchers navigate the system more easily. This provision in "Cures" didn't initially receive a great deal of attention, but can do a great deal of good. We have joined several alliance members in sending a letter urging timely compliance with the crucial "public input" requirement of this provision.
We're less than three weeks away from our Annual Meeting of Members and Advocacy Awards Dinner on March 15. RSVP to the meeting and dinner before we reach capacity. We look forward to having you join us on this special day.
Sincerely,
Mary Woolley