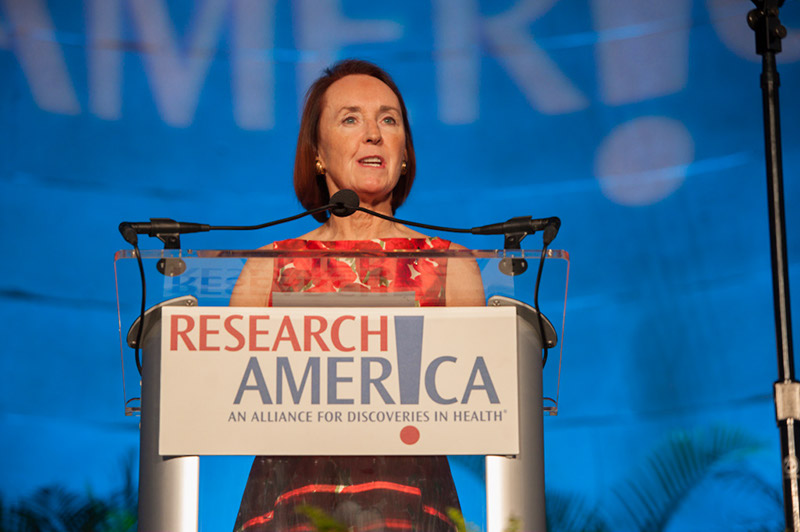 Dear Research Advocate,
Former Congressman John Porter, Research!America's esteemed Chair Emeritus, does not mince words in his Washington Post LTE today, cautioning against state-level education policies that could be misused to subvert science education. Treating knowledge that has been affirmed by years of scientific exploration as negotiable jeopardizes our nation's ability to meet the challenges and seize the opportunities before us. It is a path to decline rather than progress. We cannot afford to shy away from straight talk about misguided policies. Fortunately for our nation, John never does.
This afternoon, the House Labor-H Subcommittee, formerly chaired by Mr. Porter, "marked up" its appropriations bill. Given that the subcommittee was working with total funding $5-$7+ billion below the FY17 level — depending on how you do the math — it is striking that the bill provides NIH an increase of $1.1 billion (inclusive of Cures funding), cuts AHRQ funding, but doesn't eliminate it (as previous House bills have), and sustains the NIH Fogarty International Center, refuting the president's budget. Alarmingly though, CDC would receive a $200 million cut and there is language in the bill to impose new restrictions on fetal tissue research.
It is fair to be both appreciative of this legislation — especially the leadership of Chairman Tom Cole (R-OK) — and concerned about the distance between this bill and the investment actually needed to protect and advance health. See our statement.
As Harvard President Dr. Drew Faust eloquently conveyed in her recent alumni letter, the long-standing partnership between the federal government and universities is a driving force behind medical progress. The Labor-H subcommittee took a stand on behalf of this partnership by including language in the bill that would prevent the Administration from advancing the 10% indirect costs cap included in the president's FY18 budget proposal.
That's not to say this issue has been put to rest – far from it. First, the indirect cost language in this bill — like the bill as a whole — remains a proposal until signed into law. Second, the House is planning to explore the indirects issue more closely this Fall. In an LTE this week, Former House Science Committee Chairman Sherwood Boehlert observes that "Research does not get cheaper if you leave [indirect] costs out; it just becomes less likely to get undertaken at all." Exactly the straight talk that is called for! Compelling op-eds by university leadership in Illinois and Florida echo this message. A community sign-on letter on indirect costs is currently circulating– email jbuchanan@aamc.org to include your organization.
Objecting to the counter-productive sequestration constraints appropriators face this year, 20 House Republicans sent a letter to Speaker Paul Ryan (R-WI) last week encouraging a budget deal to raise the FY18 sequestration caps. Our sign-on letter, with over 200 organizational signatories, reinforces the call for Congress to #RaiseTheCaps. Keep the drumbeat going by sending a message to your representatives! (In case you're wondering, it is entirely possible to raise the caps after the appropriations committees act; in fact, the annual appropriations process was well underway before the last two budget deals were signed into law.)
Adding to the House's busy week: the full chamber passed the FDA User Fee Reauthorization Act of 2017 (FDARA). The Senate has yet to act. The Trump Administration issued a Statement of Administration Policy (SAP) on the bill that reflects some concerns, but reportedly none that would lead to a veto. Make sure to tweet House and Senate Leaders, thanking the former and urging the latter to pass the bill ASAP!
Speaking of urgent issues, the National Academies of Science, Engineering and Medicine released a report this afternoon recommending actions to overcome the opioid crisis. FDA has weighed in with plans to modify the risk/benefit calculation they use when evaluating pain medications, and CDC released a new Vital Signs report with key facts and resources to promote responsible opioid prescribing practices. Check out our new fact sheet on the pivotal role research is playing as our nation intensifies its response to this threat.
Ending on positive note: HHS Secretary Price has appointed Dr. Brenda Fitzgerald, obstetrician-gynecologist and former Georgia public health commissioner to serve as CDC Director. Dr. Fitzgerald brings a wealth of experience to this crucially important post.
Sincerely,
Mary Woolley