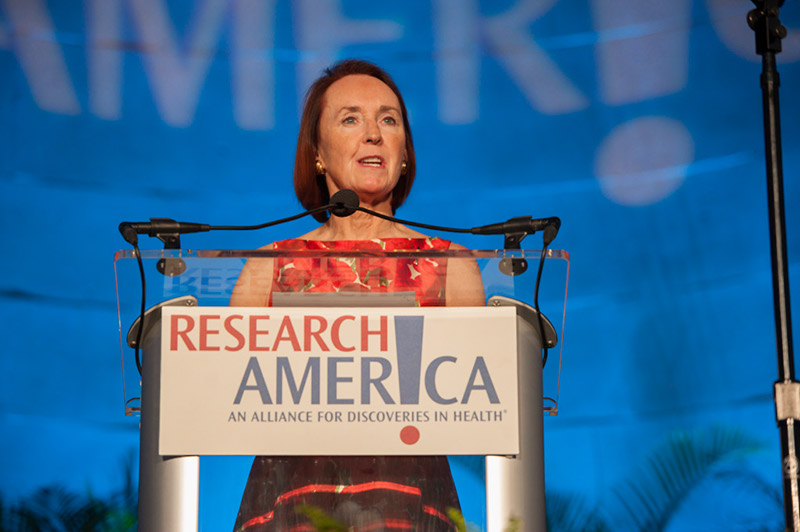 Dear Research Advocate:
Americans spent $8.4 billion on Halloween in 2016 — and no doubt will spend even more this year– enough to fund the Agency for Healthcare Research and Quality (AHRQ) for 17+ years! What we spend to improve the quality of health care delivery represents only about 0.012% of the $3.3 trillion we spend on health care. Stats like these help place research — in this case health services research (HSR) — spending into perspective. (For more advocacy-relevant info, see our fact sheet.) The vision for AHRQ that Director Gopal Khanna shares in this terrific blog post underscores why a far greater investment in HSR makes strategic sense for our nation.
More on what money buys. At a congressional hearing this week, UCSF School of Medicine Vice Chancellor for Science Policy and Strategy and Research!America Board Member Dr. Keith Yamamoto did a stellar job of explaining why the "indirect" costs of research are of direct importance to scientific progress. Lending historical context, Dr. Kelvin Droegemeier's testimony included fascinating charts. So far, there appears to be little appetite in Congress for re-adjudicating this issue, much less for imposing the arbitrary 10% cap the Administration proposed.
As an aside: whether it involves explaining how research dollars are spent or conveying the return on that investment, public engagement by the science community is essential — in part because accountability to taxpayers demands it, in part because solid science policy depends on it, and in part because public engagement engenders public and policymaker support. More on this next week…
As a major force behind accurate diagnosis, effective treatment, cutting edge rehabilitation and other key facets of health and health care, medical device investment is money well spent. The medical device tax selectively disincentivizes this area of investment, to Americans' health and economic detriment. Rumor has it, though, that a repeal of the tax may finally be in the offing. In fact, legislation could move within the next few weeks. An impressive 179 members in the House sent a bipartisan letter calling for repeal, and there are bipartisan bills in both chambers. Help drive the momentum! Here's an editable message you can send to your congressional delegation with just a few quick clicks.
It greatly understates the negative impact of the sequestration budget caps to say that the money for federally supported research and innovation is in short supply — just when we need it more than ever to find the solutions to what ails us. (Relevant to budget sufficiency generally is the president's declaration on opioids — no new dollars, although they are desperately needed — read our statement.) There have been rumblings that a bipartisan budget deal to raise the caps is in the works, but given all that's on the plate of Congress, it's not at all certain that a deal will actually emerge. Any deal has to clear the Senate's 60-vote hurdle, pass a fractious and fractured House, and potentially overturn a veto before making it into law. If we want that deal, we must keep fighting for it. Are you on Twitter? Here are sample tweets for making the case. More advocacy options here.
The newly released National Cancer Opinion survey commissioned by the American Society of Clinical Oncology (ASCO) is a source for #RaisetheCaps advocacy ideas. For example, nearly three in four Americans (73%) say the government should spend more to develop cancer treatments and cures, even if it means higher taxes or adding to the deficit. Our elected representatives face challenging tradeoffs; if they don't hear about research as a priority, they won't treat it as one.
I hope you will join us tomorrow for a Research!America alliance meeting/call from 2:00–3:00 PM EST. Budget guru Maya MacGuineas and Bayh-Dole "march-in" expert Paul Kim will be joining the discussion. RSVP to Jacqueline Lagoy (jlagoy@researchamerica.org) to attend in person or receive call-in information.
Sincerely,
Mary Woolley