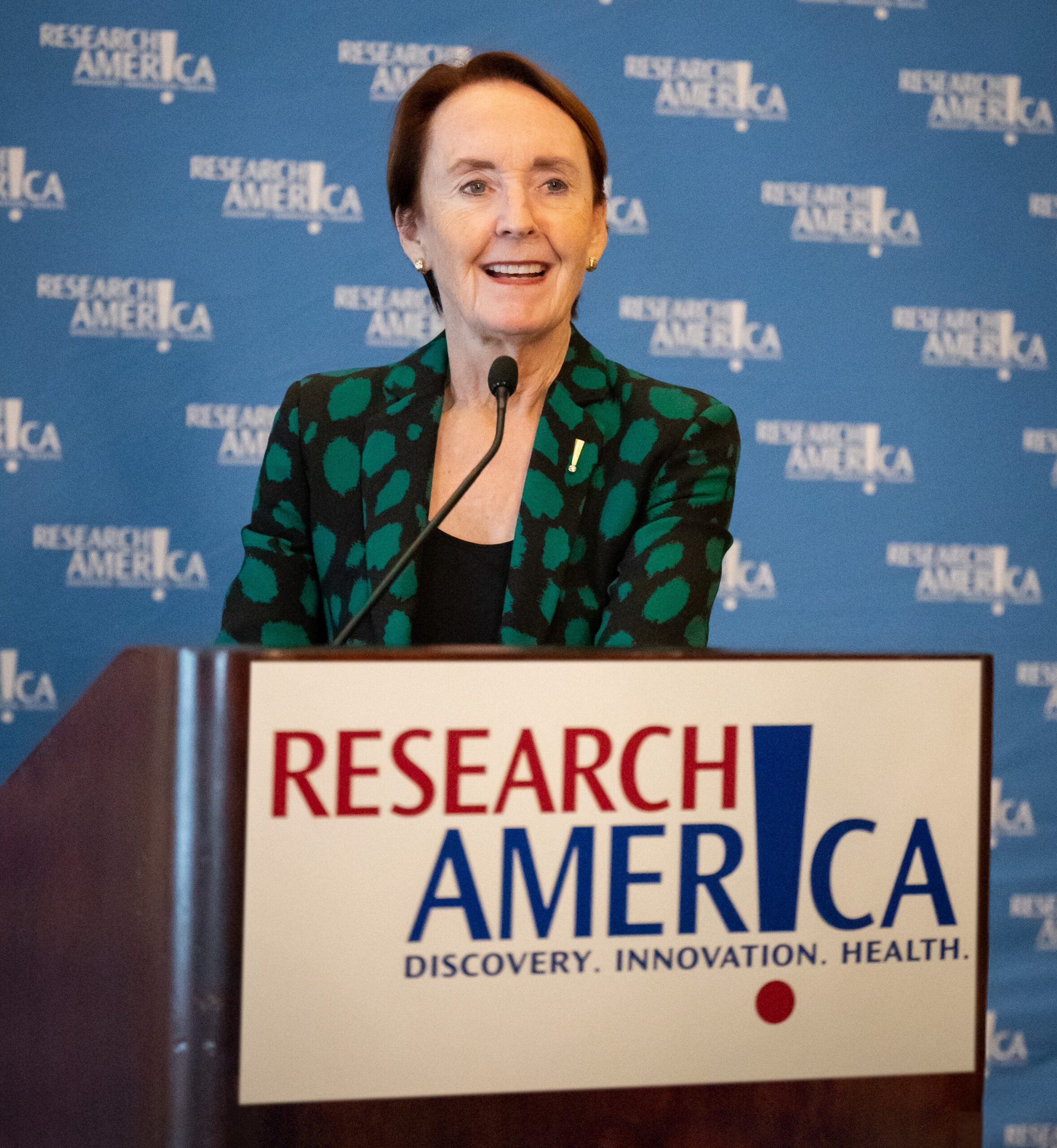 This afternoon, we hosted our Annual Meeting of Members, combining business and mission with opportunities for working together in 2023. (See slides from the meeting, which include our four newly elected Board members.)
We heard from Board Chair Sudip Parikh, PhD; Dawn O'Connell, Assistant Secretary for Preparedness and Response at the Administration for Strategic Preparedness and Response (ASPR); Gary L. Disbrow, PhD, Deputy Assistant Secretary and the Director of the Biomedical Advanced Research and Development Authority (BARDA); and U.S. Representative Lauren Underwood (D-IL). 
We were also joined by Gabi Conecker, MPH, President and Cofounder of the International SCN8A Alliance, and her 10-year-old son, Elliott. Her story of fierce determination to remove barriers to the conduct of research that may bring hope for her son and others with severe neurological disorders reminded us of why we are advocates.
On the Hill: Congress is back and spared no time in getting down to business. In a House Appropriations hearing on FY24 requests for NIH, CDC, and ASPR, witnesses included Larry Tabak, DDS, PhD, Performing the Duties of the Director of the NIH; Rochelle Walensky, MD, MPH, Director of the CDC; and Dawn O'Connell, Assistant Secretary for Preparedness and Response at ASPR.
(At our Annual Meeting today, Secretary O'Connell spoke to ASPR's work on high-consequence, no-fail missions and the funding needed to keep up with the evolving and expanding threat landscape – including resources for BARDA. Check out our new fact sheet on BARDA for more information on the important preparedness work it is engaged in.)
Also on Wednesday, the House majority released its debt limit plan, which proposes a $130 billion cut in FY24 to discretionary funding – a category which includes national defense, medical research, science and technology competitiveness, and other fundamental American priorities. The impact of this proposal on federal health, research, education, and other programs funded annually would be devastating. We urge Congress and the Administration to work on a bipartisan basis to address the debt limit in a manner that ensures current budget decisions advance rather than abandon the best interests of our nation and of the American people (read our statement).
Use this editable email to let your representatives in Congress know that fiscal responsibility requires investing in innovation. As a stakeholder in research, we urge you to elect to advocate!
NIH Director: It's been widely reported in the last 24 hours that the White House will soon nominate Monica Bertagnolli, MD, as Director of the NIH (read coverage in Science). Last October, Dr. Bertagnolli was appointed Director of the National Cancer Institute – the largest institute within NIH. If her nomination is made official, we will encourage the Senate to speedily confirm Dr. Bertagnolli, whom we believe would be an excellent leader for the NIH.
NSF Research Security Report: The need to secure research from undue foreign influence has become increasingly urgent. The challenges of clearly distinguishing between research security and research integrity, as well as relevant differences among disciplines, are among the key issues. See the new NSF report.
The AI Landscape: On Monday, we were joined by artificial intelligence (AI) researcher Regina Barzilay, PhD, Professor of Electrical Engineering and Computer Science at MIT, for a members-only discussion on the evolution of health-focused AI. If you're not yet a member of the Research!America alliance, reach out to Joel Nepomuceno so you don't miss out on another conversation.
In what is sure to be a fascinating discussion on another aspect of AI, next week the National Academies is hosting a panel on "Generative AI and the Implications for Science Communication." The role of language tools like ChatGPT will be a central part of the conversation on Wednesday, April 26, from 12:30 to 2 p.m. ET. Register now.
Upcoming Alliance Discussions: On Monday, April 24, at 3 p.m. ET, please join us for an important discussion on research into approaches to reduce the growing incidence of firearm-related injury and death. Rebecca Cunningham, MD, Vice President for Research at the University of Michigan, will address the role of research in mitigating gun violence to begin to address this vexing public health crisis.
On Wednesday, April 26, at 11 a.m. ET, all Research!America alliance members are welcome to join us for an off-the record, virtual conversation with CMS Deputy Administrator Meena Seshamani, MD, PhD. We've asked Dr. Seshamani to discuss the status of the Inflation Reduction Act implementation and how CMS is incorporating external input, along with other facets of this complex and consequential implementation process. Bring your questions and insights!
If your organization is an alliance member, the Zoom invite should be in your inbox. Contact Jacqueline Lagoy if you don't see the email and would like to attend.