If You Think Research is Expensive, Try Disease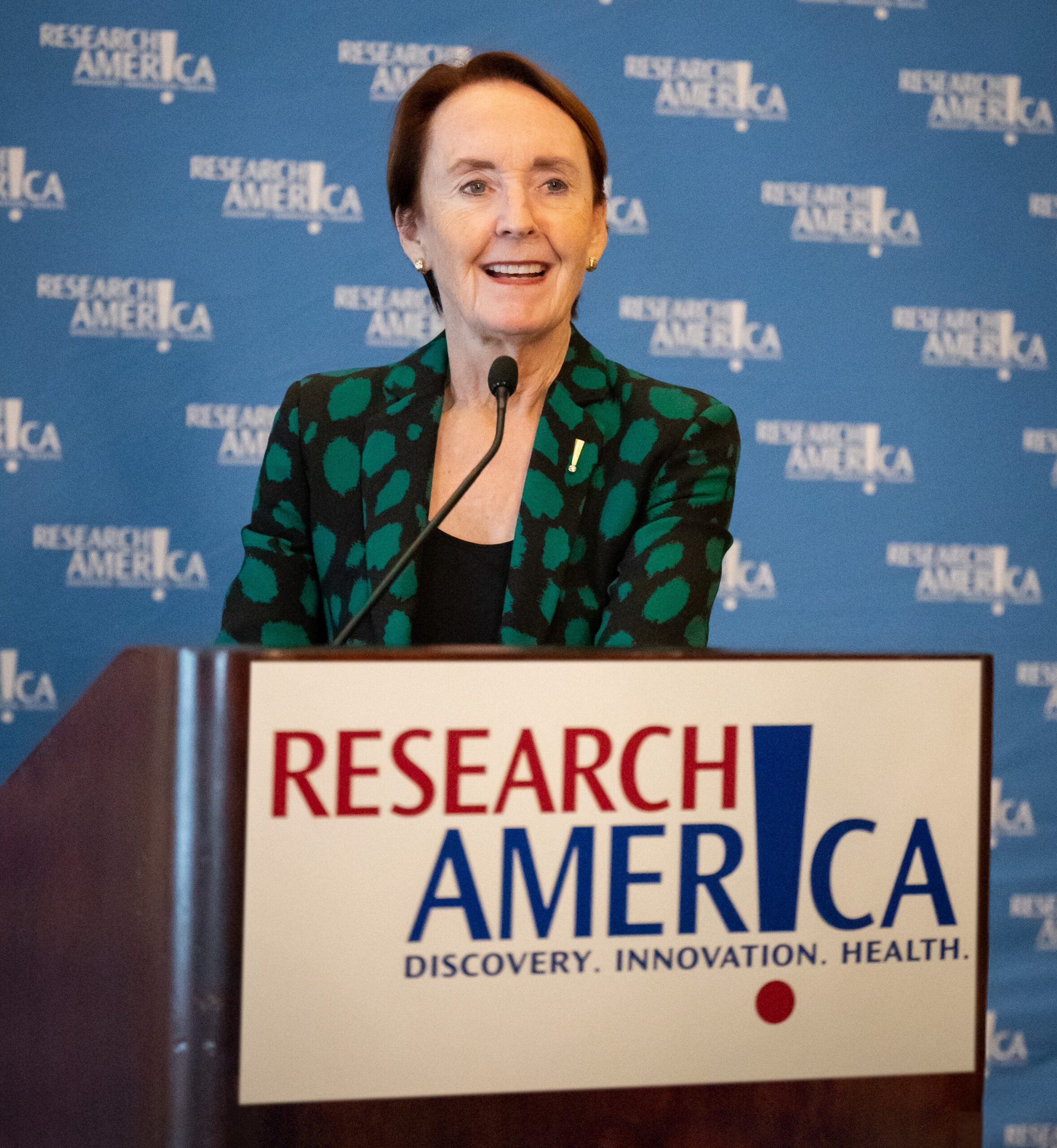 "If you think research is expensive, try disease" — famous words spoken by Mary Lasker, a pioneer of medical research advocacy. As a founding Board member of Research!America more than 30 years ago, Lasker's call to action inspires us to this day. (Compare the current NIH budget of $47.5 billion to the close to $4 trillion spent annually on health care for people suffering from chronic diseases, including cancer and mental illnesses.)
A new Lasker biography, Angel in Mink, The Story of Mary Lasker's Crusade for Medical Research and The National Institutes of Health, commissioned and published by Act for NIH, has been released. Jed Manocherian, Act for NIH Founder and Chairman (and a 2021 Research!America Advocacy Award honoree), recently spoke with The Cancer Letter about bringing Lasker's remarkable story of advocacy to the forefront. Check it out!
On the Hill: Although Congress is in recess this week and next, there is no break for research advocates as we face a precarious budget situation. As the current debt ceiling (the legal limit on federal borrowing) approaches and pressure builds to reduce the federal deficit, the threat of research funding cuts looms large. The alarming possibility of backtracking to FY22 funding levels is real, which could mean a cut of $2.5 billion or more for the NIH alone.
With millions of patients in need of successful treatments amidst opportunities for cures and better prevention strategies, shortchanging our federal research agencies would be a tragic mistake. 
Senators Bob Casey (D-PA) and Thom Tillis (R-NC) are circulating a "Dear Colleague" asking their fellow Senators to sign onto a letter to appropriators supporting robust increases in NIH funding in FY24. Ask your Senator to add their name (and thank them if they already have!) with this editable email. The goal is a strong show of support – please take a moment to help make that happen!
Access to NIH-Supported Research: On April 12, from 1 to 3 p.m. ET, the NIH will host a virtual listening session to hear feedback on the NIH Plan to Enhance Public Access to the Results of NIH-Supported Research. The NIH Public Access Plan is open for public comment through a Request for Information. The April 24 deadline is approaching fast so don't delay in submitting your responses.
Harmful Implications Of Misinformation: Medical misinformation is not new, but during the COVID-19 pandemic, false narratives spread like wildfire – and they are still spreading. In a new poll from the de Beaumont Foundation, nearly three-quarters of physicians said medical misinformation made it challenging for them to treat COVID-19 patients, leading to poor health outcomes. Check out an eye-catching poster and view all the poll findings. 
Combating misinformation is the aim of the Coalition for Trust in Health and Science, a newly-launched effort of over 50 organizations (including Research!America) building a growing array of resources.
Annual Meeting of Members: We invite our member organizations to Research!America's 2023 Annual Meeting, taking place virtually from 1 to 2:15 p.m. ET on April 20. During a high-energy agenda, we will vote on a new slate of Board members and hear from key members of our community, including Dawn O'Connell, Assistant Secretary for Preparedness and Response at HHS, and Gary L. Disbrow, PhD, Deputy Assistant Secretary and Director of BARDA.  
NPHW Spotlight Series: In celebration of National Public Health Week (NPHW), we have spotlighted public health professionals through a series of blog posts. These unsung heroes are working to improve harm reduction, maternal health, racial and social justice, and infectious disease surveillance. Read their stories. 
Better Data for More Equitable Research: To cap off NPHW, join us for an alliance discussion featuring Public Health Institute CEO and President, Mary Pittman, DrPH, on Wednesday, April 12 at 2 p.m. ET. Dr. Pittman, a Research!America Board member, will discuss what first-rate public health data really looks like and how essential it is to the conduct of actionable and equitable research.
ICYMI: Earlier this week, we hosted two dynamic discussions. The first, held in conjunction with the Global Health Technologies Coalition, provided an overview of ARPA-H and how it fits into the U.S. R&D ecosystem. To learn more and get involved, see the detailed ARPA-H website.    
Tish Hevel, CEO of the Brain Donor Project, joined us for an alliance discussion on the process of brain donation, including misconceptions surrounding it – for example, brain donation is not included in your driver's license organ donation check-box – and the critical need for these donations to advance innovations in neurological science. Watch the discussion.