Let's Talk About Vax, Baby.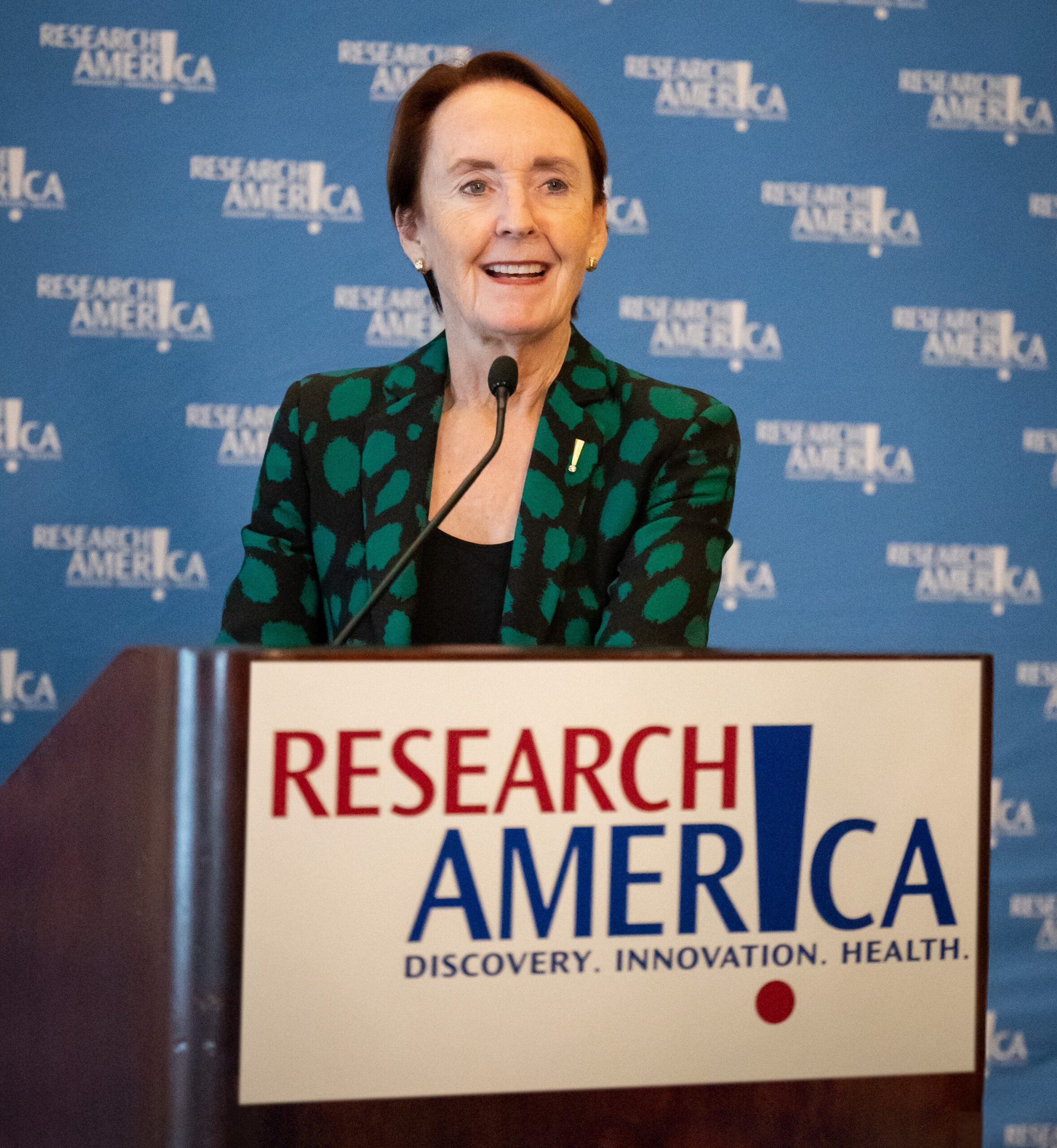 It's World Immunization Week: this year the focus is on the tens of millions of children worldwide who missed routine vaccinations during the COVID-19 pandemic. A new UNICEF report on childhood vaccination shows that, in a decline similar to that of other nations, only 79% of people in the U.S. now perceive vaccines as important for children — a 14% drop since 2018 (see chart). The #LetsTalkAboutVaxBaby campaign has tools and resources to share, focused on raising visibility, finding common ground, and keeping families safe and healthy.
Despite the concerning decline in perceived importance of childhood vaccines, our national survey commissioned in January shows 85% of Americans favor increased federal spending on research to improve and find new vaccines. Meeting high public expectations for research on new and improved vaccines requires us to ensure robust funding for federal research agencies — funding that is in jeopardy as I write.
On the Hill: Yesterday, the House passed a debt ceiling package including provisions that would send FY24 spending back to FY22 levels and cap continued growth for 10 years — a chokehold certain to quickly derail U.S. global competitiveness, national security, health, and economic growth.
In a worst case scenario, the House bill passes the Senate – unlikely but no promises – and we could be looking at 22% or more in losses for non-defense discretionary programs, including NIH, CDC, FDA, NSF, AHRQ, and other research agencies. Stalled research, lost progress, and more patients having to wait for answers and cures would be the inevitable result.
We're at a critical moment, and advocacy is essential. We cannot take bipartisan support for our federal research agencies for granted, but neither should we consider cuts a foregone conclusion. Use this editable tweet to share with Congressional leadership the importance of continued investment in our federal research agencies. Please help turn the tide.
NIH Essentials: To help policymakers, congressional staff, and advocates better understand the crucial role of the world's largest public funder of medical research, we've organized a special alliance discussion, "NIH: The Essentials." Join us on Thursday, May 4, from noon to 1 p.m. ET for a conversation with Ned Sharpless, MD, who among his many distinctions served as Director of the NIH National Cancer Institute in both the Trump and Biden Administrations. He'll join leading health policy expert and commentator Susan Dentzer, Research!America Chair Emerita, (and you!) to help answer: what does NIH do, how does it do it, and why? And why doesn't medical progress move faster?
Upholding FDA Regulatory Authority: Research!America and 32 other organizations co-signed a letter applauding the Supreme Court ruling pausing new restrictions that would have limited access to the FDA-approved drug mifepristone. The American public relies on the expertise of the FDA to approve and regulate medications and other treatments.
The case has been sent back to a lower court, so the danger to FDA regulatory authority – and to patients – isn't over yet.
Nominate New Voices for AHRQ: The Agency for Healthcare Research and Quality (AHRQ) is seeking nominations (including self-nominations) for its National Advisory Council. The Council advises AHRQ leadership and the Secretary of HHS on strategies to carry out AHRQ's mission of translating health services research into health advances. Nominations are accepted through May 27; the Federal Register notice has submission details. 
Please see our new AHRQ fact sheet for information on some of the agency's most successful initiatives. For more insights, listen to our 2022 National Health Research Forum conversation with AHRQ Director Robert Otto Valdez.
Upcoming Alliance Discussion: Join us on Tuesday, May 2, at 1 p.m. ET for a conversation with John Crowley, Chairman and CEO, Amicus Therapeutics. He will discuss the personal journey that led to Amicus' remarkable progress against rare diseases, and speak to achieving dramatically faster progress going forward. ICYMI: Yesterday, we held an off-the-record, members-only conversation with CMS Deputy Administrator Meena Seshamani, MD, PhD. Dr. Seshamani shed light on the agency's implementation of the complex and consequential drug-pricing provisions in the Inflation Reduction Act. To join our alliance and never miss another meaningful conversation, contact Joel Nepomuceno.