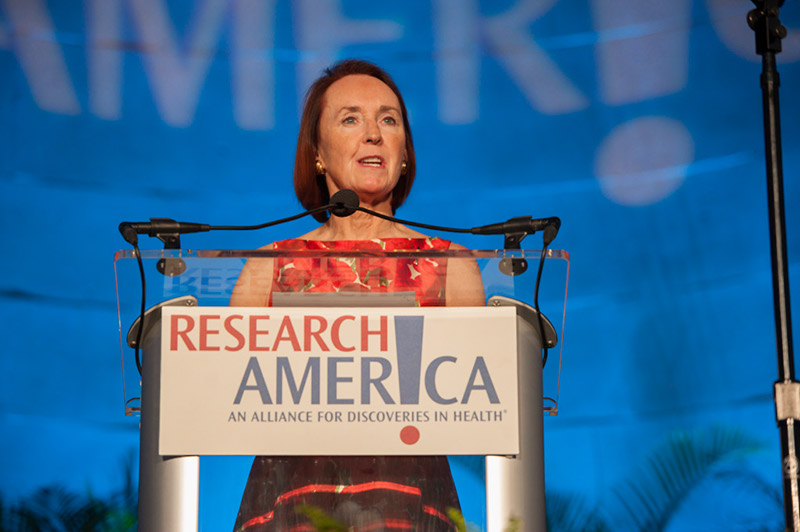 Dear Research Advocate,
There's a lot going on right now, so this letter is a bit longer than usual. Stay with me! Let's start with the Super Bowl. According to the National Retail Federation, this year's Super Bowl-related spending is on track to be the highest ever: $17.2 billion. That's enough to fund:
This is a wealthy country; we don't need to stop spending on all things Super Bowl, but we do need to do much more to assure the resources necessary to speed medical progress.
While I could cite numerous relevant survey results affirming that Americans value science and our nation's leadership role in this arena, it's timely to draw from a survey we commissioned in partnership with ScienceDebate, soliciting Iowans' views on science-relevant topics. An overwhelming 90% of Iowans believe it is very or somewhat important for the U.S. to be a world leader in science and technology research. (Other surveys suggest this is true nationally, too.)
In this context, Senate Minority Leader Chuck Schumer (D-NY) recently sent a letter to the President calling for boosted funding for NSF and NIST to begin addressing the growing gap between U.S. R&D investment and that of competitor nations. Earlier this week, House Committee on Science, Space, and Technology Ranking Member Frank Lucas (R-OK) and 11 Republican committee members introduced the Securing American Leadership in Science and Technology Act (H.R.5685), which would double federal funding for research (not across the board, unfortunately, but widely) at DOE, NSF, NIST, and NOAA.
My purpose here is not to take a position on the complexity of the funding and policy proposals embedded in H.R.5685 or to discuss the specific funding levels Senator Schumer proposes; it is to take note that, on both sides of the aisle, members of Congress are calling for greater investment in science and technology. They are connecting the dots between future security — national, economic, health, environmental — and robust support for our nation's global R&D leadership. We must seize this opportunity to drive advocacy.
Here's an action item: Research!America is circulating an organizational sign-on letter calling on Congress to take the steps necessary to grow science funding in (and by the start of) FY21. If your organization would like to sign on, please do so here.
Another national security imperative: Bolstering our nation's public health capacity. The coronavirus outbreak is emblematic, as is the growing antimicrobial resistance threat. Our fact sheet series, supported by the Albert and Mary Lasker Foundation, underscores the value of, and need for, public and private sector fueled research. Download and share.
Super Bowl spending could fund about half a year's worth of genetics research (NIH funded an estimated $9.6 billion in FY19). According to a survey we commissioned with the American Society of Human Genetics, robust research funding aligns with public sentiment (a strong majority support greater research funding for this rapidly evolving area of science). Check out a summary of the survey results here.
Many of you know about the Day One Project, a cross-disciplinary partnership of science and technology mission-driven groups. Day One is housed at the Federation of American Scientists and supported by numerous organizations and individuals working to ensure science and technology holds a top spot among national priorities. Day One has the audacious goal of identifying no less than 100 actionable ideas for the 2021 presidential administration and the 117th congressional term.
Day One just announced the launch of the Day One Accelerator with a call for your ideas. Please contribute a description of your idea here by February 6, 2020.
Sponsorships and tickets are available for our Advocacy Awards dinner on March 11. Join us to salute the achievements and advocacy work of our award recipients. Questions? Email Katie at kgoode@researchamerica.org. Learn about each of our honorees through interviews posted each Tuesday from now until the event. This week, we visit with Mary Fogarty McAndrew, recipient of the Gordon and Llura Gund Leadership Award.
Sincerely,
Mary Woolley