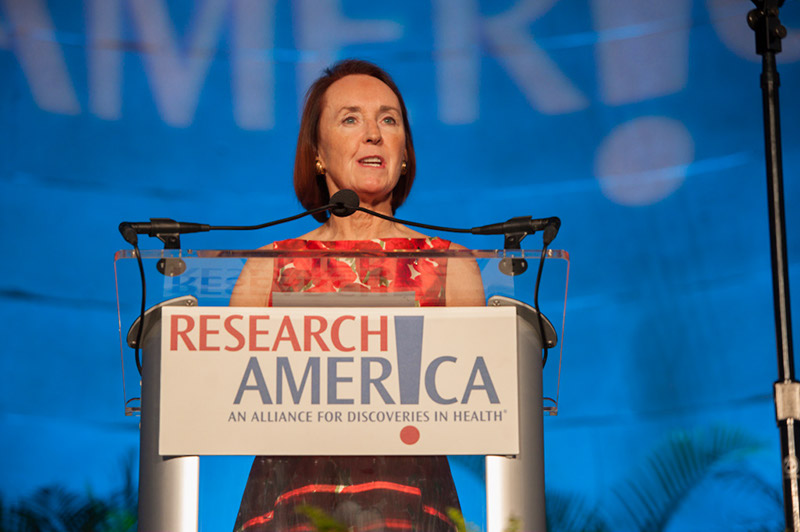 Dear Research Advocate,
I'm writing early this week to remind those of you who won't be joining us in person that you can join our National Research Forum tomorrow, Thursday, via livestream. See more information at the end of this letter.
Political theater isn't everyone's cup of tea, but I have always enjoyed it, from the Greeks to Hamilton. A remarkable, multiple-award-winning play, "What the Constitution Means to Me" will open soon at the Kennedy Center after a successful run on Broadway, and will soon head to the West Coast. I highly recommend it. Written several years ago by Heidi Schreck, who is also the lead, the work brings out the good news – and the complicated and ever-evolving – about a remarkable living document that remains at the core of how we define ourselves and our nation.
The Constitution gives Congress the power of the public purse. Congress returns to Washington on Monday to face a jam-packed to-do list. Our eyes are on the Senate, where appropriators have yet to release any of their twelve draft appropriations bills. We expect the Labor, Health and Human Services bill (Labor-H) will be marked up by subcommittee on Tuesday, September 10 with the full Appropriations Committee taking up the bill the following Thursday, September 19. A more partisan than usual Senate Labor-H markup is expected because of border wall funding. With only 13 legislative days remaining this fiscal year to complete work on all 12 appropriations bills and have them signed by the President, a continuing resolution (CR) looms as a real possibility, for at least part of the year.
Your advocacy around the vital importance of health research funding continues to be essential since a CR is not an innocuous bureaucratic detail. A CR means flat funding, locking federal agencies into previous fiscal year funding levels and activities regardless of current opportunity and need, thereby stifling medical, public health, and scientific progress. Research!America sent a letter to Congressional leaders earlier today urging them to complete the appropriations process on time. We are asking you to weigh in as well: email your members of Congress.
To assist with your advocacy, Research!America has released another post in our series highlighting why federal health research agencies are so critical. This week we focus on the FDA which has oversight responsibility for a quarter of the products American consumers purchase each year, including, of course, medical innovations.
Also in need of your advocacy: reauthorization of the Patient-Centered Outcomes Research Institute (PCORI). PCORI is a federally chartered agency key to our national research ecosystem. Its authorization expires at the end of this month. Want to help make the case? The Friends of PCORI Reauthorization's website is full of great resources.
Join researchers and patient advocates from around the country on September 19 in support of robust NIH funding at the Rally for Medical Research Hill Day. Registration closes this week!
Graduate and postdoc-led science policy groups have two more weeks to apply for our 2019 microgrant program. Funding is available to support dialogue between students and government leaders at all levels. A new Science Meets Science track is available to spur collaboration between STEM scientists and social scientists. Learn more and apply for the microgrant program here.
Tomorrow is the big day! Research!America looks forward to seeing many of you at our National Health Research Forum, "Straight Talk." We are delighted to host so many distinguished panelists and speakers; the day promises robust discussion. We are at capacity for in-person attendance but you can watch the livestream and follow along on Twitter: #RAForum19.
Sincerely,
Mary Woolley