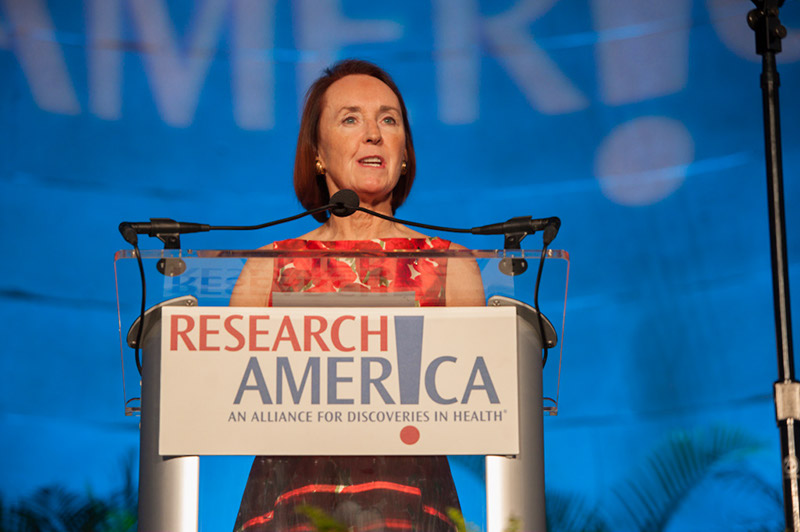 Dear Research Advocate,
Did you miss our awards program last Thursday? These segments — a conversation between Dr. Anthony Fauci and Oprah Winfrey and a duet by Dr. Francis Collins and Renée Fleming — are emblematic of inspirational and affecting moments throughout this fast-moving event, which you can view in its entirety here.
Bipartisan Support for Science on the Hill: In a strong signal of bipartisan support for bolstering U.S. science and technology, the Senate voted this week to invoke cloture (allow a full Senate vote on) the Endless Frontier Act, now rolled into a larger bill called the U.S. Innovation and Competition Act of 2021. Amendments to the EFA (the bill passed in committee) and to the larger bill being debated on the Senate floor have created uncertainty about the path forward.
We have joined this sign-on letter (the link includes letter text and sign-on information) emphasizing the importance of bolstering our R&D ecosystem with long-term investments in research across all sectors. We will continue to monitor and keep you informed of legislative developments.
Earlier today, the Senate Commerce Committee voted on a bipartisan basis in favor of Dr. Eric Lander's nomination to head OSTP. The nomination will now move forward to a full Senate vote, with the timing of that vote to be announced. View our letter in support of Dr. Lander's nomination here.
Budget Update: The President's full budget request is expected next Friday, May 28. His previously released "skinny" budget included proposed funding levels for NIH, CDC, and NSF (review our budget chart here), but we do not yet know the amounts the Administration will propose for FDA and AHRQ. In the interim, Senator Richard Blumenthal (D-CT) is circulating a "Dear Colleague" in the Senate asking Senators to sign onto a letter to appropriators supporting robust increased funding for AHRQ. Use this editable email to ask your Senators to sign on (or thank them if they already have!).
Both the House and Senate Labor-H Subcommittees will hold hearings on the President's budget request for NIH next week. The House Labor-H Subcommittee hearing will take place on Tuesday, May 25 at 10 a.m., and the Senate Labor-H Subcommittee hearing will take place the following day, also at 10 a.m. Research!America submitted public witness testimony to the House Labor-H Subcommittee urging increased funding levels for NIH, CDC, and AHRQ in FY22; the deadline to submit testimony to the Senate Labor-H Subcommittee is COB June 24.
The "Why" of it: Increases to NIH funding return dividends in terms of both human benefits and economic impact. The American Society for Human Genetics released a report this week examining the impact of the genetics and genomics sector on the economy and on human lives. In terms of economic impact, every dollar of federal investment in genetics and genomics returned more than $4.75 (a 4-1 ROI). The report also emphasized the tremendous medical strides enabled by genetics and genomics research, including rare disease diagnostics and personalized medicine.
Alliance Member Meeting Recap: Earlier today we heard from The Honorable Bart Gordon, Vice Chair of the Research!America Board and former U.S. Representative, on how lessons from ARPA-E can be applied to the proposed ARPA-H. Congressman Gordon emphasized that the goal of agencies like ARPA-E is not to compete with existing agencies, but to take a complementary approach, with different research strategies. Watch the 30 minute video here.
Upcoming Alliance Member Meeting: On Tuesday, May 25 at 2 p.m. ET, we will hear from Lainie Rutkow, JD, PhD, of the Johns Hopkins Coronavirus Resource Center, one of our 2021 Advocacy Awards honorees. Dr. Rutkow will discuss this critical pandemic resource and how it will be utilized moving forward. Register here.
Stay well, stay safe, and stay connected.
Mary Woolley