Assuring a Fair and Just Society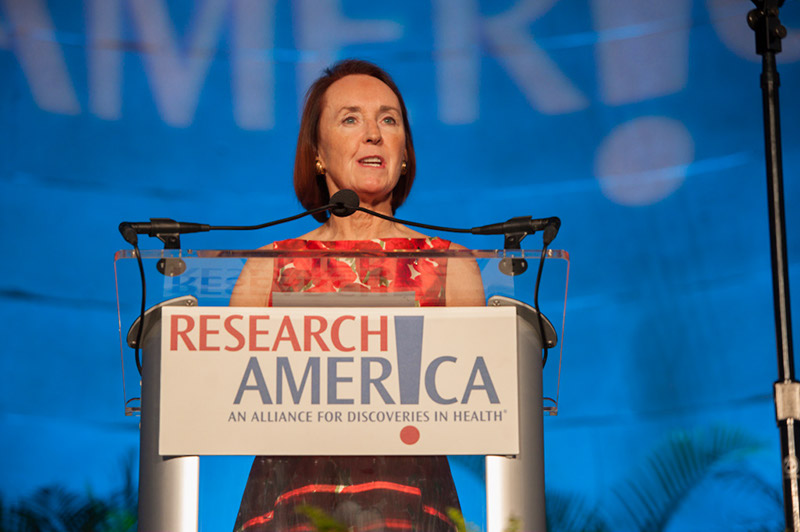 Dear Research Advocate,
Our nation is ailing; anxious and eager for healing and for solutions that can seem out of reach. Research!America often speaks about science as a way to 'find the solutions to what ails us' – given the opportunity, science has and will continue to deliver solutions. But it isn't only science that we need right now, as gaping wounds of injustice against black Americans assail us. Advocacy and action are needed to assure a fair and just society. Alexis de Tocqueville, that enduringly wise observer of our nation, said: "The greatness of America lies not in being more enlightened than any other nation, but rather in her ability to repair her faults." Let's all get to work; solutions are within our reach if we stay engaged in our communities, institutions, and our nation.
NIH's All of Us Research Program could not be better named or better purposed to help repair the faults of a sometimes insular research enterprise. The program is designed to advance individualized, research-and evidence-informed health care; it is committed to enrolling those who were previously underrepresented in health research. All of Us is also well positioned to shed light on why COVID-19 is disproportionately impacting communities of color so that we can prevent this kind of assault in the future. Learn more, including how you can participate and/or spread the word by registering for this National Minority Quality Forum webinar. (Tomorrow, June 5, 2020, at 12 p.m. ET).
Mental Health is Health: Dr. Josh Gordon, Director of the National Institute of Mental Health (NIMH) of the NIH, described the impact of the pandemic on mental health during a Research!America alliance member meeting. While many NIMH clinical trials are stalled due to COVID-19, surveys and telehealth trials are providing evidence to help understand how this crisis is affecting patients and what can be done to ease that burden. Access the recording on our coronavirus resource page and find helpful resources in this article on our blog.
R&D at the VA: Veterans Health Administration (VHA) leaders, Dr. Carolyn Clancy, the Deputy Under Secretary for Discovery, Education and Affiliate Network, and Dr. Rachel Ramoni, Chief Research and Development Officer, joined alliance members to explain how the VHA's more than 100 research sites and 7,300 research projects are tackling COVID-19, among many other medical issues. A small silver lining to the COVID crisis: the extensive expansion of telehealth, enabling the VHA to reach many more rural and isolated patients.
Being Prepared: The Johns Hopkins Center for Health Security is circulating a letter in support of a proposal championed by former CDC Director Dr. Thomas Frieden and endorsed by former Senate Majority Leader Dr. Bill Frist, former Senate Minority Leader Tom Daschle, and other national leaders, to establish a new Health Defense Operations budget designation, similar to the Overseas Contingency Operations (OCO) fund. It would allow for spending outside of the Budget Control Act caps to bolster our public health preparedness and response capabilities. Research!America has signed on, and we urge you to consider doing so as well. The deadline for signing on is tomorrow, June 5, 2020, at 2 p.m. ET. Dr. Frieden will be our guest speaker at an alliance member meeting on June 29, 2020, at 1:30 p.m. ET. Registration information to come.
On Capitol Hill: House Appropriations Chairwoman Nita Lowey (D-NY-17) asked her committee colleagues earlier today to be ready for FY21 bill markups during the first two full weeks of July, with floor debate potentially occurring over the weeks of the 20th and 27th. We don't yet have details of specific funding levels but will monitor developments and share updates. Meanwhile, Senate lawmakers are now saying they are unlikely to move a fifth COVID-19 emergency relief package until the end of July. All research advocates have a critically important mission: urging Senators to act in strong support of our national research infrastructure in the next emergency funding bill. Take action now: use this editable email to reach out to your Senators.
Just Announced: Join us on Thursday, June 18, 2020 (2-3:15 p.m. ET) for Partnership, Progress, Pandemic: The Impact of COVID-19 on Medical Discovery. Moderated by Dr. Sudip Parikh, CEO of AAAS and a Research!America board member, panelists will discuss how COVID-19 is affecting medical progress against cancer and other health threats and will discuss both public and private sector-fueled medical progress. Panelists include Dr. Ned Sharpless, Director of the National Cancer Institute at the NIH; Stephen Heinig, Director of Science Policy at AAMC; Jenny Luray, Vice President for Strategy and Communications at Research!America; and Dr. Eleanor Perfetto, Executive Vice President at the National Health Council. Read more on the registration webpage. You need not be a Research!America member to participate.
Stay well, stay safe, and stay connected.
Mary Woolley