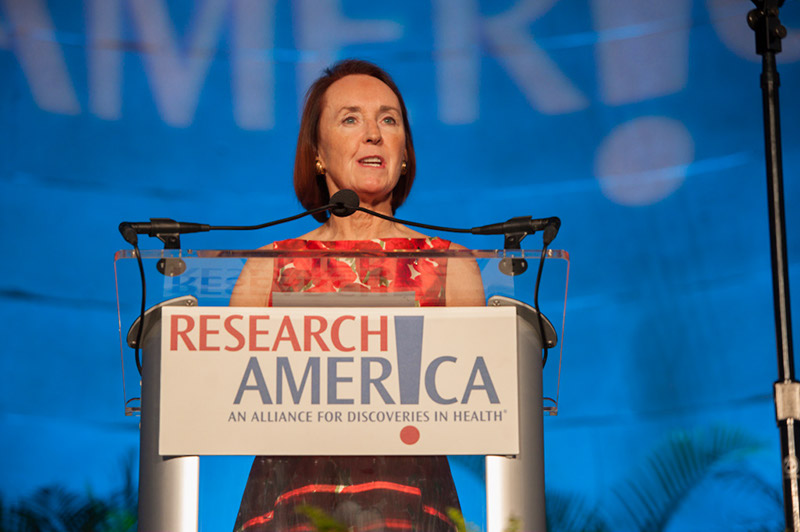 Dear Research Advocate,
Even as the death toll rises and hospitals are overwhelmed, we can feel optimistic as the first COVID-19 vaccine to be authorized by the FDA is being delivered into the arms of Americans. Some recipients have cried in relief and gratitude. I like thinking about this vaccine metaphorically as a "double shot" – to protect against COVID-19 and as a booster shot in the arm for science. The vaccine truly brings home the value of science. 
Leading at the FDA: Science has delivered and so has the FDA. We hosted Dr. Peter Marks, the director of FDA's Center for Biologics Evaluation and Research (CBER) on Monday to discuss the FDA's Emergency Use Authorization (EUA) for the first COVID-19 vaccine. Dr. Marks answered questions on continued safety monitoring, immune responses in the elderly, advice for the rare disease community, vaccines and pregnancy, and the public availability of vaccines. Commenting on the rapid review of the Pfizer/BioNTech vaccine, Marks said, "…we're confident that the output of this (the EUA) is a highly effective vaccine against COVID-19 that's also very safe." Watch and share the recording and check out our Vaccine Tracker as trials and new authorizations unfold.
Nearing an Agreement on Capitol Hill?: Congressional leaders are working extraordinarily hard to reach agreement on a COVID-19 emergency spending package. The hope is to attach the emergency spending to an FY21 omnibus appropriations bill. (While the omnibus bill text has not been released, reports are that the bill is ready to go.) There may be a short, 24- or 48-hour Continuing Resolution or even an equally brief government shutdown to keep negotiators at the table. As of this writing, we are cautiously optimistic. We will keep you informed of developments.
Winning Advocacy: Yesterday's webinar about making policy and social change happen provided a fitting note to end the year. Emmy-award winning journalist Frank Sesno interviewed Bill Novelli, the ground-breaking nonprofit leader and message-maker whose new book, Good Business: The Talk, Fight, Win Way to Change the World will soon be released. Bill said working through complex, divisive problems requires "sitting down with someone you don't agree with," and remembering to "bring science home," making it relevant to individuals – the vaccine being a perfect case in point. According to Bill, "No matter where you are or what you do, you can make a difference. You can make a little dent in the universe." Both Bill and Frank have made more than a dent in our universe; we thank them for offering a master class. Watch and share this recording for a wonderfully empowering message to take into the new year.
Strong Women in Science: The 2021 L'Oréal USA For Women in Science program is now accepting applications. The fellowship program, which is conducted in partnership with the AAAS, honors and supports women scientists with $60,000 grants. Please spread the word to exceptional scientists in your network looking to advance their careers and serve as role models for future STEM standouts. See more information about the program and process.
Stronger Together: Challenges for International Scientific Partnerships Initiative is an American Academy of Arts and Sciences effort to detail the benefits of international scientific collaboration and recommend specific actions to address the most pressing challenges facing these partnerships. The first of three reports released this week highlighted why U.S. scientists need to be at the global table. For more information about this effort, please contact Amanda Vernon at avernon@amacad.org.
Thank You: Your generous response to our year-end appeal is greatly appreciated. We stand committed to restoring trust in science and building a Science Strong Future. Working together, we can succeed. To make a gift, please click here.
Stay well, stay safe, and stay connected.  
Sincerely,
Mary Woolley