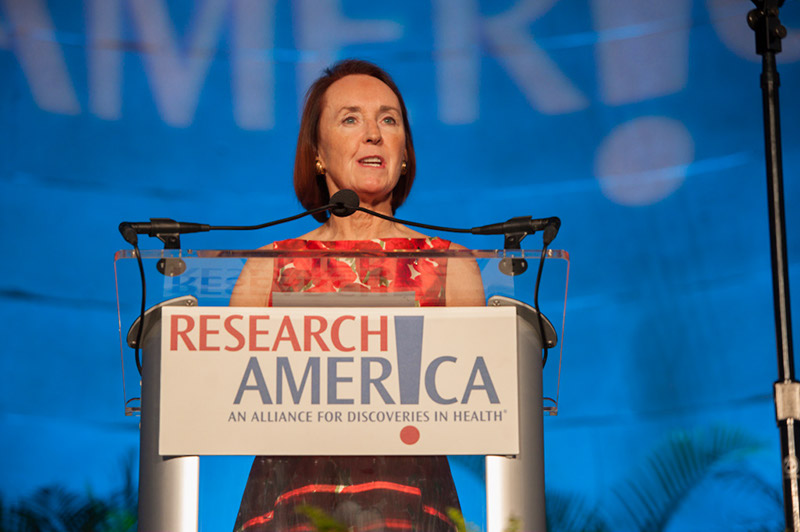 Dear Research Advocate,
Discovery, Development, and Delivery 2.0: Representatives Diana DeGette (D-CO) and Fred Upton (R-MI) have released a "Cures 2.0" discussion draft that addresses a range of critical issues bearing on the future of health and healthcare. Read our statement applauding these research champions here and a section-by-section summary of the draft here.
The discussion draft includes provisions that would authorize President Biden's proposed ARPA-H. Reps. DeGette and Upton have issued a request for information to inform their continued work on these provisions. On Thursday, July 8 at 1:00 p.m. ET, key staff from both Representatives' offices will be joining an alliance member-only meeting on the "Cures 2.0" effort. If you are an alliance member, watch your email for an invitation! (More on ARPA-H below.)
Authorize vs. Appropriate? There is understandable confusion regarding what it means to "authorize" a federal agency or program: does achieving authorization mean the federal government can then run with it? The answer (with caveats and exceptions) is "no."
Generally speaking, an authorizing bill, once signed into law, establishes or modifies the design of a federal agency or program (the responsibilities, reporting structure, funding parameters, etc.), but does not directly fund it. In most cases, appropriators must allocate funding to a federal entity after it is authorized. This CRS report provides a far more thorough explanation of the distinction between authorizing and appropriating.
Speaking of Appropriations… The House Labor-H Subcommittee and full Committee markups are scheduled for July 12 and July 15, respectively. The Senate Appropriations Committee has not yet announced its markup schedule. Research!America has submitted testimony to the Senate Commerce, Justice, Science and Labor-H Appropriations Subcommittees urging robust funding increases for NSF, NIH, CDC, and AHRQ in FY22; we will keep you informed as appropriations season goes forward.
Keep up the Drumbeat: In previous letters, I've discussed bipartisan efforts in both the House and Senate to advance major science and technology-focused legislation. The goal is to authorize (and then secure appropriations for) actions that bolster U.S. economic competitiveness and equip our nation to preempt and defeat major societal threats like pandemics and food insecurity. We have been told there will be an effort this fall to pass a House-Senate compromise bill, but first the House must pass two S&T-focused bills, including the NSF for the Future Act and DOE Science for the Future Act.
Use this editable Tweet to House leadership asking them to bring these bills to the Floor for consideration, and tune in to our alliance member meeting on Monday, June 28 at 2:30 p.m. ET, during which Task Force for American Innovation Executive Director Scott Corley will fill in important details on this major S&T effort. Register here.
More on ARPA-H: NIH Director Dr. Francis Collins, OSTP Director Dr. Eric Lander, and others wrote a commentary in Science describing their vision for the new agency. NIH and OSTP are holding an ARPA-H information session tomorrow at 12:30 p.m. ET featuring the authors of the commentary. Register here.
Alliance Member Meeting Recap: Research!America held a closed-door alliance meeting earlier this week with Peder Maarbjerg from ARPA-E, during which he discussed the role and general structure of "ARPAs." We heard terrific feedback on the insights he shared. If your organization isn't a member of the Research!America alliance, join us!
LGBTQ+ in STEM: June is Pride Month. It's an occasion to celebrate and also to continue the fight for LGBTQ+ equity. I hope you will take a moment to read our latest blog post, authored by Sammy Mensah, Research!America's Science Communications Intern, focused on STEM and health-related LGBTQ+ challenges and triumphs. A two-day webinar series, hosted by STEM Potential, will discuss solutions to health disparities and inequities in the LGBTQ+ community, and spotlight outstanding LGBTQ+ scientists and researchers in STEM.
Advocacy Awards Nominations: Nominations for Research!America's 2022 Advocacy Awards are due tomorrow, Friday, June 25, 2021. These awards recognize individuals and organizations whose commitment to advocacy for research and innovation has advanced medical and public health progress in profoundly important ways. Please take a moment to review the full complement of award categories here. Submit your nomination using this link.
Stay well, stay safe, and stay connected.
Sincerely,
Mary Woolley