Countering threats to science and to health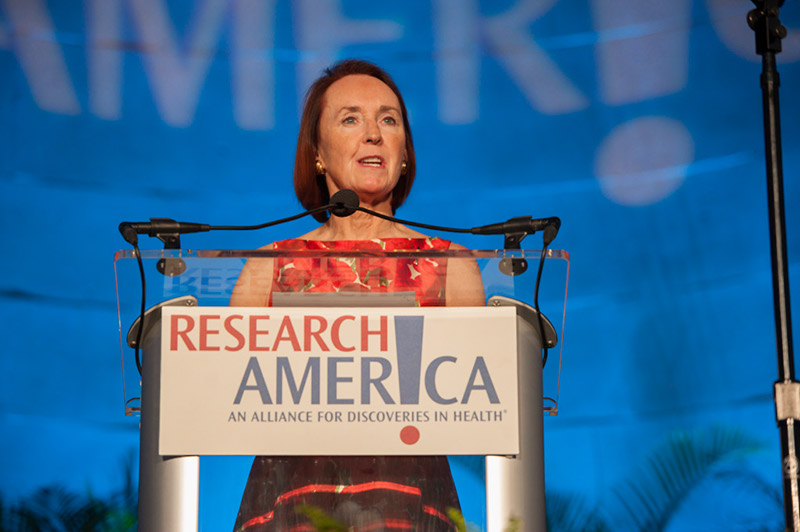 Dear Research Advocate:
The Congress is poised to pass, and the President appears ready to sign, a final FY19 spending package, averting another shutdown. Of note, the summary of the bill text indicates a $269 million (9%) increase for FDA, bringing its total FY19 budget to $3.08 billion, and a $307.6 million (4%) increase for NSF, bringing its total budget to $8.1 billion.
Research!America joined with other science community leaders and Nobel Laureates earlier this week on a letter to members of Congress and the President, calling attention to the considerable negative effects of the recent partial shutdown as well as the need to avoid another costly impasse.
There had been rumors that the final FY19 spending package would include a deal to raise the FY20 and FY21 sequestration caps, but that didn't happen. Unless Congress now acts to raise the caps, strident limits will hamstring upcoming negotiations on both defense and non-defense budgets for the fiscal year that begins October 1, 2019. (The caps are not a 'haircut;' approximately $55 billion would be cut from FY19 non-defense spending levels, and about $70 billion from defense spending.) As I have emphasized in previous letters, caps will erode funding and thus scientific progress across every area of science. We need to take action, together, to prevent that outcome. Please email Donna (dmckelvey@researchamerica.org) for more information on joining a science community-driven "Raise the Caps" campaign!
In unhappy public health news, the measles outbreaks in Washington State, New York State, and Texas continue to escalate. Measles had been declared eliminated in the United States in 2000, but there have already been 101 reported cases, across 10 states, in the first six weeks of this year. National survey data commissioned by Research!America in partnership with the American Society of Microbiology (ASM) show that trust in vaccines has declined over the last ten years. Confidence is wavering on both the societal importance of vaccination and the personal benefit it delivers.
Advocacy can go a long way toward countering hesitancy about vaccines. There is no public health advocate more compelling than American Public Health Association (APHA) President Georges Benjamin, MD, a Research!America Board member, who will be joining our next alliance member call to discuss vaccines and other issues in the public health arena. We'll also discuss our alliance's advocacy priorities, including ensuring the caps are raised and our FY20 appropriations goals. If your organization is a Research!America alliance member, join us on Thursday, Feb 28th at 1:00 p.m. EST; for details email Jacqueline Lagoy (jlagoy@researchamerica.org). If you are not a member of our alliance and would like to be, use this link or contact Thayer Surette (tsurette@researchamerica.org) to make that happen.
Countering health threats requires a multi-pronged approach: one that incorporates research, education, policy and advocacy. In a particularly compelling recent example of research progress, bioengineers have developed a new medical device to administer drugs like insulin without requiring an injection. The device, which has shown early promise in animal models, potentially offers a less invasive and pain-free way for individuals living with conditions like diabetes to receive critical medication. Not only is this potential breakthrough — modeled after a tortoise shell — a fabulous example of scientific ingenuity, it reinforces the need to incentivize medical device R&D. The medical device excise tax, set to take effect on January 1, 2020, does just the opposite. If Congress fails to repeal the tax, we risk slowing the progress that makes new, life-altering, technologies possible. Urge your Congressional delegation to take action using this editable email!
In other news: ongoing scrutiny of foreign influence on U.S. science. Surveys we and others regularly commission demonstrate that the public, by and large, has a great deal of confidence in scientific institutions. Evidence of undue foreign influence can and will shake trust in institutions dedicated to serving the public's interest. This is a time for leaders to step up, clarify and investigate the situation and take appropriate action.
Registration is now open for our 2019 Annual Meeting March 13 at the Willard Hotel here in Washington, D.C. Among the featured events are remarks from Representative Tom Cole (R-OK-4), Labor-HHS Subcommittee Ranking Member, and a "fireside chat" with Seema Kumar, Vice President of Innovation, Global Health and Policy Communication, Johnson & Johnson Innovation and Susan Hockfield, PhD, President Emerita, MIT, and American Association for the Advancement of Science (AAAS) Board Chair. That evening, we will host our 2019 Advocacy Awards Dinner. We hope you can join us for both events!
Sincerely,
Mary Woolley