Daunting Challenges, Core Strengths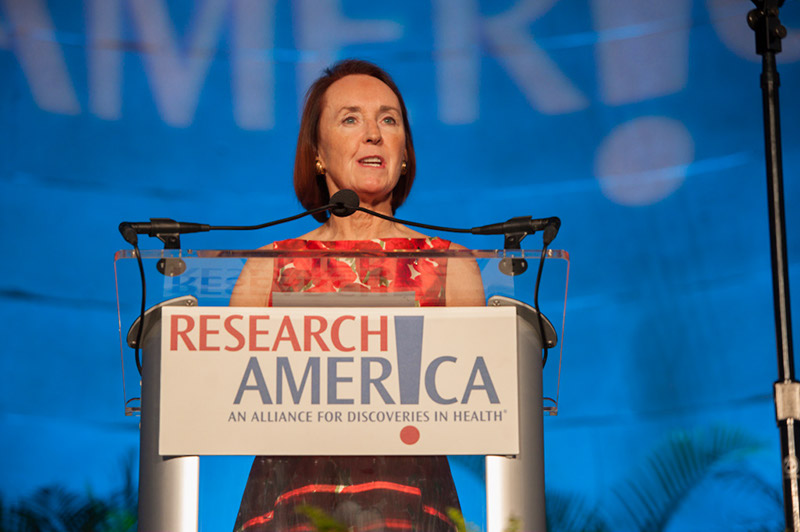 Dear Research Advocate,
Fourth of July, typically a day to unwind and celebrate, comes to us this year at a fraught time in our fight against a deadly pandemic. Evidence-based public health practices to mitigate the virus's spread have been too often politicized and unheeded, leading to adherence gaps by some that place many others at risk. Cautious optimism from public health experts that we were on a path to containing the virus is being overtaken by alarm. Public health officials in communities across the country are being physically threatened while laboring under poorly-resourced conditions.
An important time to hear from Dr. Tom Frieden, former CDC Director and current President and CEO of Resolve to Save Lives, during our alliance member meeting this week. As Dr. Frieden so wisely asserted, "we can't afford another multi-trillion dollar pandemic – but we can afford health security to prevent it."
Dr. Frieden proposes creating a Health Defense Operations (HDO) account so public health funding isn't competing on a yearly basis with multiple other domestic priorities, a situation which has contributed to chronic underfunding for the CDC and adjacent agencies supporting public health infrastructure and preparedness. You can access Dr. Frieden's remarks here and his testimony before the House "Labor-H" Appropriations Subcommittee this spring.
More on Preparedness: How do we plan for flu season amidst the pandemic? Several infectious disease groups are hosting an online briefing: Controlling COVID-19 Surges and Preparing for the Fall next Wednesday, July 8, 2020.
On Capitol Hill: Bipartisan negotiations on a fifth COVID-19-related funding package are expected to resume after the Fourth of July, having largely been at a standstill. Senate Majority Whip John Thune (R-SD) stated today he believes Congress can complete the supplemental before the August recess, and Senate "Labor-H" Appropriations Subcommittee Chair Roy Blunt (R-MO) indicated the subcommittee is working on key provisions of the package. Research!America sent a letter to Chairman Blunt and Ranking Member Patty Murray (D-WA) emphasizing the need to include robust public health and health services research investment and to restore depleted research grant funding.
Research relief is the focal point of the RISE Act, HR 7308, which would authorize $26 billion for federal grant supplements to aid in research recovery. Please reach out to your representatives in Congress encouraging them to push forward both supplemental and robust FY21 funding so our nation can advance past this deeply challenging time. If your organization is interested in endorsing the RISE Act, you can complete this form.
My colleague Ellie Dehoney and I penned a recent op-ed in Modern Healthcare emphasizing the importance of this moment: Now is the time to prioritize medical research. Simply put: the health of our nation and the health of our nation's R&D ecosystem are one and the same. We should capitalize on our nation's extraordinary academic and private sector scientific capacity to blow away previous expectations about the pace of medical progress.
As we advocate to make research a higher national priority, so must we commit ourselves to making our research enterprise far more diverse and inclusive. I hope you will take a moment to read a relevant op-ed by Duke University School of Medicine's Dr. Kafui Dzirasa.
A sign-on letter asking Congressional leaders to oppose the U.S. withdrawal from the World Health Organization is being circulated by the American Society of Tropical Medicine and Hygiene and the Entomological Society of America. Information to sign on by July 9, 2020, is here (Research!America has signed on).
For Alliance Members: Join us next week on Thursday, July 9, 2020, from 4-4:30 p.m. ET with Dr. Christopher Austin, MD, Director of the National Center for Advancing Translational Sciences (NCATS) at NIH. Dr. Austin will discuss NCATS's new Open Data Portal, National COVID Cohort Collaborative, and other NCATS priorities. Register here.
Just announced: Dr. Gary Gibbons, MD, Director of the National Heart, Lung, and Blood Institute (NHLBI) at NIH will join us on Monday, July 13, 2020, 1-1:30 p.m. ET. Register now.
As always, view past recordings and upcoming alliance member meetings. Just posted: remarks by Dr. Nora Volkow and Patrick Kennedy.
Although we face daunting challenges, COVID-19 has also evinced the courage and resilience of so many across the nation. As a landmark day in our nation's history approaches, we can hold on to the fact that with our core strengths and sense of community, along with leaders like those mentioned throughout this letter, we can emerge from this pandemic stronger than ever.
Have a restful and safe holiday.
Sincerely,
Mary Woolley