Global challenge, global opportunity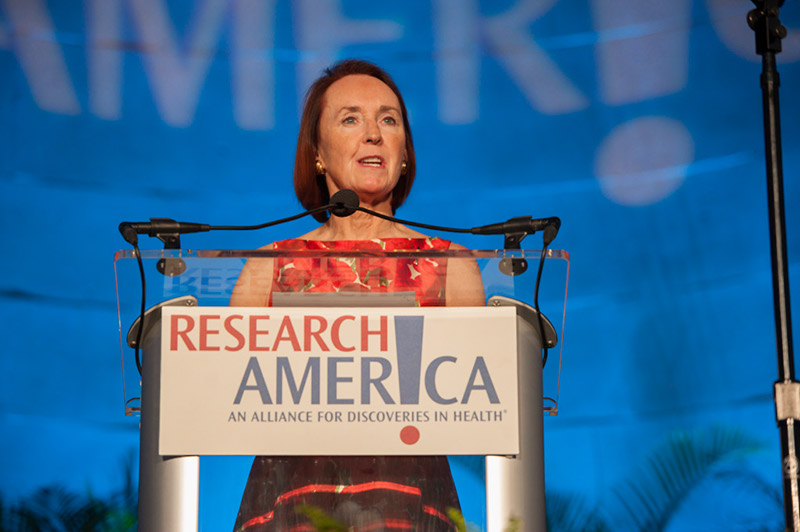 Dear Research Advocate,
Last week, we asked you to weigh in with House leadership to bring up key research legislation for a vote. Good news! The National Science Foundation for the Future Act (H.R.2225) and Department of Energy Science for the Future Act (H.R.3593) were both passed this week. Part of what President Biden calls a "once in a generation" investment, these bills put forth important policies and authorize new funding levels designed to drive faster innovation in science and technology at NSF and DOE. The House bills are expected to be conferenced with the Senate-passed United States Innovation and Competition Act (S.1260). The Science and Technology Action Committee, which I co-chair, released this statement on H.R.2225.
Scott Corley, Executive Director of the Task Force for American Innovation, joined us for a timely conversation focused on the outlook for legislation that could have an effect on U.S. science and technology efforts (including S.1260 and H.R.2225). He noted that increased attention to competition with China is driving funding and bipartisan support for legislation. Watch the conversation.
Farah Stockman's opinion piece in The New York Times notes that China's rise is both a threat and an opportunity: "If looking over our shoulders at China makes Americans spend more money on scientific research and education, that's a good thing." Indeed, competition can lead us to make long-overdue investments needed to effectively tackle a host of existential threats to society.
Speaking of China, WHO has certified China as "malaria free," making it the first country in the Western Pacific Region to receive the designation in more than 30 years. This is a tremendous public health achievement, the culmination of a 70-year effort in China. Malaria is still rampant in other parts of the world. It will take a global effort to eradicate it once and for all — one more reason to support global scientific cooperation.
On the Appropriations Front: The House Appropriations Committee has released its top-line spending numbers for FY22, the amount it will allocate to each of the 12 subcommittees. The current House allocations show a welcome increase compared to FY21 appropriations for Labor-H (which provides funding to NIH, CDC and AHRQ, among several other key agencies and programs). Program-level funding details will become available in the coming days and weeks. It's important to note these top-line numbers are the opening bid in what will likely be protracted negotiations with the Senate. Use this editable Tweet to House and Senate Labor-H Appropriations leadership urging them to boost the funding available to our health research agencies.
Basic Science Prequels: The basic biomedical research foundation of COVID-19 vaccines has been much discussed; less well known is that basic mathematical sciences are also critical to defeating the pandemic. "Mathematical models have been invaluable in battling COVID-19. They've been used to help set the length of quarantines and school closures, to anticipate shortages of PPE and ventilators, and to develop vaccines," writes author Yen Duong, further noting that "the models used for each of these problems were ready for action in 2020 thanks to many years of basic research." Duong's article is the latest in "The COVID-19 Basic Science Prequels," an excellent series published by the Science Philanthropy Alliance.
PCORI's Priorities for Health: Research!America alliance member PCORI has opened its national priorities and research agenda for public comment until August 27. The five priorities include enhancing infrastructure to accelerate patient-centered outcomes research and achieving health equity. Watch the kickoff webinar.
Alliance Member Meetings:
On Thursday, July 8, at 1 p.m. ET, Sherie Lou Santos, Health Policy Director for Congresswoman Diana DeGette (D-CO), and Mark Ratner, Deputy Chief of Staff for Congressman Fred Upton (R-MI), will discuss the recently released Cures 2.0 Act discussion draft.
On Tuesday, July 13, at 1:30 p.m. ET, Joni L. Rutter, PhD, Acting Director of the National Center for Advancing Translational Sciences (NCATS), will speak with us about her vision for NCATS.
The following day, on Wednesday, July 14, at 1 p.m., Dr. Larry A. Tabak, DDS, PhD, Principal Deputy Director of NIH, and Tara A. Schwetz, Assistant Director for Biomedical Science Initiatives at OSTP, will join us for a roundtable discussion on ARPA-H.
In case you missed it, last week we hosted an alliance meeting with Peder Maarbjerg, Assistant Director of External Coordination for ARPA-E; he has made his presentation slides giving an overview of ARPA-E available.
If you're an alliance member, you'll receive invitations to these sessions in the coming days. If your organization isn't a member of the Research!America alliance, join us!
Stay well, stay safe, and stay connected.
Sincerely,
Mary Woolley