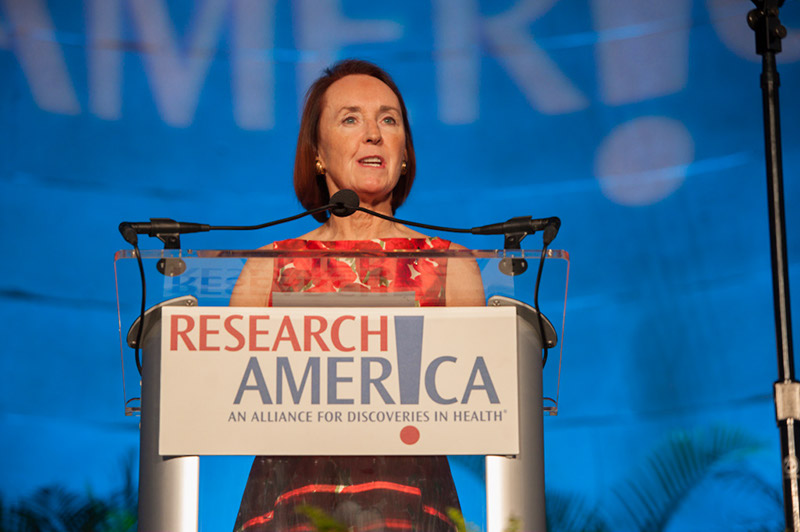 Dear Research Advocate:
A Senate HELP Committee hearing this week examined what is driving preventable disease outbreaks. A key issue of discussion – as observed in our 2018 survey data – is growing public suspicion about the benefit of vaccines. The hearing also focused on the need for a robust public health infrastructure that can prevent public health threats. In a New York Times op-ed published yesterday, Admiral Brett Giroir, Assistant Secretary of HHS, Dr. Robert Redfield, Director of CDC, and Vice Admiral Jerome Adams, U.S. Surgeon General, noted that vaccines have proven so successful that many clinicians and parents may not realize the seriousness of diseases – such as measles – they may never have seen or experienced. I am pleased to announce that Admiral Giroir will be speaking at our annual meeting on March 13. (Register here).
Meanwhile, a hearing held by the House Science Committee focused on challenges to U.S. scientific leadership at a time when many other nations are ramping up their investments. Time is of the essence as there can be no question, our leadership is slipping. Add your voice to the conversation by sharing this infographic on Twitter.
Research!America has responded to a Request for Information (RFI) from Senate HELP Committee Chair, Lamar Alexander (R-TN), on ways to reduce healthcare spending. We argue that investment in research is a cost-saving strategy, citing as an example the health services research supported by AHRQ. Providing evidence of how to reduce hospital-acquired infections is just one AHRQ-supported example of how to save lives and reduce costs. Research!America talked about the importance of AHRQ in a recent Bloomberg Law article.
We must act now to move Congress and the Administration towards a deal to raise the budget caps. Without a caps deal, appropriators are hamstrung, unable to provide adequate resources to research agencies. Kudos to the Inter-University Council of Ohio for their letter, signed by 14 university presidents, sent to every member of Ohio's congressional delegation. The letter offers several compelling examples of why a caps deal is important. I recommend drawing on it as a guide in your own advocacy efforts.
During our Alliance members call last week, Dr. Georges Benjamin, executive director of the American Public Health Association (APHA), discussed the growing concern over the rise in teen e-cigarette use. This week, FDA Commissioner Scott Gottlieb stated several actions the agency proposes to address this burgeoning epidemic.
In unwelcome news, Commissioner Gottlieb has announced he will resign from the agency at the end of this month. We have been impressed with his thoughtful and steady leadership on a wide range of issues, including his approach to innovative methods of collecting product data outside of traditional clinical trials. We hope the agency continues to explore the use of real world evidence as a tool to supporting safety and efficacy. Research!America will be engaging more deeply in this area through the FDA-supported NESTcc effort comprised of stakeholders across the medical device ecosystem.
I was inspired by the 2019 Top Ten Clinical Research Achievements, awarded this week at the National Press Club. From using imaging to expand the window of effective stroke care, to placing pharmacists in barbershops to more effectively manage hypertension, the awardees exemplify the power of clinical research to improve and innovate health care. Kudos to the winners, their universities and the Clinical Research Forum.
Next Wednesday we host our annual research advocacy awards event. It's not too late to reserve your ticket to applaud extraordinary advocates including Senator Richard Shelby (R-AL) and Chairwoman Nita Lowey (D-NY) and more. Please join us, members of Congress, NIH Director Francis Collins, NSF Director France Cordova,CDC Director Robert Redfield, AHRQ Director Gopal Khanna and many more leaders from across the research ecosystem to network and celebrate!
Sincerely,
Mary Woolley