Kudos to young scientists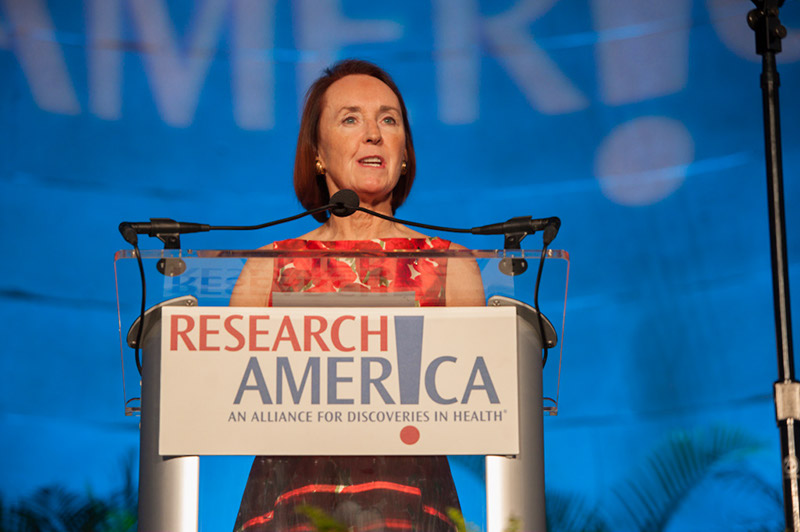 Dear Research Advocate,
At our recent jam-packed Alliance Member Meeting we heard from Grace Graham, Health Policy Director for Senate HELP Committee Chairman Alexander (R-TN), and Andi Fristedt, Deputy Health Policy Director for Ranking Member Murray (D-WA). Grace and Andi encouraged input on bipartisan draft legislation that covers a range of healthcare and public health issues, including increasing efficiency and reducing costs, confronting rising maternal mortality rates, and addressing vaccine hesitancy. The authors of the bill are taking comments until June 5.
Experts joined us at the University of San Francisco's Mission Bay Campus for a spirited evening of conversation about the use of real world data to facilitate the approval and adoption of effective new therapies. The group, comprised of Research!America Alliance members and friends from patient advocacy organizations, industry, providers, and academia, offered insights on the practical challenges policymakers must address if we are to fully leverage the rich clinical data available outside of traditional trials. According to our 2019 opinion survey, the public strongly supports use of their data to further research. Three-quarters of Americans indicated they are willing to share their personal health information so researchers can better understand diseases and develop new ways to prevent, treat and cure them. For more information about our work on this issue, contact Jenny.
I am so pleased to see the heightened interest of young scientists in upping their engagement with decision-makers and, equally important, with the public. The National Science Policy Network's 2nd Annual Symposium, "Leveraging Science and Technology to Benefit Marginalized Populations," will showcase the tremendous dedication of young scientists to many facets of public service, both in the lab and in their communities. The first round of travel grant applications are due on July 8th.
Speaking of young scientists, the future is certainly bright for 14-year-old Aditya Tummala of South Dakota and others who were recently recognized at the Intel International Science and Engineering Fair (ISEF). Aditya won First Prize for the Addiction Science Award in recognition of his project developing a protein-matrix based delivery of opioids designed to deter misuse.
Perhaps one day Aditya will be a Lurie Prize winner! The Foundation for the National Institutes of Health recently held its annual Award Ceremony, at which the Lurie Prize in Biomedical Sciences was presented to Dr. Yasmine Belkaid. Dr. Belkaid's research has furthered our understanding of the microbiome's key role in regulating our immune systems. During the event, Dr. Francis Collins, Director of the NIH, interviewed Dr. Belkaid about what led her to become a scientist, the importance of women in STEM, and the excitement of her research. Watch this video to learn more about Dr. Belkaid and her work.
Many researchers may not be aware that nearly 40 years ago, a landmark bipartisan law, the Bayh-Dole Act, not only had a dramatically positive impact on the speed at which federally-funded research made its way from the bench to the bedside, it also bolstered then-at risk public and policymaker support for basic research. On June 13th, Research!America, AAAS, AAMC, AAU, and SfN are partnering on a networking coffee and briefing exploring the extraordinary impact of this law and whether it should be strengthened to ensure it continues to foster progress. The event will also be livestreamed. Seating is limited; register now.
Congress is in recess this week but efforts to lift the budget caps remain in full force. Make your voice heard via our advocacy action page and continue to encourage Congressional negotiators to #RaisetheCaps.
Sincerely,
Mary Woolley