Let's take time to say thank you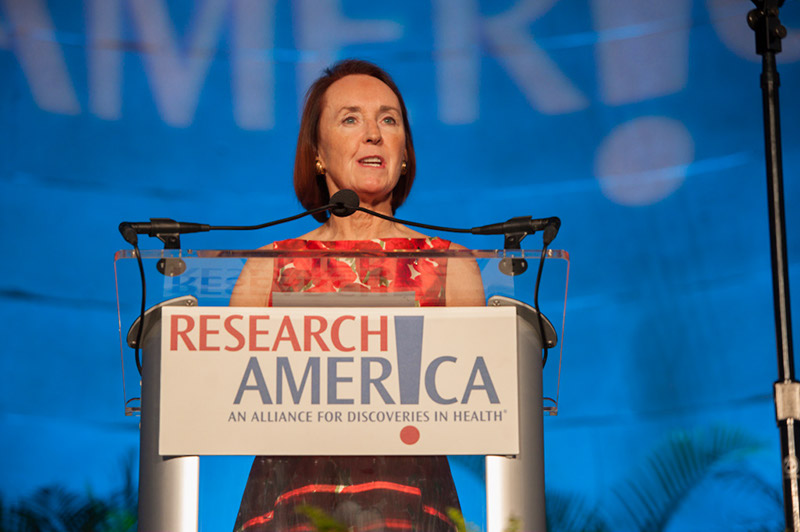 Dear Research Advocate,
On the Monday before Thanksgiving each year, Research!America, along with public health leaders across the nation take time to salute the people who work day-in and day-out to protect us from disease, injury, and other threats to our nation's health. Members of this critical workforce can be found in every community across the country. They track infectious diseases and administer the vaccines to prevent their spread. They warn us about overuse of antibiotics leading to drug-resistant infections. They educate us about preventing accidental deaths by using infant car seats and about newer but avoidable dangers like vaping. And more.
The public health workforce includes all of these professionals and more:
Biomedical Researchers
Biostatisticians
Community Health Workers
Dentists
Doctors
Economists
Epidemiologists
Health Educators
Nurses
Pharmacists
Physical Therapists
Scientists and Lab Technicians
Social Scientists
Toxicologists
Veterinarians
Please visit our Public Health Thank You Day resource page, and join us on Monday, November 25, 2019. Follow and use the hashtag #PHTYD, good on Twitter, Instagram, and Facebook. (If you aren't on social media, the resource page offers many other ways to say thank you. There's even a downloadable certificate you can personalize to commend and give to your local public health heroes!)
The CDC is the public health community's lodestar, both in the U.S. and globally. This week the agency is partnering with local governments, non-profit organizations and industry to mark U.S. Antibiotics Awareness Week, sounding the alarm about drug-resistant infections and promoting judicious use of antibiotics. Researchers, providers, and patients can find a wealth of information here. According to the CDC's recently published Threat Report, antibiotic resistant bacteria sickens more than 2.8 million people and kills more than 35,000 in the U.S. annually.
To fight AMR and other public health challenges, communities rely heavily on federal funding. Yet one more reason why completing FY20 appropriations is so crucial. Today, the President is expected to sign into law another continuing resolution providing more time for negotiators to finalize FY20 spending levels. Your advocacy helped to forestall a worse outcome: a year-long CR or even one lasting through the 2020 elections. Members of Congress need to continue to hear from you. #CRsStopProgress campaign.
Congress and the Administration continue to pursue concerns related to foreign interference in research. A Senate hearing this week featured witnesses from the FBI, NSF, NIH, DOE, and State Department; a number of legislative proposals were mentioned.. Research!America has joined with other scientific societies to support the bipartisan SASTA bill (HR 3038) introduced by Reps. Mikie Sherrill (D-NJ) and Anthony Gonzalez (R-OH).
Meanwhile, JASON, a scientific advisory board established in 1960 to advise the U.S. government on sensitive science and technology matters, is expected to issue a report commissioned by the NSF by year's end. The report is intended to assess risks posed by research interference and recommend best practices for the NSF and its grantee organizations.
President Trump's nominee to lead the FDA, Dr. Stephen Hahn, had his Senate confirmation hearing this week. Youth vaping was a contentious topic. Dr. Hahn is currently the Chief Medical Executive at the MD Anderson Cancer Center. Five former FDA Commissioners who served in both Democratic and Republican administrations sent a letter of support. A vote on his nomination is expected before year's end.
Look for next week's letter earlier than usual, on Tuesday. Research!America takes a Thanksgiving break; I hope you do too!
Sincerely,
Mary Woolley