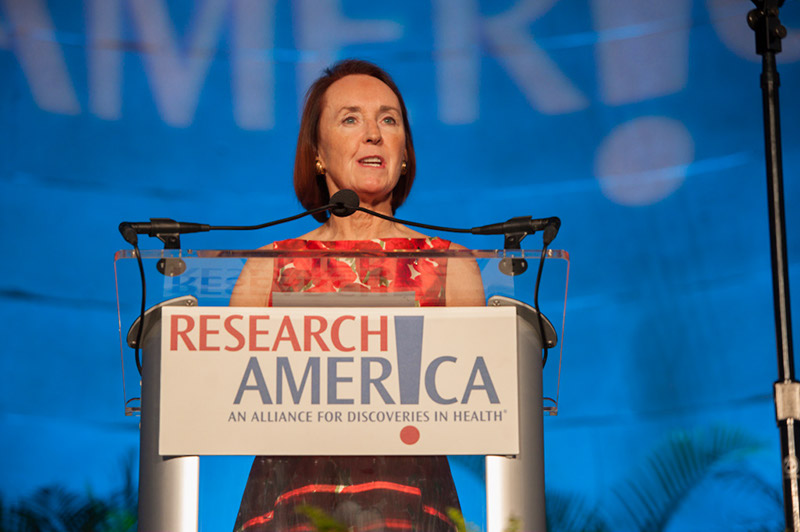 Dear Research Advocate,
"Hopefully, the urgency that everyone is seeing around COVID-19 will translate into bigger investments for global health vaccines." — Dr. Peter Hotez
Renowned vaccinologist and prolific author Dr. Peter Hotez, Dean of the National School of Tropical Medicine at Baylor College of Medicine and Co-director of the Texas Children's Hospital Center for Vaccine Development, joined us yesterday for an alliance member call. Dr. Hotez spoke about the history of life-saving vaccines, COVID-19 vaccine development, and the alarming spread of the novel coronavirus across the southern hemisphere. He also spoke about the anti-science and anti-vaccine movements in our country and globally. Asked about advice to scientists for communicating with the public, Dr. Hotez replied that the American people want to hear more from scientists — 'unfiltered' — explaining the scientific process; answering questions, telling personal stories. "Now is the time to really get the scientists out there." You may access Dr. Hotez's talk and slide deck here.
Reliable sources: The Trust for America's Health (TFAH)  recently released its annual public health funding report. The trends and takeaways are crucial to heed, exactly at this moment. As John Auerbach, President & CEO of TFAH says, "COVID-19 has shined a harsh spotlight on the country's lack of preparedness for dealing with threats to Americans' well-being." The TFAH funding report and many other resources are on our coronavirus resources webpage. Please share.
On Capitol Hill: At a House Labor-H Appropriations Subcommittee hearing this week focused on the response to the COVID-19 pandemic, Ranking Member Tom Cole (R-OK-4) raised the need to reconsider the caps on funding for public health. He also signaled his interest in an idea raised by former CDC Director Dr. Tom Frieden in his testimony: the creation of a "health defense" spending fund that would be exempt from discretionary budget caps. We anticipate hearing more about this worthy proposal.
Discussions continue on the contents of a fifth legislative package of COVID-19-related relief. Details of what may be included in the bill are scant, with differing views between the Senate and House as well as between the parties. We are grateful to Senator Ed Markey (D-MA) and Representatives Diana DeGette (D-CO-1), Fred Upton (R-MI-6), Anna Eshoo (D-CA-18), and Jackie Speier (D-CA-14) for their Dear Colleague letters supporting the inclusion of resources in the bill to empower research enterprise recovery in the wake of COVID-19. We are equally grateful to Senator Richard Blumenthal (D-CT) and Representative Don Beyer (D-VA-8) for championing the additional resources the Agency for Healthcare Research and Quality (AHRQ) needs to address the health system impact of COVID-19. We fully support their efforts to secure supplemental funding for AHRQ in the fifth emergency package.
The FY21 appropriations process is continuing alongside legislative efforts to mitigate the effects of the pandemic. Research!America submitted testimony earlier this week to the Senate Appropriations Subcommittee on Commerce, Justice, and Science requesting increased funding for NSF in FY21. (You can weigh in, too, before tomorrow's deadline.)
And speaking of NSF, the National Science Board has released its excellent Vision 2030 report, with a host of information on science leadership, the case for more R&D, the importance of international students and workers, putting a higher priority on STEM education, and much more. This forward-looking report makes the point that demonstrating accountability and raising the visibility of science is crucial: "For the practice of S&E to flourish, the enterprise must also show its value to Americans." Now is the time, with science in the public eye as rarely before, for scientists to say and convey: "I work for you!"
Research!America Alliance Members: Join us next week for our alliance member webinar with Dr. Louis Sullivan, former HHS Secretary and Chairman of the Sullivan Alliance to Transform the Health Professions. Dr. Sullivan will join us to talk about health disparities during the COVID-19 crisis. Register now.
Stay well, stay safe, and stay connected.
Sincerely,
Mary Woolley
Did you miss last week's letter? Read previous editions here.