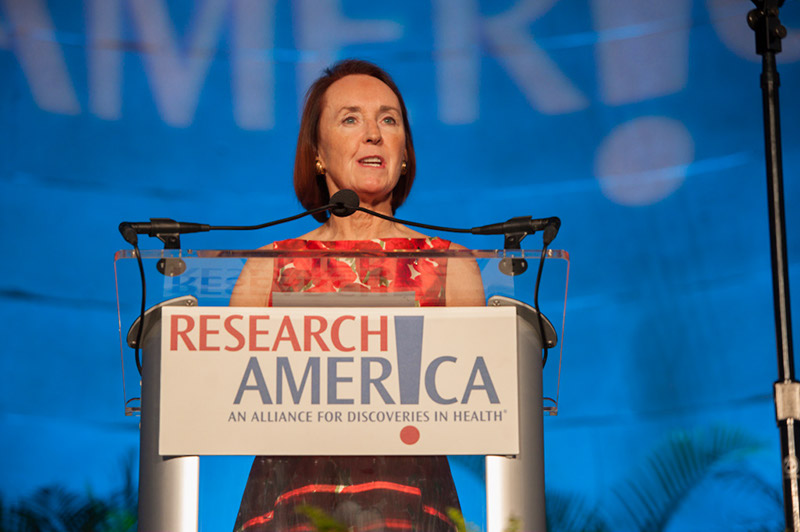 Dear Research Advocate,
Never Again: One year ago today, the WHO officially declared COVID-19 a pandemic. Within days, statewide stay-at-home orders began across the U.S., and the road before us became frighteningly uncertain. Across the country, COVID-19 has taken almost 530,000 lives; globally, more than 2.6 million have died.
Over the course of a year filled with determination, turmoil, and tragedy, the significance of science and technology became crystal clear.
Because of decades of basic research, rapid response science & technology (S&T), and heroic public health efforts by individuals laser-focused on saving lives, we have three safe and effective vaccines, and, as new CDC guidance reflects, hope for a return to "normal."
But the truth is that returning to the old normal is not good enough. It's time for a next, better normal. Critical steps in that direction include:
Bold Action: Dramatically bolstering our nation's S&T capabilities and formulating highly coordinated cross-agency, cross-sector strategies to confront the threats before us is central to the S&T Action Plan. View the list of key organizations that have joined this effort, and sign your organization on now.
Resolve: Research!America was proud to endorse the Public Health Infrastructure Saves Lives Act (S.674), which Senator Patty Murray (D-WA) introduced yesterday to strengthen our nation's public health infrastructure. For too long, investing in CDC and public health capacity across the U.S. has been an afterthought. No more. Use this editable email to ask your Senators to cosponsor this critical legislation.
All In: Beyond the contributions you already make, each individual in the S&T ecosystem can influence whether S&T will flourish or falter. Whether the goal is to foster science trust, combat obstacles to ecosystem diversity and inclusiveness, or stand behind continuous improvement in STEM education and other variables affecting science strength, together we must walk our talk. Some ideas and opportunities in that regard:
Dr. Aaron Mertz and Dr. Abhilash Mishra suggest the creation of an "American Science Corps," through which early-career scientists would engage with underserved communities to build trust in and familiarity with science. Proposals like this one and initiatives like Math for America are fully aligned with the aforementioned S&T Action Plan. We can and must achieve an S&T ecosystem that draws on our nation's strengths, commands Americans' trust, and meets the challenges we as a nation and global community face.

The National Academies of Science, Engineering, and Medicine is seeking a diverse group of early-career leaders to help shape their work going forward: More information on their "New Voices in Sciences, Engineering and Medicine" initiative here.
Honoring Science and Public Health Heroes: Join us on April 14, from 4-6 p.m. ET, for Research!America's 25th anniversary advocacy awards program. Help us honor individuals and organizations at the forefront of scientific and public health progress, including Dr. Anthony Fauci and other leaders who have fought tooth and nail over the past year against COVID-19. I promise a memorable event that will not only celebrate heroes, but shake things up with candid questions, surprising insights, and a finale that simply cannot be missed.
This week, Senator Roy Blunt (R-MO) announced his retirement from the Senate. A stalwart research champion, Senator Blunt's leadership has helped drive strong budget growth for the NIH, catalyzing life-saving medical progress. View our statement here.
On the Hill: A $1.9 trillion relief package was signed into law by the President earlier today. As noted last week, the package includes some funds for research recovery at NSF and NIST, but not for any other research agency.
The bipartisan, bicameral RISE Act (H.R.869/S.289) would authorize $25 billion to fill NIH and other research agency funding gaps. We are circulating an organizational sign-on letter to President Biden asking him to champion the RISE Act and include the associated funding in the next spending vehicle he advances. We hope your organization will join the letter and share it with other potential signatories. The deadline for signing on is COB Tuesday, March 16.
In Case You Missed It: In an alliance meeting on Monday, Dr. Peter Marks, Director of the FDA Center for Biologics Evaluation and Research (CBER) provided an update on the three available COVID-19 vaccines and the role the FDA plays in responsibly shortening the vaccine development timeline. View Dr. Marks' slides and watch the conversation here.
Upcoming Alliance Meetings: On Thursday, March 18 at 2 p.m. ET, we will speak with Dr. David Skorton, President and CEO of the Association of American Medical Colleges (AAMC) about the impact of COVID-19 on medical research and critical work in which the AAMC is engaged. Register here.
The following Thursday, March 25 at 2:30 p.m. ET, Dr. Mike Stebbins, former Assistant Director for Biotechnology at OSTP, will join us to discuss the Health Advanced Research Projects Agency (variously called ARPA-H and HARPA), a proposal aimed at accelerating the pace of progress against unmet medical needs. Register here for a careful look at the mechanics, pros, and cons of this proposal.
Stay well, stay safe, and stay connected.
Sincerely,
Mary Woolley