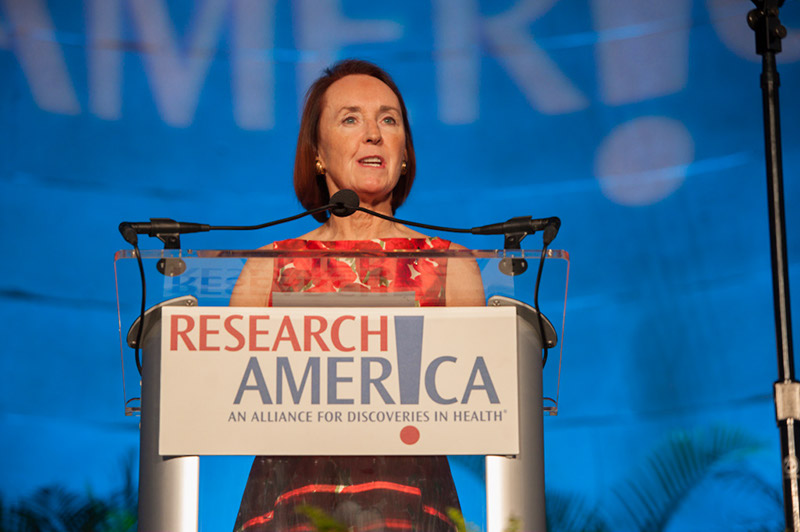 Dear Research Advocate:
As 2020 begins, you no doubt have made personal and professional resolutions. How could you not? With information concerning exercise, diet, and smoking cessation flooding our screens, one feels almost left out if not pledging improvement. (The links above are to evidence-based sources only; not current reality, but hope springs eternal).
Here are a few advocacy resolutions to consider:
Resolution1: Celebrate your successes! Members of the Research!America Alliance have much to be proud of and grateful for as we look back at 2019. Individually and collectively, day in and day out, we spoke out: we made the case for raising the budget caps, boosting science funding, empowering the entire public and private sector R&D ecosystem to push the boundaries of scientific progress…and we had impact. Here's a quick look back at what we achieved in 2019, with a view toward realities we face in 2020.
Resolution 2: Commit time each week to advocacy. The fact that NIH and other science agencies have received funding increases over the past several years can breed complacency.
Don't let it.
Last year's hard-won bipartisan budget deal lifted the caps on federal discretionary spending for FY20 and FY21. Without that deal, there would have been deep spending cuts. In terms of outright budget increases, while the deal provided an additional $25 billion for non-defense spending in FY20, it allows for an increase of just $5 billion in FY21. More detail on the budget caps here.
The bottom line is this: appropriators are facing tremendously difficult funding tradeoffs in FY21. Our community can't bank on past successes or rule out budget cuts. We're going to need to fight for every penny NIH, CDC, and other research and public health agencies receive.
In that context:
Resolution 3: Don't shy away from hard-hitting messaging. More than 120,000 Americans die each year from diseases and conditions we can overcome. This CDC National Vital Statistics Report identifies the top causes of death in America. For me, it elicited both awe at the progress we've made against deadly health threats and horror at the sheer weight of suffering and loss hidden beneath the numbers.
Two new Research!America fact sheets, one on Eating Disorders and one on Sepsis elicit these same reactions. Both threats receive far less attention than they deserve given the tragic toll they take, and research can and must be leveraged to overcome them. Use these and our entire fact sheet series to bring the urgency and power of research into focus.
Resolution 4: Spread the word on research-relevant initiatives. Don't miss this interview with NIH Director Dr. Francis Collins, during which (among many insights), Dr. Collins provides a great snapshot of NIH's All of Us initiative. You can help assure the success of this program by spreading the word. Think how much faster research would progress if everyone participated in it!
Resolution 5: Engage with Candidates! The time to cultivate congressional champions for public and private-sector fueled R&D is now. If candidates publicly assign a top priority to strengthening U.S. R&D capacity and speeding medical progress while they are on the campaign trail, the odds skyrocket that they will work alongside the patient and research communities to promote those objectives going forward. Stay tuned for information on Research!America's 2020 candidate and voter engagement initiative.
Resolution 6: Get out of the office! (literally and figuratively). If your organization is a member of Research!America, we hope you'll participate in person or by phone in our monthly alliance member meeting from 2-3 p.m. ET Monday, January 27. Among the agenda items, guest speaker Carl Maxwell from the American Chemical Society will discuss the potential executive order on open access to scientific journal articles. Email Jacqueline at jlagoy@researchamerica.org for a calendar invite.
Another out-of-office experience: Our 2020 Advocacy Awards Dinner. Join us on March 11, 2020 to celebrate champions in and for medical, public health, and scientific progress.
Sincerely,
Mary Woolley